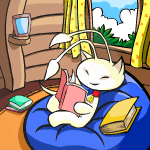 Top Ten Summer Reads

by sugarycupcakes

--------

As the summer draws on, what better way to spend a day in the sun than at the beach all curled up on the sand with your favorite book? Lucky for you, Neopia has a wide assortment of perfect books that are perfect for getting you in the summer mood. If you're just itching for something new to read, then these ten summer books are perfect for the season!

1. Fyoras Favorite Summer Recipes

One of the best parts about the summer is being able to cook new and exciting foods! This rare and elusive book lists some of the Faerie Queen's favorite recipes that you and your pets will love, including recipes on how to make Brilliant Bubble Cream (it really is brilliant) and Faerie Fondue. Just make sure you're near a kitchen when you're reading this book, because you'll be itching to try out some of these new recipes for yourself!
2. Neopian Sunrises

Now that summer's here, so is the sun… and a lot of it! Picking up this book, you'll not only learn about the history of the Neopian sun and interesting facts about where it rises and sets, but you'll also learn about the locations of some of Neopia's best locations to see the sun rise! This book is not only a great read, but it will help you learn that perfect day vacation that you and your pets have been wanting all summer.
3. A Kau Summer

This is the perfect tale of adventure as one Kau tries to make the most of his summer by exploring various lands in Neopia. I won't spoil the ending for you, but it's a heartfelt tale that's perfect for a day in or a day at the beach, and it will certainly leave you wanting to give your pets a big hug at the end!
4. Summertime Connect-the-Dots

Not all books have to be about reading, you know! This is the perfect book for that summer day when you don't really feel like reading a novel, but you want to have something fun to do. As the name suggests, this is a book full of different connect-the-dot pictures for you and your pets to color and have fun with. This is great for a day in when you're looking for fun activities! Connect-the-dots pictures include the sun, a pair of sunglasses, and a palm tree. For expert connect-the-dotters, there are more advanced pictures to color like a Mystery Island sunset and the shores of Altador.
5. Shoyru Summer

As the description suggests, this is a humorous romance story that will leave you laughing and crying at the same time! Follow the story of one Shoyru that tries to make her summer romantic, only to meet many hilarious bumps in the road along the way. Many of those incidents involve her very jealous and overprotective Puppyblew, which any pet with an overprotective petpet can understand and laugh along with. This is a fun and easy read for a day at the beach, and it'll leave you wishing there was a sequel.
6. Scorchio Summer

Summer means it's time for vacation, and while you're waiting for yours, you can follow the tale of one Scorchio that finds adventure that he never expected while on his summer vacation on Mystery Island. This is great as a family read as well, so if you have young pets that are getting eager for their summer vacation, you can read this tale and they'll dream of all the adventures they'll have on their vacation!
7. Sun Pop-Up Book

If you're looking for a great summer read to entertain those baby pets with, then the Sun Pop-Up Book is a great choice! Perfect for the whole family, each page in the book depicts the adventures of the sun as it travels across the sky, ending when it sets at the end of the night. Curious baby pets will love all of the bright colors and pop ups that are fun to see and very hands (or paws!) on.
8. The Sun Loving Purple Noil

This book is just as adorable on the inside as it looks on the outside. You follow the adventures of a young Purple Noil as he experiences his first summer and enjoys all of the simplistic things about summer as he frolics through the flowers and dips his paws in the water for the first time. The Sun Loving Purple Noil is great as a family read or as a read-out-loud session. Best of all, the Noil's tail acts as a cute (and convenient) bookmark.
9. Too Much Island Sun

There is no thing as too much sun… or is there? Maybe you've found yourself wondering that exact thing after spending too long a day at Mystery Island. While you're waiting for your own sunburn to cool off, you can read all about home remedies and ointments to help speed up the process! There's even a special section in the book for island remedies that can be purchased right on Mystery Island, which is perfect if you've been vacationing there and have found yourself with an unfortunate sunburn.
10. A Summer of Borovan

Ah, we've come full circle back to the recipes books… and for good reason! Who ever said that borovan was strictly a winter drink? This book will teach you drink recipes you've never thought of before, including ways to make iced borovan, borovan smoothies, and borovan slushies. With this ever convenient book, you and your pets will be drinking borovan all year long!
And that concludes my list of the top ten summer reads in Neopia! Hopefully now that you have reached the end, you have found some new stories to share with your pets, and maybe even their petpets! A good book is as essential to summer as sunscreen (don't forget yours!). Enjoy the warm weather, Neopia! See you next season.