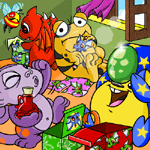 Top 30 Summer Toys

by blue_eyed_tiger_j

--------

Summer is nearly upon us so it's time to start thinking about breaking out the summer toys. Summer time is all about playing outdoors in the heat and sunshine, and for every summer game and activity you need the right toys. We have brought you some of the best summer toys for all the games you want to play this summer.

1. King Altador Summer Petpetpet Catching: With this fun, caught in the net petpetpet game, players do whatever they can to keep all of the swarming tiny creatures from getting into their picnic. Make sure these bugs don't ruin your meal!!!

2. Fyora Summertime Double Hula Hoop: Hula hoops were introduced long time ago and their popularity soon spread over every playground everywhere. Now health conscious individuals utilize the hula hoop in their exercise programs. Because there are two these hula hoops are double the fun!

3. Beach Volleyball: Volleyball is a sport in which two teams, separated by a high net, try to score points against one another by grounding a ball on the other team's court under organized rules. It is fun and recreational for all individuals.

4. Neopets Beach Ball: Beach balls lend themselves well to a variety of fun games. Let's play dodge the ball in the sea! Whoever gets hit is out and whoever catches the ball eliminates the thrower!

5. Darigan Jacks and Ball Set: Jacks is an old fashioned game that is always a favourite. The jacks are tossed on the floor. The ball is tossed in the air and until you catch it again (using only one hand) you have to pick a jack from the floor. When all jacks have been collected the game is repeated and two jacks are now collected. This is continued to thrill up the game. It's the next player's turn to play if you do not succeed! Be careful grabbing this ball, as it has spikes!

6. Maraquan Shoyru Bubble Blower: Have you ever met a youngster who doesn't love bubbles? Enjoy hours of fun outdoors with this bubble blower. Let's see who can blow the largest bubble!

7. Toy Bullseye: Practice shooting and aim for the bullseye! Let's see who will score high in playing this shooting game. Play this with your friends and show them your arrow shooting skill. Hit the bullseye! Good luck! Younger neopians should have an adult supervising this game as there are sharp points on the arrows!

8. Advanced Fishing Set: This fishing set has all the supplies kids need to bait and catch fish just like grown-ups! Young anglers can hook the catch of the day using the more convincing bait to catch the bigger sized fish, all while enjoying the great outdoors! Supervision is necessary for younger fishermen!

9. Judge Hog Kite: It sailed above me, slicing the air, dancing like a seasoned pro. The kite tugged at the strings so hard it pulled me to my tip-toes and then several yards forward, if the wind was any stronger I'd be flying too!

10. Super Toy Sailboat: It floats! This model sailboat is freshly designed with increased craftsmanship and available from the Tiki Tack shop in Mystery Island. This sailboat can be taken into the water and enjoyed by anyone.

11. Blue Skateboard: This is a complete pro skateboard, which comes fully assembled. Its deck is made of the best quality hardwood maple and with our one-of-a-kind print; you get the best skateboard available in all of Neopia! This version of skateboard is also available in purple or red.

12. Red Bike: Ride around your town in style with this red bike or any other colour available from the Toy Shop at the Neopian Bazaar.

13. Green Sandcastle Kit: Have hours of fun on the beach playing on the sand with this sand castle building kit! It has everything you need to build colossal size sand castles. A similar sandcastle set comes in blue as well!

14. Carrot Squirt Gun: For instant fun at your summer bash, just pass out these classic water guns. Pool parties just don't get any better!

15. Sand Paints: For some reason more sand gets in the paint than paint gets on the sand...might have to go back to the drawing board on this one! Maybe it would work better if we used a squirt gun to spray the sand instead of using paint brushes!

16. Draik Spring Pogo Stick: If you're used to noisy, creaky pogo sticks, you'll love having this quiet one around. Low-friction spring technology gives it a smoother bounce, while helping you go higher.

17. Bounce Like a Yooyu Trampoline: This outdoor trampoline is suitable for all ages and an excellent way to add some excitement into your life. You and your family will love spending hours bouncing around. It is also designed for exceptional durability and safety as well as loads of fun.

18. Build Your Own Pirate Ship: Let your child's or your own creativity blossom with this Build Your Own Pirate Ship. Includes everything you need! Once you are done building your pirate ship why not try it out in your pool or in the river?

19. Camouflage Poogle Waterslide: This waterslide is one of a kind! It looks amazing with the solid plastic vividly coloured camouflage Poogle in the middle. Marine colours make this slide especially cute and attractive.

20. Candy Cane Jump Rope: Remember to lift your feet off the floor just high enough for the rope to pass under quickly! We are sure you will agree that it takes some skills and timing. Don't worry, the candy canes aren't real! No sticky messes from this jump rope!

21. Dr. Sloth Float Ring: Float comfortably with this Dr. Sloth Inflatable Float Ring. The Ring inflates and deflates quickly and carries the air tight guarantee... so it's guaranteed not to leak... But can you trust it? This is Dr. Sloth after all!

22. Fire Footbag: Toss it back and forth, high and low, around and around...but get caught holding the hot potato when the music stops and you'll have to take a potato chip card. Get three chip cards and you're out; last one in the game wins. The fire footbag is rather hot, for beginners the cooler and much easier to handle snow footbag is suggested.

23. Red Ruki Scooter: This scooter is a handy little ride for kids and teens alike. Its handles are in the form of a red Ruki and it's a must have for any Neopet that loves scooters.

25. Sling Gun: Use only under close adult supervision. For outdoor use only. Caution! Point away from face. There is also a small sling gun model for beginners and a medium and big sling gun for those who want more of a challenge.

26. Surzard Goggles and Surzard Flippers: The Surzard swim mask has clear lenses that are designed to provide the greatest visibility underwater. The Surzard Flippers are styled to meet the needs of water sports enthusiasts whether they're diving, snorkeling, body surfing, or having fun in the pool. Though these do not come as a set, most would agree that you must have both.

27. Tonu Hooptoss Activity Set: This ring toss game is a fun outdoor game that helps you and your kids have hours of fun together. This is a fun game for the whole family!

28. Toy Train: This train is built with 3-speed controls and beautiful flashing lights. When it bumps into anything, it will automatically turn away and drive to the other direction. It also makes all the same noises a real train does! Choo choo... choo choo!

29. Wooden Korbat Bat and Ball Game: How many times can you bounce the ball? It's a far more challenging game than it appears to be, but is loads of fun for Neopians of all ages.

30. Yooyuball Lawn Play Set: Let's divide into two teams and play Yooyuball! Now anyone can play Yooyuball in their own back yard. What fun!

Hope you have loads of fun playing with these, and other great outdoor toys this summer! Exercise and fresh air is one of the most important things in life, so stay active and have fun this summer.