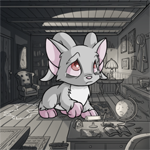 Neopian Fashions: 650th Neopian Times Special Issue

by petpet_master_

--------

Ladies and gentlemen, writers, reporters, artists and the like, welcome to this edition's special feature and the series finale of Neopian Fashions! We gather here today to recognize the hard work and tireless efforts of the contributors of the Neopian Times for an entire six hundred and fifty issues!

From its humble beginnings, the Neopian Times has grown from a picture-less, navigation-less, simple web-page, to the times we know today. Included are informative articles, hilarious comics, endearing short stories, and even an editorial where loyal readers can send their questions, thoughts, and thanks.

Of course, none of this could be possible without the dedication of the Times' editors, Droplet and Snowflake, and those lovely little weewoos that make sure your weekly issue is delivered on time. Now, if you have been following this series from the beginning, you will know where this is going, and if you are a new reader, we here at Neopian Fashions have a special way of showing our appreciation. Whether it be for the fantastic lands of Neopia, or Neopia's birthday itself, you've got to look the part.

To show appreciation for this fantastic newspaper, we will discover the perfect Neopoint and Neocash clothing items, backgrounds, and accessories guaranteed to be perfect for any reporters' and writers' attire. Sneakers for sleuthing, intricate ink, and terrific trousers, this issue has everything you need to be a successful Neopian Times' contributor.

Now, without further ado, onward to Neopian Fashions: 650th Neopian Times Special Issue!

Neopoint:

1. Backgrounds




(Neopian Times Background, Manor Room Crime Scene Background, Nighttime in Brightvale Background, Neovia Shop Silhouette Background)
Rarity: 101, 86, 83, 101
Price: 10,000,000 NP, 400,000 NP, 3,400 NP, 133,000 NP
One of the most important parts of any outfit is simply... where you are! Transport your inner fashionista to any of these reporting hotspots. With an interesting story at a variety of prices, any of these backgrounds are sure to have the perfect article for an aspiring writer.
2. Frames



(Dainty Ink Frame, Delicate Ink Frame, Intricate Border Ink Frame)
Rarity: 88, 79, 68
Price: 1,000 NP, 2,000 NP, 100 NP
Perhaps your article was a bit shorter than you expected. Put that extra ink to good use with any of these intricately lovely ink frames. Spice up any outfit but be sure not to spill any!
3. Hats


(Blue Newsboy Hat, Brown Newsboy Hat)
Rarity: 88, 75
Price: 8,000 NP, 5,000 NP
Every writer has to start somewhere... and sometimes "somewhere" is being the newsboy. Learn the ins and outs of you favourite newspaper and help out a few of those Weewoos with the delivery process!
4. Tops


(Dapper Poogle Shirt and Waistcoat, Distinguished Buzz Shirt and Waistcoat)
Rarity: 95, 92
Price: 90,000 NP, 80,000 NP
You know that fantastic "I heart Sloth" T-shirt you own? Yeah. Don't wear that to an interview. Instead, try one of these fancy looking shirts! While these are species-specific examples, almost every species has a similar looking option to the two shown above.
5. Trousers




(Quiggle Gentleman Trousers, Mynci Zoot Suit Trousers, Neopian Times Zafara Trousers, Skeith Tinkerer Trousers)
Rarity: 96, 96, 97, 96
Price: 50,000 NP, 10,000 NP, 60,000 NP, 800 NP
Similar to the tops, just about any pair of trousers will do for a successful reporter. My personal favourite (if you couldn't already tell) are striped trousers. That extra bit of class can go a long way.
6. Coats



(Brown Suit Coat, Elephante Detective Shirt and Coat, Grarrl Sleuth Trench Coat)
Rarity: 80, 93, 96
Price: 3,000 NP, 40,000 NP, 90,000 NP
You really can't be a good detective without a good detective coat. It's basically the law. If you're lucky enough to have a species-specific coat available like the Elephante or Grarrl, then fantastic! If not, spice up your wardrobe with a fancy Brown Suit Coat.
It's not a quite a trench coat, but it will do until your next trip to the NC Mall so stick around!
7. Black Square Glasses

Rarity: 101
Price: 300,000 NP
Thick framed glasses are always in style and look great on any face; however, at 300,000 NP, these make quite the expensive pair. Similar species specific pairs such as Scorchio Scholar Glasses and Trendy Acara Glasses are available as well, for a much lower price which may be a better option!
8. Neopian Times Writing Quill

Rarity: 101
Price: 2,000,000 NP
A bit of an expensive accessory, but if you're serious about your writing, it's a healthy investment and completes any look.
NeoCash:
1. Backgrounds



(Hidden Library Corner Background, News Reel Background, Neovian Twilight Background)
Rarity: 500
Price: 200 NC
On the job reporting the story? Looking for a quiet place to write? Or perhaps you're sleuthing around looking for clues. Regardless, the NC Mall has the perfect background for you for only 200 NC each!
2. Detective Trench Coat

Rarity: 500
Price 150 NC
Can't find a species-specific trench coat? Perhaps this NeoCash trench coat is a better option for you! It goes great with any outfit and is only 150 NC. What a steal!
3. Shirts

(Purple Plaid Shirt and Waistcoat, Fancy Striped Button Down Shirt)
Rarity: 500
Price: 150 NC (each)
When interviewing local celebrities, it's important to look your best. Put your best foot forward with one of these three top-notch shirts. Perfect and professional.
4.Dark Wig and Fedora

Rarity: 500
Price: 150 NC
Going undercover? Yeah, you're going to need one of these. Change your usual appearance to one unrecognizable by friends and family and get the scoop.
5. Trousers


(Khaki Trousers with Cuffs, Pastel Striped Trousers)
Rarity: 500
Price: 150 NC
A pair of trousers, great for... going out in public. These trousers can be dressy or casual, but always comfortable. Perfect for sleuthing, reporting, or writing, so get yourself a pair today!
6. Shoes


(Basic Black Lace-Up Shoes, Basic Brown Lace-Up Shoes)
Rarity: 500
Price: 75 NC
These shoes are sure to keep your sleuthin' feet warm and dry wherever you go. Don't let a spooky storm stop you from getting the scoop!
7. Accessories


(Feather Shower, Magnifying Eye Glasses)
Rarity: 500
Price: 150 NC
Perhaps you wrote a little too finely or are having trouble reading your notes. If so, these glasses are just what you need. Writing is a bit difficult otherwise.
NeoCash trade:
These are a few items that would definitely be a great addition to your wardrobe; unfortunately, they are unavailable for purchase from the NC Mall at this time.
If you have been lucky enough to snag one of these items, fantastic! If not, there are many users who actively trade there NeoCash items for other NeoCash items. You might find just what you're looking for!

1. Classic Neovian Dress
Rarity: 500
This fantastic dress could be won from the Wonderclaw machine during October 2012. It's a perfect combination of formality and elegance. The flowy billows of fabric are sure to accent any figure perfectly.

2. Classic Neovian Outfit
Rarity: 500
This outfit was a Blumaroll prize from November 2011. Great for a fancy dinner party or a serious interview.

3. Simple Striped Shirt and Waistcoat
Rarity: 500
Nothing says serious-reporting-business like a waistcoat. Coincidentally, this item was also a Blumaroll prize from November 2011.

4. Standard Neovian Shirt
Rarity: 500
Released in September 2012, this fantastic shirt was a Wonderclaw prize. It really doesn't get any classier than this, folks.

5. Feathered Sterling Silver Wig
Rarity: 500
Released in December of 2013, this item was a Shenanigifts prize. Simple, classy, and a feather to pay respects to our loyal Weewoos. It's the perfect hair and accessory for any Neopian Times fan.

6. Magical Quill and Book
Rarity: 500
Last, but certainly not least, we have the Magical Quill and Book. Available in the NC Mall for over five years, this item was just retired in November 2013. It's the best for writing faerie tales. How else would they be so magical?
Ah ha! I see you all have made it through my list. Well done, fashionistas. Now you can set out with confidence in your reporting skills and pride for your favourite newspaper. Warm congratulations to you for finding the perfect outfit to wear on this special day. It is not too often we get a 650th of anything around Neopia! Additionally, I give a huge 'thank you' to the loyal readers of Neopian Fashions. May your desire and appreciation for Neopoint and Neocash fashions forever inspire you and take you all over the globe!