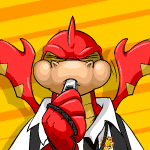 Mid-Altador Cup Crisis?

by usukii

--------

When the Altador Cup first begins, many of us are the same, immediately deciding on all of these goals and ranks that are going to be achieved during the Cup and not even considering the possibility of failure. And that's brilliant; we could all use a little extra optimism in our lives!

And then maybe that first week you made every single goal, maybe you didn't. And then came the second week and things started to slow down a little, and now? Now you might feel like you're so far behind on your rank goal that you're considering just leaving the whole thing until next year (if you haven't already).

But never fear, that's where I'm here to lend a hand! There are two ways to go about getting yourself back on track with the motivation to finish through to the end of the Cup and I'll go through both of them. The first one is reworking your goals to meet the original rank you were aiming for.

Chances are, you probably worked out approximately how many games you should be playing a day to reach your original rank. But you fell behind one day and tried to make it up the next which just left you worn out and chances are this cycle continued until you reached your current point. So you need to stop, take a deep breath and think about reworking that daily goal. How many points have you got left to reach your goal? And how many days left have you got to reach that goal before the Cup ends for another year? Minus 1 off the remaining days; you'll thank me for it when you finish your goal a day before the Cup ends, rather than rushing to finish it in those last few stressful hours. Now divide your points by your days and you've (hopefully) got your number.

Now keep in mind that a Yooyuball win will be worth 12 points, a draw worth 6, a game of Slushie Slinger is also worth 6 and then Make Some Noise and Shootout Showdown are worth a point each. By this point you probably know what you're likely to be able to play in a day before you start to get fed up, so keep that in mind. There's a chance that this number is just going to be too high for you to reach now, so we move on to option number two.

Re-evaluating your goal. Yes, at the start of the Cup you were so determined that this would be the year you finally made All Star. And yes, it would have been wonderful, but let's face it; you were always aware that it might not happen. But life happens and now if you don't want to give up on the Cup entirely, you need to go for a slightly more realistic goal and there are two ways to go about this.

Firstly you can pick another rank goal, just a number you'd like to reach, rather like you did when selecting your original goal most likely. Or if you put a little more thought in to it and if you're a trophy type person, you could use those to help you decide. Say you were originally going to aim for All Star; well, if you reach rank 16, you'll actually still get the same trophy. Likewise, ranks 11-15 will get the same trophy as each other, 6-10 and 1 to 5. So if you aim to rank up high enough to move in to the next trophy tier, you'll be able to see proof of that effort every time you visit your lookup.

Of course, picking a number just because it sounds cool or you want the trophy doesn't necessarily mean you'll be able to reach it, so you could go a slightly more logical way around it. You've been playing the AC games for a while now and you've probably got a pretty good idea of how much you can play each day. So work out the points for that. Let's say you can play 20 games of Yooyuball, 5 games of Slushie Slinger and 100 of Shootout Showdown before you get bored each day. That will be 370 points a day.

Now work out how many days you have left, and again I recommend taking 1 day off your total just so you can either finish early and have a stress free last day, or if for whatever reason you can't make your daily goal, you'll still be on track and won't have to re-work those daily goals again. Now multiply your points by those days and you've probably got a considerably more impressive looking number. You'll want to also work out how many points you have already scored in the same way, and then add the two together for your final total.

The points needed for each rank can vary from Cup to Cup so the best way to work out what rank that total will get you to is to find a petpage listing them, or asking the friendly folks over on the Altador Cup boards. And there you have it, a realistic AC rank for you to work towards and still achieve by the end of the Cup!

But wait a minute; you've read through all of that and still have no desire to play those games anymore? Well, rest assured that you will most definitely not be alone, and while many may take this to mean they can't do anything to participate in the Cup if they're no longer playing the games, this is far from true!

If you were playing games during the start of the Cup, maybe you picked up some tricks to getting higher scores, or to keep you entertained while playing them? Head on over to your team board and share them with your team mates; there will definitely be someone over there that will appreciate and make use of your knowledge! A lot of teams also choose to keep track of their points as a group but with everyone focussed on playing the games they often struggle to find people who are willing to keep track of all the scores people are posting, maybe you can lend a hand with that instead?

Or if the team boards aren't for you how about making your own board with your thoughts on today's matches? Prediction boards are always popular and it's a way to keep yourself excited about the day's result and seeing how accurate your predictions are from day to day. Remember, the AC is a community game and is a lot more than just sitting by yourself playing those four different games.

However you decide to spend the remainder of your Altador Cup, just make sure you're enjoying it!