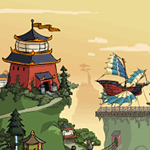 Neopia's Best Summer Destinations

by darkobsession

--------

Last time, I rambled on about what Neopian destinations you should avoid during summer vacation, and I thoroughly explained my reasons. Not to discourage my fellow Neopians from having a good summer, I have compiled another list, which I present to you as this guide, entitled: The Best Neopian Summer Destinations.

~*~

Kreludor

There's no weather in space. So there isn't much to say about Neopia's only Moon really, except it's simply out of this world. It's not considered a tourist destination by any means, for all it has is the Mining Corp where Grundos work day and night. This is exactly why Kreludor made it to this guide. There's nothing to do but eat and nap (and the occasional Moon Bounce.) Just get there, and you can make up for all the sleep deprivation you suffered throughout the year. You can catch up on your Booktastic Book reading as well, while roasting marshmallows on one of Kreludor's hundreds of crates. Don't forget to try your hand at Spacerocked, the fun game where you defeat gravity. Oh and bring lots of Neocola tokens for the Neocola Machine, you might win a nice Transmogrification Potion to bring back home.
Brightvale

Contrary to Meridell, Brightvale is actually a good place to spend the summer. Most residents are scholars who spend their day reading, learning, and researching, even in the middle of summer. That is the exact definition of "summer school". If you prefer peace and quiet, then Brightvale is the place for you. Just buy a book or two from Brightvale Books, head towards the nearest green pasture, lie on the grass, and read all day long, with a bowl of fresh fruits next to you.
Faerieland

Ever since it crashed down from the sky, Faerieland gained undisputed popularity amongst Neopians. After it was almost exclusive to winged Neopets like Unis and Eyries (who had to carry their siblings on their backs,) it's now much closer and accessible on foot. Despite gaining much more popularity, it's still a nice destination for summer visitors, especially those who love fantasy adventures, enchanted forests, and magic. You'll enjoy meeting the all kinds of faeries, whether in Faerie City or its surroundings. If you're tired and under stress, all you need is a dip or two in the Healing Springs and you'll be rejuvenated. You can also rent a gazebo and watch one of Faerieland's famous sunsets. After that you can spend some time looking for the Hidden Tower, where you will get to marvel at the rare and beautiful artifacts Queen Fyora has for display there. Then you can buy a ticket to watch Poogle Racing and why not, bet on your favorite Poogle. If you win you'll get a nice little profit. Another event to look out for is Faerie Cloud Racing, where you get to cheer on your favorite faerie as they zoom by in their little vehicles. But the thing you'll enjoy most in Faerieland is the Faerie Foods shop. That culinary faerie really knows what she's doing, and the blends of flavors will delight your taste buds for a really long time. It's alone worth the trip. I recommend the Faerieland Gourmet Burger and Blue Moon Sundae. Before you leave, try your luck at doing a quest for Jhudora. Rumor has it that her mood is much better when the sun is up and a summer breeze is gently blowing by her Bluff.
Maraqua

Do you know the old saying: "Fight fire with fire?" It doesn't really work against the summer heat. The more obvious solution is "fight fire with water!" And what's the biggest watery place in all of Neopia? Why Maraqua, of course. This peaceful little kingdom is submerged under the ocean, and is a perfect runaway destination for a few weeks of summer vacation. The weather down there is always cool, relaxing blue water all around you, and the natives are very friendly. All you need is a scuba diving kit and you're good to go. To breathe underwater, you can buy an air bubble for swimming around the city, although once inside your rented Maraquan neohome, you won't need it. If you like adventures, you can visit the Old City ruins with its amazing Bubbling Pit (you might even get a very rare chance to encounter some elusive creatures like Chiazilla or the Slug Monster and go home with a story worth telling to your grandchildren.) But if you're the mellow type, you can visit the marvelous Coral reef, or just sit in a lazy chair and watch schools of fish pass by in all kinds of formations and colours. There are yet more activities you can do for fun: play Petpet Plunge, check out the unique Maractite marvels, and finally buy a few beautiful, handmade souvenirs at the Collectible Seashells shop.
For those sick of the dry land's Gourmet Food, there is an alternative. Maraquans proud themselves for owning Neopia's finest eatery: Kelp! which serves amazing multi-course meals –that will be particularly enjoyed by sea food enthusiasts - in a really classy atmosphere. True, you'll spend more than you usually would on food, but hey, you're on vacation, and you deserve to splurge a little bit. Remember to reserve your table in advance or else there's a bit of a wait, as seating is limited.
Terror Mountain

Snowball Fight in the middle of the summer?!!! No, you're not dreaming. You can have that and much more on Terror Mountain. Contrary to its not-so-touristy name, Terror Mountain is a fun wonderland. It's covered in snow all year long, making it another great place for running away from the summer heat.
Once you arrive, you will find yourself at The Happy Valley. Your first stop should be "Merry Outfits" where you can exchange your T-shirt and sandals for something more suitable: a parka and fur-lined boots. Then you should visit the Slushie Shop for some refreshments. After that, take a tour of the Ice Cream Machine while collecting free samples randomly thrown at you. Next stop is the Ice Caves, where you can marvel at all the sparkling ice crystals, slide down natural ice slopes, and try your luck at stealing the Snowager's treasure. At last, climb to the Top of the Mountain, where you can ski, play Snow Rolling, get a Brucicle at the Super Happy Icy Fun Snow Shop, and finally visit Taelia, the lovely Snow Faerie. If you're lucky enough, she'll give you a coupon to one of Mr. Chipper's delicious ice cream cones, which you can have on your way out, promising yourself you'll be back real soon.
Shenkuu

High up in the mountains is the mystical city of Shenkuu: a small, exotic, merchant town. It's known for its beautiful scenery, amazing landscapes, exquisite food, distinct sense of fashion, and unique architecture. The weather there is almost always mild, but can get a bit chilly on the misty mountain tops. It's perfect if you're a nature lover, where you can walk by abundant waterfalls, numerous species of trees (who doesn't like to look at cherry blossoms?) and traditional rock gardens. Shenkuu is also considered a great place for recuperation after a long year of hard work. If you're looking to spend some quiet time to meditate and relax, this is the perfect place for you. All you have to do is meet the Wise Gnorbu who resides in the Lunar Temple. He holds Yoga classes for beginners. There's a special aromatherapy room just for the purpose of de-stressing as well. He'll also teach you how to moon gaze at night, which is a very relaxing activity. A visit to The Remarkable Restoratives shop should be in order, too. The owner is a Ruki Shaman who will blend organic roots and other all-natural ingredients to make a medication for your back pain, or a soothing tea for your stress related issues. If you're the outgoing type, you can also embark on one or more of many available adventures: river surfing, hiking or rock climbing (under the supervision of Princess Terrana herself.) Once a day, the Emperor's Palace opens its doors to visitors, on one condition: pass the Imperial Spelling Exam. (Don't worry, it's easy.) As for the food, it's unique, healthy, and very delicious. Chef Bonju will make you one of his many specialties: Noodles, Fried Rice, Kimchi, and of course, Sushi, to name a few. At last, you should pass by the Fanciful Fauna shop, and get yourself a rare and magical petpet as a reminder of the time you spent in Shenkuu. They are said to bring good luck. Also a Cherry Blossom Silk Dress would make a great gift for your family.
Altador

Now is the perfect time to set sail to this little coastal kingdom. The Altador Cup is over, and the streets of Altador have emptied from crazy, screaming fans. Not only that, but last year was exceptional for the local team, who got second place and the silver trophy - their highest ranking ever. Altadorians are still celebrating and it's an opportunity to join in the festivities. Other than that, Altador is a very culturally rich city, and is ideal for visitors who like to take a dip into history, and touch what they learned in school up-close. You will need to hire a local tour guide and visit the Altadorian Archives, the Water Factory, and the Hall of Heroes. On weekends you can catch Chariot Chases, an exciting and interesting race that takes place at the Colosseum. After that, pass by the Royal Astronomy Club and learn how to locate all the constellations. When you're done with revisiting history, wear a Toga, take a walk by the beautiful coast, watch the sun setting from one of the cliffs overlooking the sea, and get ready for a unique and healthy dinner at Exquisite Ambrosia. The food of Altador is nothing less than heavenly, with a wide variety of breads, cheeses, and fruits, plus unique foods like Hummus and Stuffed Grape Leaves, and sweet, aromatic drinks like Nectar of the Heroes. You will go back home both mentally and physically satisfied, that's for sure.
Neopia Central

Why get away when you can enjoy your vacation right where you are? For many folk who don't like to travel, there is no place like home. While almost everyone leaves town, you can stay behind and lounge in Neopia Central instead. Why not? It's a fine idea by all means. It's far less crowded, so you can do all the things you've always wanted, and you have everything you need around you. You can book a room in the Neolodge (at a discounted price,) spend all day out, and you won't get bored. Walk in the Neopian Bazaar and shop 'til you drop (you might finally find that elusive book or rare stamp you're seeking,) visit the Money Tree where you have a greater chance of grabbing something, then sit by the Rainbow Pool and have a snack from the near-by Food Shop. You can even take a dip in the Pool and get a new shiny summer coat (Rainbow will look nice and colorful.) Walk to the Arts Centre in the Plaza and check out the different exhibits taking place there. Sit for a tall cup of iced latte in the Coffee Shop while listening to poem readings, and enjoy striking conversations with random strangers in the Art Gallery while enjoying different paintings. There's so much to do, really.
~*~
Well, here it is: The (almost) complete guide to Neopia's finest summer destinations. If you enjoyed it, remember to pack it in your backpack for different tips and tricks on making the most of your vacation around Neopia. Until next time; enjoy some fun in the sun, relax, and have yourselves a wonderful summer :)
N.B: This article was submitted before ACIX kick-off.
Search the Neopian Times


---
Great stories!
---------
---------
---------
---------
---