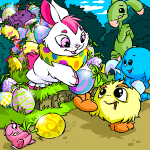 Top 10 Most Beautiful Neggs and Three More

by lunafaeire

--------

With Spring just under-way, many Neopians gather around for the annual Negg Festival. With so many beautiful neggs to choose from, how do you pick a favourite? Well, the answer is, you don't. I myself, am drawn to a few neggs, some more-so than others, but no negg is a clear winner. To celebrate this year's Negg Festival, here is a my list of Top 10 Most Beautiful Neggs in Neopia!

Let us begin from the bottom of the list and work our way up!

#10: Glamour Negg: This negg is so pretty that it even has mascara and lipstick on! It is on the bottom of the list because even though the Glamour Negg is undeniably beautiful in her own way, she lacks the natural beauty that the other neggs on this list have.

#9: Princess Amira Halloween Negg: The pattern on this negg is simply exquisite! Just by looking at this negg you can imagine yourself in the middle of the Lost Desert surrounded by desert royalty. With a slightly more natural feel to the outer look of this negg, the Princess Amira Halloween Negg comes out on top on the Glamour Negg.

#8: Negg of Purity +1: There's something quite angelic about this negg. Eating this negg gives the chance of increasing the defense of the consumer by 1 point (hence its name). With such inner beauty, this negg stands tall at number 8 on my list.

#7: Cupid Negg: Ahh, you can't help but fall in love with this beauty of a negg. No doubt this is a beautiful negg that deserves to be on this list! However, I've place the Cupid Negg at number 7 on the list because the colour scheme doesn't quite scream "EASTER NEGG HUNT". Better luck during Valentine's Day, Cupid Negg! ;)

#6: Christmas Pattern Negg: I love the holiday season where everyone is jolly and carols are sung. This negg reminds me of the cold winter nights of December that I adore. With the cosy feel of the pattern on this negg, the Christmas Pattern Negg comes in at number 6. Its ability to to put a smile on everyone - from children to adults - is what makes this negg reign more supreme than the Cupid Negg.

#5: Blooming Ivy Easter Negg: Nothing says "spring" like the Blooming Ivy Easter Negg! With flowers and vines painted on this negg, this truly is the negg that defines the spring season. The colour scheme of this negg is perfect as well and is what helped this negg come in at the middle of the list.
Still want more? What's that? You do? Well, you're in luck because we're only halfway through the list!

#4: Mosaic Negg: This negg is reportedly made up of pieces of other neggs! This gives the Mosaic Negg an edge in the competition as it carries with it all the beautiful parts of other neggs, forming one very pretty negg. However, taking pieces of other neggs and claiming it to be its own is the same as lying about its identity by hiding behind many others. This is the Mosaic Negg's fall-back and because of this, I'm afraid it was fallen short of the top three spots to come in at number 4 on the list.

#3: Stripy Easter Negg: What says "negg" more than a Stripy Easter Negg! With beautiful complimenting spring hues on this negg, it is surely a top 3. Although pretty in pastel-like colours and spring patterns this negg still falls short of the top spot on the list.

#2: Happy Anniversary Negg: Hah! You would think this negg would take the top spot, but I've put it at number 2 to throw you guys off! Nope, the Happy Anniversary Negg takes the second spot on this list because although you got to admit that that gigantic diamond ring is gorgeous and people would pay BIG neopoints to own one of these beauties, it doesn't define the term "negg" as well as some others. For this reason, the Happy Anniversary Negg has been placed at number 2 on the list.
Are you ready for it? The number 1 spot belongs to...

#1: Jewelled Negg: Congratulations to the Jewelled Negg! This fine-crafted jewel encrusted negg is the most beautiful negg on my list. With such intricate detailing that may well be too pretty to eat, the Jewelled Negg can make its own crown and take home the title of MOST BEAUTIFUL NEGG.
Well, that's all, folks. That was my take on the top 10 most beautiful neggs in Neopia... Just kidding, it's not over yet! Read further for my top 3 consolation prize winners!
In no particular order, I present to you the three beautiful neggs that were not quite as beautiful as those on my top 10 list:

Battle Duck Negg: This negg is a great treat to have when celebrating the Negg Festival. With cute little ducks painted all over it and a generally spring-y colour scheme to the whole negg, this negg is great for celebrating baby neopets' birthdays as well!

Blue and Red Checkered Easter Negg: The Meridell-like flag painted on this negg shows that the Blue and Red Checkered Easter Negg must have been made for King Skarl himself. Not as "pretty" as the rest, but still nonetheless beautiful in its own... King Skarl-y way..., this negg falls short in making our top 10 list.
Last but not least, we have...

Candy Cane Negg: The peppermint-y goodness of this candy lacquered negg is a favourite during the holiday season. Although this negg can easily make the top 10 list, the fact that it becomes sticky under the soon-to-be hot summer weather, pushed it far back down - and out! - of my top 10 list.
Well, there you have it. We have come to the real end of this article. Thank you so much for reading my list and I hope you have enjoyed it as much as I did writing it. If you're reading this, this is my very first "list" submission and my third published article in the Neopian Times. I will be writing more articles for your reading pleasure in the near future :)