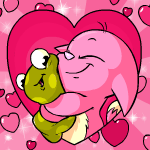 Last Minute Gifts!!

by suspensiion

--------

Also by therainbowsheep

Happy Valentine's Day, you slackers! (Disclaimer: we're assuming that if you're taking time out of this special day to read this article, it's because you were a tad careless and didn't mark your calendar in advance. But don't worry, there's still time! We'll help you!) Because while some of us are prepared, others…well, not so much. It happens to the best of us. If you have waited until the last minute to buy gifts for your special someone (dear friends and neopets included of course!) maybe this list will help. The following gifts can be searched for via the Shop Wizard. Everything listed is buyable so that you don't have to wait for someone to respond via the Trading Post and so you don't get carried away and forget about keeping a smart budget. Just keep in mind that the prices listed are only approximate and are subject to inflation. But hopefully prices will stay about the same - at this point most valentines day themed items have already risen in price. It's possible to be both thoughtful and sensible, so let's get started. :)

1. Sweet Heart Negg (approx. 20k)
The name of the item says it all. The Sweet Heart Negg has been our go to last minute gift for as long as we can remember. Whether it is a last minute Valentine's gift or a simple "You mean a lot to me!" gift, this particular negg never fails to put a smile on the receiver's face. From the adorable pink hearts to the elegant red bow, this gift is aesthetically pleasing and sure to be appreciated. It would look lovely in anyone's gallery and if it's for your neopet, well, supposedly there's a special treat inside. Intriguing, right? But moreover, it's short, sweet, and to the point!

2. Simple Ivory Love Spoon (approx. 85k)
This gift idea is one of our favorites. We chose it for all of you people who despite being last minute, like to be original and obscure! If you want to be flashy and creative, then the Simple Ivory Love Spoon is probably the right choice for you. Found in the gift shop, the item is described as "a charming piece of hand carved art for your loved one." So don't fret incase you thought we were suggesting you buy your loved one a shiny new utensil. This is art, of course. There are a variety of other love spoons available both simple and ornate depending on your taste, but this one is our favorite. We think it's classy and beautiful. While still buyable, it's not exactly cheap, so you can show your special friend that you put a dent in your bank account just for them! (Seriously though; be sure to explain how it's not just a spoon. That's of utmost importance.)

3. CANDY (price depends!)
This gift is a little more flexible than the other two in terms of both selection and price. Who doesn't love candy on Valentine's Day...or any other day for that matter?! We couldn't pick our favorite kind of candy or chocolate so this one is entirely up to you in terms of how much you want to spend and which flavor you want to choose. Whatever you decide though, gift the gift of deliciousness! We recommend items such as: Heart Shaped Bon Bons (approx. 13k), Glitter Heart Candy (approx. 5k), Dark Chocolate Hearts (approx. 3k), or a Heart Shaped Box of Toffee (approx. 3k). If you are in a real bind and can't decide what to get (decisions are tough, we've all been there!) just send a whole slew of heart themed chocolates! Other items could include: Valentines Heart Shaped Chocolate Box (approx. 3k), Heart Shaped Chocolates (approx. 4k), or maybe even Sour Candy Hearts (approx. 2k.) Mm chocolate. Trust us, you can't go wrong!

4. Rainbow Morning Flower (approx. 95k)
Flowers and chocolate go hand in hand, of course! So if your plan is to send a bunch of chocolates and other assorted candies then maybe think about pairing them with some flowers. This Rainbow Morning Flower is vibrant, gorgeous, and designed to make any neohome shine. There are other flower choices as well, some specifically for the neohome and others as wearables. Pretty much any sort of flower is an appropriate gift for this special day, so don't hold back flora front. Other options could include Bowl of Flowers (approx. 500np), Blue Fan Flowers (approx. 9k), or Vase of Pretty Flowers (approx. 10np!!!).

5. Heart Kacheek Balloon (approx. 55k)
This item is about one of the cutest things ever! *pokes little winged kacheek* It's inside a heart shaped balloon which is so intricately designed it almost resembles a snow globe of sorts. Anyone would love to put this up for show in their gallery, especially if the theme is kacheek or love. Or simply if they like saving the precious gifts they receive. Balloons are considered festive for a number of occasions and Valentine's is no exception!

6. Valentine Plushies! (price depending)
There are a handful of cute little valentine plushies within the price range of the Shop Wizard. It is up to YOU to decide which is cutest and best suited for its recipient. First up we have the Valentine Yurble Plushie (approx. 25k). This is perfect for that special Yurble lover you know. You know who we're talking about! Yeah, that person!! Everyone knows someone that loves Yurbles, right? Totally.
The next plushie is the Valentine Quiggle Plushie (approx. 55k). From there we have the Valentine Wocky Plushie (approx. 75k), the Valentine Chia Plushie, and the Valentine Kiko Plushies (both approx. 90k). Finally, we have the Valentine Nimmo Plushie (approx. 91k) and the Valentine Bruce Plushie (approx. 95k). You don't have to be a plushie collector to appreciate one of these cute little toys!

7. Bottle of Love (approx. 10k)
The creme de la creme of last minute gifts. This is the obvious choice for Valentine's day or any other day where you want to tell someone how special they are. Cheap and seemingly plentiful, this gift is likely to be around for years to come. This would work as a nice "top off" after sending other gifts to someone. The cherry on the ice cream, the frosting on the cake. After all, it's symbolic. Bottle of Love. At the end of the day, what represents love better? :)

8. A Mysterious Valentines Card (approx. 20k)
This used to be one of the most sought after gifts for Valentine's Day. Back in the day people would hoard these all year just to sell them for rocket high prices starting the week of Valentine's Day. These days it is more common to see them so they don't inflate as much. Despite the lower price, they make a great gift regardless! Don't forget, The A Mysterious Valentines Card will give you and the person you send it to the Valentine's Day Theme!!
As you can see, the majority of items on this list are valentine's day classics! We deliberately didn't think too outside of the box (besides that misleading spoon!) because unlike a lot of other holidays, Valentine's Day is that special day in which cliches, tradition, and corniness are embraced with open arms. So don't be afraid to be a little cheesy and just have fun with it. Everything we suggested is tasteful, fun, and most importantly easily available for all of you who are doing a little last minute shopping.
Happy Valentine's Day! We hope you found this list helpful. :)