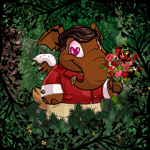 Dressing Your Male Neopet for Valentine's Day

by amarillida

--------

Also by martia_elior

Valentine's Day is just around the corner and we wanted to dress our male Neopets up for this sweet, lovely holiday, but what a hard challenge!

There are only a few male garments that are suitable for an important event like this, so we decided to make a short list of male items, from the hat to the shoes, in order to help every male Neopets who wants to have the perfect outfit, even if they aren't romantic and prefer a gothic style or they hate Valentine's Day. This way they can be proud to show their personal attitude!

HATS

Red Derby. This awesome hat is a neopoint item and costs only around 13k a piece. Its vivacious red colour is really appropriate for the most romantic Neopet!

Black Derby. The Black Derby is elegant and really refined. Your Neopet will show his melancholic, dark mood for a really gothic Valentine' s Day! It costs around 55k a piece and we are sure you'll use this hat for a lot of different customisations... so keep it in mind!

Spooky Spyder Top Hat. The Spooky Spyder Top Hat is a retired NC item, but is still really easy to find! We suggest to use this hat to celebrate your pet's repulsion to Valentine's Day with stylish and glamour!

WIGS

Suave Dark Wig. This lovely wig is a new item and it is still a bit expensive. You can buy it at around 250k a piece at the trading post; however, because of its low rarity, you can wish for it at the Wishing Well. So don't forget to use your fourteen wishes per day for this gorgeous wig! Dressing the Suave Dark Wig your Neopet will look actually romantic!

Basic Short Wig. There is a new shop at the NC Mall where you can buy five short wigs in five different shades for only 100 NC each. This is a really great bargain because these wigs are really versatile, graceful and spiffy! Which colour will you choose for your Valentine?

Philosophers Wig. This wig is a retired NC item. It was awarded for unlocking a Purple Luminous Cask by using a Silver Cask Key during the Obelisk War. The Philosophers Wig is perfect for shy, introverted and gothic Neopets!

Wild Mutton Chop Wig. This neocash wig was available from Haunted Hijinks on October 2013. It is a really underestimated item, but we think it is the most appropriate wig to show off your Neopet's Unvalentine mood!

GLASSES

Premium Collectible: Heart Contacts. This very-easy-to-find pair of neocash contacts were rewarded during January 2014 to loyal Premium players. Wearing these cute, fun contacts, your Neopet will be able to show all his love for his Valentine! A valid alternative is an older neocash wearable called Vision Of Hearts; it was awarded during the Sealed with a Gift event in 2013 and it still is a cheap item to find on the NC boards.

Smarmy Monocle. This dandyish, refined neopoint monocle can be bought in shops for around 7000 NP a piece. It came back in fashion thanks to Professor Lambert, the leader of the Seekers and now, every stylish male pet wants to reproduce his sophisticated look, even on Valentine's Day!

Staring Skull Contacts. Truly gothic Neopets know the importance of skulls in their outfits. That's why they'll choose for sure this pair of contacts coming from the latest Cookie released in the NC Mall, the Sugar Skull NC Fortune Cookie. You can buy it for 250 NC and, if you're lucky, you'll find those contacts inside!

Angry Meepit Eyes. Pets disgusted by Valentine's Day will probably have an annoyed gaze, as they are surrounded by heart-shaped garlands, cookies, and anonymous, mysterious valentine's cards. The Angry Meepit Eyes, a neopoint item from Y11 Daily Dare, are available in shops for around 95,000 NP a piece and your Unvalentine pet will be more than glad to show a displeased look on Valentine's Day using those eyes!

COLLAR

Black Satin Bow Tie. Spending only 50 NC you can gift your Neopet this elegant and versatile Bow Tie. He will stun her Valentine for sure thanks to his dandy outfit!

Black Jewelled Collar. This cheap neopoint item costs 500 neopoints a piece only and we think that it is a must have item! It is suitable for both male and female Neopets and is more than perfect for a gothic look!

Experimental Monster Chain Necklace. Have your Neopet ever suffered the torments of love? Is he sure that he'll never find someone who will be able to open his heart again? Well, dressing the Experimental Monster Chain Necklace, your pet will show his attitude towards love and will surely be the most Unvalentine Neopet in the whole Neopia!

SHIRTS

Red Heart Vest and Shirt. This adorable shirt is perfect for every really romantic Neopets! Its red, elegant waistcoat presents gracious printed pink hearts of different sizes, so your Neopet will proudly show off his feelings when they are wearing it!

Respectable Shirt and Waistcoat. This item was awarded for unlocking a Green Luminous Cask by using a Silver Cask Key during the Obelisk War. With its gold and purple colours, the Respectable Shirt and Waistcoat is perfect for a stylish and elegant Neopet… Every girl will fall at his feet!

Skull Thermal Shirt. This limited edition NC item was obtainable through the Silly Skull Mystery Capsule available until November 2010. It was rereleased a lot of times though, so you can easily find it on the Neocash Board. If your Neopet has a gothic, dark character, he will be truly happy to dress this shirt full of skulls!

Standard Neovian Shirt. If your Neopet doesn't really like Valentine's Day, he will probably want to show all his grayness and dullness using the Standard Neovian Shirt. This garment presents many different shades of grey and black, which make it a very depressed piece of cloth. It was an old prize of the Neovian Wonderclaw Machine, but it can be easily found on the NC board, like the Skull Thermal Shirt mentioned above.

JACKETS

Valentine Tuxedo Top. This elegant jacket was available at the Valentine's Shop in the NC Mall during 2012; it has been rereleased many times though, so it's quite easy to find. The Valentine Tuxedo Top is sober and really graceful thanks to its soft colours. The pretty little pink bow tie adds a touch of romance and style!

AAA Host Shirt and Jacket. This neopoint item was a prize during the 2011 Daily Dare. It now costs around 80k a piece in shops and it is a great closet investment thanks to it extreme versatility. The AAA Host Shirt and Jacket is perfect not only for a Valentine–themed customisation, but also for every Neopet who loves dressing with polished outfits every day!

Gothic Hearts Jacket. This item was obtained through the Heart and Crossbones Sweetheart Gram during 2012. It is a really simple jacket garnished by a refined heart–shaped embroidery. The Gothic Hearts Jacket represents the right balance between simplicity and romanticism.

Fance Top. This amazing piece of cloth is a bit expensive, you can buy it at the trading post for around 180k. We think that this jacket is a great closet investment, though, because it is a really versatile garment. If your Neopet is still looking for a Valentine, we are sure that he will end his research really soon thanks to the elegance of its Fance Top!

Spiffy Black Leather Jacket. For only 150 NC you can buy this evergreen leather jacket from the NC Mall. We think that this tough-looking jacket is suitable for every Neopet who doesn't want to celebrate Valentine's Day!

TROUSERS

Hardy Blue Trousers. This cheap, evergreen pair of trousers is a must have. They can be used by both male and female Neopets in many different occasions. The Hardy Blue Trousers are in fact actually versatile and you can use them for almost every event simply changing few details.

Khaki Trousers. You can buy these trousers from the Ever Stocked General Store in Neopia Central. Thanks to its neutral colour, the Khaki Trousers are really easy to match with other Valentine – themed clothes. You can create a really original, sober, refined outfit spending only 200 NP!

Basic Black Trousers. You can buy these brand new trousers from the Basics Shop at the NC Mall. They are dark and elegant and we think that they are perfect for a really gothic and dark Valentine's Day!

Black Utility Trousers. Dressing this pair of crumpled trousers, your Neopet wants everybody to know that he won't celebrate on Valentine's Day, because he hates it to bits! And he can show off its aversion for this event spending only 150 NC. What a bargain!

SHOES

AAA Host Shoes. If you are addicted to customisation, then we are sure you already have these dandyish, brown shoes in your closet. They were a neopoint prize of the 2011 Daily Dare. If you missed the event, you can buy a pair of these shoes for only 30k in shops. The AAA Host Shoes are really versatile thanks to their neutral colour and really easy to match with a lot of different outfits, like a Valentine–themed one!

Black and White Wingtip Shoes. The Black and White Wingtip Shoes are one of the most elegant and stylish pair of shoes you can find in the whole Neopia. This NC item was awarded through Shenanigifts Game and are now retired, but still very easy to find around the NC board. They are perfect for any gentleman–themed customisation!

Thieving Boots. These boots were awarded for unlocking a Purple Luminous Cask by using a Silver Cask Key during the Obelisk War. They are suitable for every Neopets who doesn't want give up showing is dark and gothic soul, not even on Valentine's Day!

Cobweb Shoes. These shoes were a prize of the 2012 Daily Dare and if you missed the event, you can easily buy a pair of them in shops for around 30k. Wearing the Cobweb Shoes, your Neopet reveals how much disconsolate his heart is. Will your poor Neopet be able to find a Valentine who will take off the cobwebs from both his shoes and his heart?

RIGHT HAND ITEMS

The Gift of a Single Rose. There is nothing more romantic than a well smelled red rose. This item is not so easy to find but we are sure that your Neopet will stun his Valentine with it!

Deluxe Bouquet. If you don't want to spend your NC for a single rose, you can buy the awesome Deluxe Bouquet in shops for only 1500 neopoints each. This great bouquet is colorful, it smells very nice and will be a gift really appreciated!

Gothic Black Rose Bouquet. This was a prize from the JubJub Power Bounce NC Mall Game available during the 2010. It is a retired item but it is really easy to find. The Gothic Black Rose Bouquet is the perfect accessory for a dark Neopet who doesn't want to give up being both romantic and depressed at the same time. A truly good alternative is the Gothic Lily Bouquet, coming from an old Wonderclaw Game machine!

Single Grey Flower. This very cheap right hand item is the perfect accessory for a really Unvalentine–themed customisation. The withered grey flower is able to express a great sadness and loneliness and it's ideal for pets who hate this pinkish day full of hearts.

SPECIAL MENTION

We'd like to dedicate a little paragraph of our article to the new super cute Secret Admirer Mini Pack that you can buy for only 450 NC from the NC Mall. This adorable Mini Pack contains all the essential clothes to dress your Neopet like an adorable secret admirer. The Secret Admirer Bouquet , for example, has a great appearance and its roses actually smell nice! Moreover, the Secret Admirer Trousers have a peculiar shade of purple and can be easily paired with other jackets in your closet. Hence, its garments are so pretty that you will be surely able to use them in a lot of different outfits and not only to celebrate Valentine's Day!

This brings our article to an end. We tried to choose the nicest and cheapest neopoint and neocash items, because we know how difficult it can be dressing male Neopets up! We can just hope that TNT is going to release more wearable stuff for our male pets, because they deserve the same attention of our girls! We hope you found some interesting ideas and will go shopping soon for your boys!