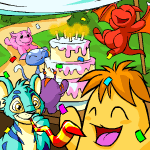 Happy Birthday!: Top 14 Items to Celebrate Birthdays

by dragoonhunter682

--------

Also by pacificana

Another year older for our beloved Neopets, and now it's time to celebrate! Every year, we see new items to commemorate that year – cakes, party hats, horns and streamers. After 14 years of fun, I'm sure you'll find a surprising amount of birthday items just hanging around in your safety deposit box. Well now's the time to break them out!

Everyone likes a good party, and we're here to show you what you can do this time to welcome Neopets' 14th year! We have fantastic birthday essentials, our favourite party items and some great ideas for you to do on this special day.

1. Giant Slice of Neopets Birthday Cake (available at The Bakery)
This delicious slice of the Neopets 6th anniversary cake is even bigger than last years!
Release Date: November 15, 2005
How can we start off celebrating a birthday without a giant slice of delicious cake? Neopians will certainly be familiar with this particular cake – we've had it fall in our laps more times than we can count! Cake is the quintessential symbol of birthdays and can come in so many different shapes, sizes and flavours. Whether tall or short, a giant tiered cake or a lovely small cupcake, vanilla or chocolate; everyone will be ecstatic to stuff themselves silly with this delectable confection. Be sure to stop at the store and pick up your cake for the celebration!

2. Birthday Cupcake Dress (NC Mall 4th Birthday Mystery Capsule; retired)
Hope this doesn't melt in the heat!
Release Date: July 2, 2011
Part of the fun of birthdays is dressing for them. It´s a chance to show that you´re in the spirit, and to look your absolute best! This dress takes cute clothing to a whole new level: not only is it pretty and pink, but it is designed to resemble a cupcake! However, if you don´t want to take the risk of being placed with the birthday snacks, or having your beautiful dress ruined by the heat, we recommend you choose regular clothing with bright colours associated with tassels, ribbons or lace.

3. Neopets 7th Birthday Goodie Bag (retired)
Happy 7th birthday Neopets! Open it up and see what's inside!
Release Date: November 15, 2006
If you've been around neopets for long enough, you will be very familiar with this particular goodie bag. It drops out of nowhere into your inventory, announced by a random event. Something has happened! You've received a goodie bag, and when you make one of your pets play with it, you discover the treasures within! This goodie bag, due to the frequency of the random events that deliver it, is severely unappreciated. So next time you get one, spare a thought to all the great birthdays that neopets has had, and smile!

4. Happy Birthday Negg (available at Neopian Fresh Foods)
Hope you have a wonderful Birthday!
Release Date: August 2, 2004
Paired with its lovely short and sweet description, the Happy Birthday Negg makes a perfect birthday present for any Neopian. It can either make a great snack for a hungry pet, or a beautiful addition to a gallery! Sometimes, simple is definitely better, and this negg wraps up birthday cheer in one neat package!

5. Lupe Birthday Plushie (available at Plushie Palace)
Celebrate Y9 with your very own Lupe Birthday plushie.
Release Date: November 15, 2008
We are not afraid to say that at the ripe old age of 20 and 21, we still adore plushies. What's not to love? They are cute, and fluffy, and cuddly, and this one in particular is just completely irresistible, combining birthday cheer and sheer cuteness. A birthday plushie is a great gift for all ages, and your neofriends will surely adore this item as much as we do.

6. Hot Air Birthday Balloon (Six-rific Birthday Celebration prize; retired)
Soar over Neopia on your birthday with this hot air balloon! This NC item was awarded during the Six-rific Birthday Celebration.
Release Date: July 20, 2013
Whoever designed this item must have always wanted to go up in a hot air balloon on their birthday! And why not? It's a perfect birthday plan, and now, if you can't get a hot air balloon ride for your birthday or even if you're afraid of heights, your pets can enjoy the ride for you! This item is sure to set everyone's spirits soaring!

7. Neopets 12th Birthday Commemorative Mystery Capsule (retired)
Time for cake! Open this capsule and receive random items worth 200NC (or more if you are lucky)! This capsule also has a chance of awarding a limited edition bonus item!
Release Date: November 12, 2011
Each year, one of these nifty birthday capsules is released to celebrate neopets' birthday. These are great fun if you like a game of chance, and are also very addicting. Open them up to try and get the spectacular bonus items, but beware, you might have opened a great deal before you realise what you've done! If you are into galleries, these are also great to collect whether your theme is capsules, or birthdays!

8. 9th Birthday Parfait (retired)
Oh, what a yummy looking parfait! This is a super food that will fill your Neopet up to a bloated state and make it happier!
Release Date: November 15, 2008
Of course this birthday list will feature tons of food! This happy bouncing parfait is a great addition to the closet, without packing on extra calories! Food is essential to a successful birthday, and it can certainly be a challenge trying to please everyone. Having simple fresh foods in addition to the delicious junk food will keep all your partiers happy.

9. Happy Birthday Pizza (available at Pizzaroo)
What better way to celebrate Happy Birthday than with a Happy Birthday Pizza? :)
Release Date: May 31, 2001
Its description poses an excellent question! People like birthdays, people like pizza. It's the perfect combination! Be creative in your celebrations, and stick the candles in a special birthday pizza instead of a cake. You can even make a fun activity out of it, and make homemade pizza, and let your guests create their own concoctions with a variety of toppings. Just prepare a table full of ingredients, and see what new recipes people come up with!

10. Red and Gold Neopets 8th Birthday Hat (available from a Neopets 8th Birthday Goodie Bag)
This party hat was only given away from a Neopets 8th Birthday Goodie Bag!
Release Date: November 15, 2007
Birthdays are an excellent time to dress up and just goof off with friends. Make sure everyone is relaxing and having a good time by strapping on a shiny party hat! The great thing about these is that they come in a variety of colours, so you can pick your favourite combination or colours that fit into your party's theme. Or just grab all the colours and let the party goers pick whatever they wish!

11. Neopets 10th Birthday Balloon Bunch (retired)
A birthday isn't complete without some balloons.
Release Date: November 5, 2009
The description is right on the nose for these balloons. Another perfect symbol for birthdays and celebrations in general is big and bright colourful balloons. Either just for decoration around the party, party favours for the guests or having someone talented create some balloon Neopets before your eyes, these festive items are a must for a cheerful and happy birthday!

12. Birthday in the Park Background (available from Mystical Surroundings)
Yay! Let's go eat cake and candy!
Release Date: November 15, 2008
A park is a great place to have a birthday party. Great open spaces, outdoor games, the possibilities are endless! Whether or not you can celebrate neopets' birthday in the park however really depends on where you live! Whereas some of us will be having a water fight, others will be making snow angels. As the description says however, everyone will have everything in common: the birthday party diet!

13. Birthday Confetti Effect (available from Birthday Confetti Magic Elixir; retired)
Now your birthday confetti can follow you everywhere you go!
Release Date: July 8, 2013
Now this item's description gives us a creepy feeling that we can't shake off. Does anyone really want confetti following them wherever they go? Furthermore, in the animation of this item, it looks like the confetti is shooting out of your pet's head. When you get past these two little observations however, this is a great birthday item! What is a birthday without a good dose of confetti?

14. Wishing You a Happy Birthday Card (available from the Neopian Gift Shop)
When words aren't enough, this card could be the best way to say Happy Birthday!
Release Date: November 16, 2010
Last, but not certainly not least, is the humble birthday card. Some people may neglect the humble card, but this simple item allows you to write whatever you want to the birthday person! Let them know what they mean to you, what you appreciate about them, anything you want! It's the perfect form to express yourself on their very special day. And the sentiment can be much more appreciated than even the most expensive of gifts! So don't forget to grab a birthday card next time!
So here it is, a list of 14 great birthday items that have been released these past years to celebrate Neopets' 14th birthday. Whether you already knew these items or have discovered them with us, we hope you include them in your birthday celebrations on the 15th of November, so we can all have fun on this great day and enjoy some of the best birthday items Neopets has to offer!