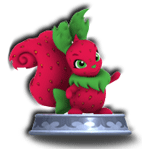 Top 10 NC Mall Key Quest Tokens

by honeybee54321

--------

Once upon a time you were able to buy Neopet Key Quest Plushies at participating stores. These plushies had a code attached to them which activated a Key Quest token in your collector case that can be used while playing Key Quest. These plushies were retired and many users were unable to continue collecting these tokens. Recently, The Neopets Team has decided to add tokens into the Neocash Mall. Now that Key Quest tokens can be found in the NC Mall collecting them has never been easier. As a lover of Key Quest and a token collector, I am going to discuss my top 10 NC Mall Key Quest tokens and their respective neocash bonus items. When redeeming a token bought from the NC Mall, a player will receive a bonus neocash item that relates to the Neopet the token represents. It is important to note that some limited edition tokens that return may not offer the previous bonus neocash item that was released. Neopoint items are still being given out as a prize for redeeming an unused plushie code.

10th Place:

Plushie Mynci Key Quest Token (300 NC) – The beautiful little flower on top of your head is adorable. A fun little monkey token to use while playing Key Quest, especially because they are known for causing trouble!

Plushie Patchwork Wings – These gorgeous wings make a great addition to plushie pets.
9th Place:

Limited Edition Strawberry Usul Key Quest Token (400 NC) – Who doesn't love strawberries? This tiny little Usul may look delicious but it is all a distraction. Opponents will be dazzled by your token's cuteness while you scoop up another gold key!

Strawberry Crochet Hat – Admittedly, I am not the biggest fan of this NC Bonus item. It is slick to the Neopet's head, but may look nice on certain species.
8th Place:

Pink Cybunny Key Quest Token (250 NC) – This cotton candy colored token is especially fun to use on the Sweet 1, Sweet 2 and Sweet 3 Key Quest boards because it blends right in! Be careful, this token may look edible but it isn't!

Pink Willow Tree Background – This background is a must have for any NC addict. The colors are feminine but subtle. The tree gently moves as though it is blowing in the wind, and the foreground is slightly blurry so that the emphasis is on the pet, which is a nice touch.
7th Place:

Silver Shoyru Limited Edition Key Quest Token (400 NC) – Shoyrus are known for being speedy. Therefore, those who like to rush towards the keys would perhaps find this silver flash an appealing token to use. The silver shine is sure to make a statement!

Sparkling Silver Bouquet – Any pet holding this bouquet is sure to feel like royalty. It glistens and shines while being held high, a real eye catcher.
6th Place:

Limited Edition Halloween JubJub Key Quest Token (400 NC) – What screams Halloween more than a JubJub dressed as a pumpkin? This token is great to use on the Haunted Woods Pumpkin Patch map.

Spooky Haunted House Foreground – This was the token's original bonus item which is now retired since the re-release. The flickering lights and twitching bats make a great addition to any Halloween costume.

Wrapped Mummy Heads – Did one of those heads just move?
5th Place:

Rainbow Chomby Key Quest Token (300 NC) – Multicolored and dazzling are two words that describe the appearance of this token. Who can resist that Chomby smile? This token is sure to catch the attention of any opponent.

Sparkly Rainbow Ballet Shoes – A must for any dancer, these shoes sparkle just like the token! The straps add a sense of class to this delicate yet sporty style of shoes.
4th Place:

Limited Edition Christmas Bruce Key Quest Token (400 NC) – Dressed up in a holiday outfit, this Key Quest token is ready for the Terror Mountain boards. Watching this little Bruce slide around the game board is a treat.

Pristine White Snowflake Stole – A beautiful white stole that has a small snowflake pin attached to it. It's warm, cozy and looks beautiful wrapped around any species of Neopet.
3rd Place:

Limited Edition Gold Blumaroo Key Quest Token (400 NC) – Blumaroos are bouncy and enjoy having fun. The gold color of this token matches the sunny personality of a Blumaroo and shines brightly on the Key Quest Boards.

Steam Powered Bracelets - This was the token's original bonus item which is now retired since the re-release. These nifty bracelets emit a puff of steam from them.

Oversized Golden Flower Staff – Although the staff is large, it sits nicely behind the Neopet that is being customized. The leaves gently move and the petals give off a nice shine.
2nd Place:

Robot Kacheek Key Quest Token (300 NC) – Dressed and ready for take off! This token is on a serious mission. Its unique style and fun implications are the reasoning behind such a high score.

Robotic Wings – These automatic wings can open and close without hesitation. Maybe they can be used on Neopets who cannot fly?
1st Place:

Baby Gelert Key Quest Token (300 NC)– No one can resist those big brown eyes. This cute little token is a joy to use anywhere, anytime! Just look at it! It has the ability to melt even the Snowagers heart.

Extra Soft Crochet Boots – Made with love, these tiny little boots will warm up any Neopet's feet during the winter. The soft colors and flowers remind us that spring is just around the corner.
This concludes my top ten NC Key Quest Tokens and the bonus items that come along with them. Keep on enjoying Key Quest and collecting those tokens. There are over 100 tokens and these are just a few of the ones that stand out. With Key Quest tokens being sold in the NC Mall you receive a neat token to enjoy and use and also a great wearable! Good luck, and enjoy.