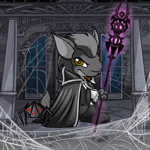 Halloween Style! - 2 Outfits for the Spooky Season

by dragoonhunter682

--------

Also by pacificana

It's finally October, where the air gets cooler, the leaves change colour and everyone gets ready for the best holiday of the season – Halloween. A great way to get prepared for the spooky occasion is finding the perfect customization for your pet. So today, we have two great customization ideas to get you ready for Halloween! And we know dressing up your pets is not just reserved for the Neocash crowd, so we've come up with two customizations to appease the masses; one entirely NC based, and one entirely made of neopoint items!

Neopoint Item Customization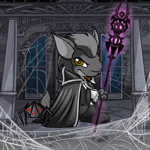 Here we have our entirely neopoint item customization; a snazzy Shadow Kyrii sporting some great items in a simple outfit just in time for Halloween. These items range from easily buyable to a bit expensive (and require a bit of hunting), however neopoint items are a great alternative to those who can't invest in some Neocash items.

1. Haunted House Porch Background (Released 2011; Happy Halloween Bags, retired)
What Halloween is complete without a Haunted House? This Haunted House Porch Background is the perfect addition to any spooky customization. With cobwebs over top the windows and the old haunted feel to the house, this background really gives an extra sense of creepiness to an outfit. However, any dark and misty background would work well for a Halloween inspired customization.
2. Fancy Theatrical Cape (Released 2010; retired)
Every evil doer and mysterious individual needs a good cape! One of the best accessories to have in your closet, the Fancy Theatrical Cape is very versatile and relatively cheap for any customizers to add to their collection. Keeping it simple, a jacket or long trench coat would make great alternative items as well.

3. Evil Twin Goatee (Released 2007; available)
Let everyone instantly know how evil you are with the Evil Twin Goatee! Using a goatee or facial accessory, like a mask, is a good alternative to using a wig. Stroke your beard while coming up with nefarious schemes; using this goatee will add a level of evilness to your customization that you otherwise might miss!
4. Origami Spyder (Released 2007; available)
Whether you want a creepy companion or you just love Spyders, adding an Origami Spyder is a great way to add spookiness to your outfit. This tiny fella will follow you anywhere, and his black body is great for hiding in the shadows and jumping out to scare unsuspecting visitors. Using non-clothing accessories, such as a foreground or garland, can add to your customization, while keeping your pet's outfit simple and stylish!

5. Old Cobwebs Foreground (Released 2010; available)
Nothing unnerves people more than walking into a giant dusty cobweb! Recreate that feeling with this simple Old Cobwebs Foreground. Going perfectly with the cobwebs already in the Haunted House Porch Background, this foreground is a great way to add some depth to any other spooky background for Halloween.
6. Wraith Staff (Released 2012; available)
Easily add to your customization with a great accessory, like this tall Wraith Staff. This eerie glowing staff will intimidate anyone who approaches, making it a good addition to an evil outfit. The purple colour goes excellent with a wraith pet (obviously), but also many darker colours, such as Shadow or Zombie. A handheld item, like this staff or a sword or wand, is a great idea for pets with outstretched hands to hold.
7. Kyrii Busker Clothes (Released 2012; available)
Species specific clothes are a good starting point for any customization, and can act as a base to build a character. In this example, we use the very sharp and dapper looking Kyrii Busker clothes, including a Kyrii Busker Shirt and Waistcoat, Kyrii Busker Trousers and Kyrii Busker Shoes as a base to build a neat character. Coming up with cool customizations can be hard, but starting with a simple piece or clothing set can easily spark some inspiration!
Neocash Item Customization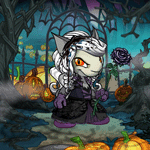 Now, if you have access to NC items, you might like to have an idea of what you can do with some of the Halloween NC items available to you! Here is a female Shadow Kyrii customization that you could make for Halloween. You can obtain these NC items by buying them from the NC mall, or trading for them with other Neopians, if they have retired from the mall.

1. Spectral Pumpkin Path Background (Released 2011; Haunted Hijinks Event, retired)
Backgrounds are the centerpiece of all customizations, and there are so many lovely NC Halloween themed Backgrounds to choose from. But this particular one is the height of Halloween spirit: pumpkins, fog and deserted country roads. Can a Halloween lover ask for more?

2. Spyder Web Dress and Gloves (Released 2008; Spyder Web Costume Pack, retired)
The Spyder Web Costume Pack is one of the best Halloween costume packs ever released by TNT (bows in admiration). The dress and gloves are personally one of our favourite items from that superpack, and we use them whenever we can, especially at Halloween. Not only are these items stylish, but they are woven by spyders! These are the ultimate spooky garments for stylish Neopians.
3. Vampire Costume Face Paint (Released 2009; Vampire Costume Pack, retired)
Can you really think of October and Halloween without thinking of Vampires? This face paint is a great item to have, usable in almost all spooky customizations (and in other customizations too). This also has the advantage of hiding your chosen pet's colour! Although we've shown you these customizations on one of the best spooky colours (shadow) we unfortunately can't paint out pets to match each season, so this item has multiple uses.
4. Colour Changing Contacts (Released 2010; 13 Days of Trick or Treat Event, retired)
Contacts are some of our favourite items on Neopets. Whereas some species have very pretty eyes, a lot don't. These contacts are great to complete any Halloween look. Although the image of the item gives you the impression that you will have an eye of each colour, it is actually both eyes alternating between green and orange. Which is disappointing, but still a great effect!

5. Gate to Deserted Fairground Foreground (Released 2012; Masks of Dread Event, retired)
This is a perfectly spooky item that almost everyone loves. Pumpkins, creepy gates, being outside at night on Halloween: everything you could dream of. It can also be combined with other foregrounds as it is a 'background item'. The only disadvantage this item has is that it covers a lot of whichever spooky background you have chosen for your customization.
6. Ink Splat Wig (Released 2013; Shenanigifts, still available)
We love wigs. They are better than contacts. They might even be better than backgrounds (gasp). There are a lot amazing Halloween themed wigs, and this isn't technically one of them. However the colours are perfectly suited to Halloween, as it happens! When customizing, one must see the advantages of all items and prioritize style over whether the item is strictly appropriate to the theme! One of the many advantages of this wig, other than it being absolutely drop dead gorgeous, is that it is currently in the NC mall! No need to brave the NC chat to trade for it.
7. Lulus Y13 Shoes (Released 2011; Bonus Daily Dare prize, retired)
It is a very sad fact that there are few very pretty stylish NC shoes out there. These are however one of the top 2 that exist. I highly recommend them to everyone, all the time. Again, these are not strictly a Halloween item. However, they are a very neutral yet pretty item and can complement most customisations well, as they do here. There can be nothing better than an item which can be used in any number of customizations!

8. Deadly Beauty Rose (Released 2013; Deadly Beauty Costume Pack, still available)
Handhelds are great especially for two legged pets who have their left hand in a position that is made for holding wands/staffs/flowers. This particular flower is a beautiful new addition to an NC collection. It is beautifully drawn, not too voluminous, very simple yet undeniably elegant. This is part of this year's Deadly Beauty Costume Pack and is the finishing touch to this Halloween female NC customization, and therefore very aptly named.
Whether you use Neocash items or neopoint items, anyone can make a fantastic customization for the season! Starting with some of your favourite items, you can quickly and easily come up with a character and build on that to create something unique and stylish. So get to customizing, and have a Happy Halloween!