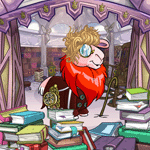 I Want to Be a Faction Leader - Part Two

by amarillida

--------

Also by martia_elior

Welcome back! Last week we went deep into three of the Skirmishes factions-leader looks and we tried to reproduce them as accurately as we could, due to the difficulty in combining the multispecies neopoint items.

Now we'd like to introduce you to the other three respectable leaders; they deserve the same importance as the ones we worked on last week!

PROFESSOR LAMBERT

Professor Lambert is the leader of the Seekers, a group of intellectuals. He is really quick-witted, clever but he is also a bit presumptuous and conceited.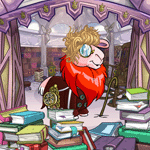 1 - Not Enough Sleep Wig
This item was a prize of the 2012 Games Master Challenge and it costs around 35,000 neopoints a piece. The Not Enough Sleep Wig gives the idea of a maybe too meticulous academic who spend his nights on books! It can also be used if you want to represent your Neopets when they are waking up in the morning, if they let you do it of course! A valid neocash alternative is the nice, neat Wavy Brown Wig.
2 - AAA Host Shirt and Jacket
This long, dark jacket was a prize of the 2011 Daily Dare and if you missed the event, you can easily find this spiffy piece of clothes in shops for around 84k a piece. The AAA Host Shirt is a bit expensive, but you won't regret your purchase; in fact it is one of the more elegant and stylish neopoint wearable item you can find around the whole Neopia!
3 - AAA Host Trousers
As the jacket mentioned above, also this brown and white pair of trousers was a prize of the 2011 Daily Dare. Running around 22,000 neopoints, they are a great closet investment thanks to their versatility and soft colours. The AAA Host Trousers are also really refined and go well with lots of different shirts and jackets, so don't misjudge this garment!
4 - AAA Host Shoes
These shoes are part of the AAA Host wearable set, as you can easily guess. They are comfortable and smart, and fit many male different outfits. Running around 78k, they are a bit expensive but are able to give a touch of class to your beloved Neopet.
5 - Smarmy Monocle
This cheapish, stylish monocle costs around 27,000 neopoints a piece. It is a very useful and sophisticated item that gives an intellectual aspect to every Neopet who wants to look like Professor Lambert!
6 - Wind Up Pocket Watch
Time to fight or time to study? With the classy, golden Wind Up Pocket Watch, your Neopet will never lose the perception of time! This watch isn't only useful, it is also really cheap and nice looking. You can buy it in shops at around 10 neopoints a piece.
7 - Apple Bobbing Cane
You can win this simple but not trivial cane from the Apple Bobbing daily. Otherwise, you can buy it in shops for only 3 neopoints. It's a real bargain and your Neopet will love looking like a fashionable gentleman!
8 - Xandras Library Background
This pretty, pale background is quite expensive but it shows the right place where every intellectual Neopet would surely go! You can buy the Xandras Library Background at the trading post at around 200,000 neopoints each and it is a very versatile wearable, so we are sure you won't regret buying it. If you prefer to use a neocash background, we think you can choose the Muted Library Background, which is darker but very well detailed.
10 - Piles of Books Foreground
Books, books and books again! This cheap and fun foreground is the dream of every Seeker! The Piles of Books Foreground costs only 4,000 neopoints and it was an exclusive item code prize awarded by TNT during a special event.
11 - Festival of Neggs Booth Garland
This purple, squared item was a bonus prize during the Negg Hunt of the 2012 Festival of Neggs. If you missed the event, you can buy it in shops at around 4,500 neopoints. The Festival of Neggs Booth Garland has nice shades of pink and violet, is well-proportioned and it looks like the door of a hidden and mysterious library!
12 - Old Fashioned Rocking Chair
For only 5k you can buy this basic, sturdy wooden chair. Your Neopet will have a seat while looking up ancient and precious tomes! It can also be used with spooky or old style outfits (your Elderly Neopet will appreciate it a lot!)
KANRIK
Kanrik is the infamous leader of the Thieves Guild. He is smart, clever and reserved. He seems heartless but instead he is really generous with his friends!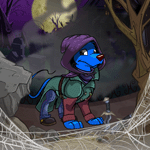 1 - Thieves Hood
The Thieves Hood costs 25,000 war plot points but don't worry at all if you have already spent your points, you can easily buy it in shops at around 70k. Using this purple, hiding hood, your Neopet will be able to give a glance on everything without being recognized by anyone!
2 - Collared Shirt with Altador Cup Logo
This spiffy item was a prize for Altador Cup VII in 2012 and if you missed the event or didn't have enough AC points for it, you can find it at the trading post for around 400,000 neopoints. It's a bit expensive garment, but it actually has the same purple shade of Kanrik's one! Moreover, if your Neopets work in an office, they'll find it a very useful piece of clothes!
3 - Hansos Thief Jacket
This very well refined jacket is the masterpiece of this outfit; it was a prize for participating in the Faerieland Plot - The Faeries Ruin and it costs around 350,000 neopoints a piece, at the moment. The Hansons Thief Jacket is a must have for the perfect thief, it has many inner, hidden pockets and a handy leather belt. It is also a great garment because it can be used in large variety of occasions, such as adventure, wintery–themed customisations.
4 - Hardy Blue Trousers
This pair of trousers can be yours for only 10,000 neopoints a piece. They are comfortable but fashionable on the same time! The Hardy Blue Trousers are one of the most versatile item you can have in your closet, because they are nice for both males and females as they reminds a pair of jeans for their shape and their colour. Moreover, they look really good on almost every species! A great neocash alternative could be the Swashbuckler Trousers, which are a bit darker and larger than the neopoint chosen ones.
5 - Scarred Pirate Eye
We decided to add this marking item even though there's not a corresponding neopoints one, mostly because it looks really similar to Kanrik's scar. The Scarred Pirate Eye is a retired neocash prize from the Wonderclaw Machine NC Mall Game. It gives your Neopet a lived-in, scary appearance, that your opponent wouldn't avoid to notice!
6 - Elegant Gear Boots
For around 4,500 neopoints, you can buy this fashionable pair of Boots. They are not only stylish and spiffy, but also waterproof, fireproof, frost- and heat- resistant, and even sturdy! The neocash alternative are the Thieving Boots, which were awarded for unlocking a Purple Luminous Cask by using a Silver Cask Key during the War for the Obelisk.
7 - Simple Dark Decorative Daggers
The cost of these awesome, sharp daggers is around 12,000 neopoints a piece. They are both easy to handle and hide into your Neopets pair of boots. These two characteristics make the Simple Dark Decorative Daggers the perfect, silent weapon for a thief!
8 - Games Graveyard Silhouette Background
The Games Graveyard Silhouette Background costs around 40,000 neopoints and can be easily found in shops. It represents a mysterious, foggy and a bit dusky atmosphere, ideal for a Thieves cove. Its mist is a great shelter for every Neopet who moves with both circumspection and prudence like a thief!
9 - Looming Balthazar Shadow
This dark, spooky background item was a prize of the 2011 Daily Dare. It easily gives the idea of a lurking enemy hiding behind a corner; our Neopet really should pay attention to a shadow like this! Running around 400,000 neopoints a piece, the Looming Balthazar Shadow surely is quite expensive but it is totally worth its price!
10 - Dreary Foreground
The Dreary Foreground looks like the entrance of a desolated, abandoned place, with its dead tree and the soil path leading to... your Neopet's adventures! This foreground item costs around 5,000 neopoints a piece and create a frame around our customisation without overloading it!
11 - Old Cobwebs Foreground
The Old Cobwebs Foreground is the cherry on top of our Kanrik's outfit! It is spooky and gloomy just enough to discourage possible enemies or spies! Standing at around 5k, this foreground is both cheap and versatile and you can use it in every spooky- and ancient-related customisations.
THE DUCHESS
The Duchess is the leader of a really secret society known as 'The Sway'. She is refined but mercyless, cunning but greedy for power. She also shows an elegance that we found really hard to emulate with a multispecies neopoints only customisation. We did our best, though!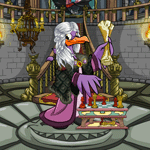 1 - Long Silver Wig
This lovely, silver wig costs around 45,000 neopints a piece and it looks nice on almost every Neopet species. It is one of the most detailed, well drawn and elegant neopoint wig you can find out there. It can be used in a large variety of occasions, so it wouldn't sit in your closet collecting dust for months. Dressing the Long Silver Wig will make your Neopet feel like a real Lady! It doesn't exist a chignon wig looking like the Duchess hair even using neocash items; the only alternative is the pretty MME10-S5a: Silver Hair Wig.
2 - Heavy Meridellian Cloak
This velvet, warm cloak can be found at the trading post for around 300,000 neopoints a piece. It's not a very rare item, but it's pretty new and quite difficult to find. With its beautiful trimmed shapes and its softness to the touch it's easily loved by any aristocratic lady, like our Duchess. It also is enhanced by some beautiful, shining gems and its borders are refined with fur coat. The Heavy Meridellian Cloak gives an elitist, uptown appearance and we think it's actually worth its price!
3 - Fancy Pink Gown
We know that it's not nice to suggest the same dress for two different outfits, but there really is a lack of dark, long multispecies neopoint items out there, so we can't avoid to do this. Luckily this gown is really fancy, elegant and can be used in a lot of different customisations, by simply changing the accessories! If you prefer a truly similar look to The Duchess's one, then you can replace the Fancy Pink Gown - and the Heavy Meridellian Cloak with the Mysterious Velveteen Dress. This amazing, aristocratic dress is a neocash item awarded as a Battledome prize during the War for the Obelisk.
4 - Linae Shoes
These simple, pretty shoes were a prize of the 2011 Daily Dare. If you missed the event, you can easily buy in the shops for around 35,000 neopoints. The gilt enhances this pair of shoes making it the perfect footwear for every Neopet who feels like a rich noble, but still looks for some comfort!
5 - Replica Lucky Coin
Every self-respecting aspiring duchess must have a precious necklace! This gold, bright jewel is adorned by a priceless and sparkling ruby. The Replica Lucky Coin was a prize of the 2010 Daily Dare, but if you missed the event you can find it in shops for around 16,000 neopoints a piece.
6 - Rolled Up Treasure Map
Which kind of secrets are contained in a missive like this? We can't know it, but we are sure there are written some really important pieces of information! Find out every Sway's confidential plain buying the Rolled Up Treasure Map! It'll cost you only 22,500 neopoints and we are sure it won't collect dust for months in your closets.
7 - Caged Skeleton
The Duchess sends important messages using a Crokabek for her purposes and this is the cage of her beloved messengers. Wait, there is a skeleton in the cage! According to the rumors the skeleton is only a fake to discourage any possible traitor! The Caged Skeleton was a prize for participating in the Krawk Island disappearance event. If you missed the event you can buy it in shops for around 5,000 neopoints. It really is a bargain, so why haven't you bought it yet?
8 - Chess on a Table
The Duchess is a great strategist and she plans every event while playing chess, which we all know is a board game that require patience and strategy. We think that she is a supporter of an old, very well-known quotation, 'a sound mind in a healthy body'! The Chess on a Table was a prize of the 2010 Daily Dare and it costs around 12,000 neopoints a piece.
9 - Noxs Mansion Background
This background is a prize of the Faerieland Plot - The Faeries Ruin and you can easily find it in shops at around 20,000 neopoints. The Noxs Mansion Background decipts an elegant hall with an impressive, marble staircase and it looks appropriate for every Neopet who has noble lineage! It also fits different outfits, giving this item a versatility that you won't regret.
This bring our article to a close. We hope you enjoyed having a look at the outfits we managed to put together as much as we had fun creating them! And, thanks to this deep look into the six factions-leaders outfits, you maybe discovered the potential of some unused, got-and-forgot-them items. Have fun customising!