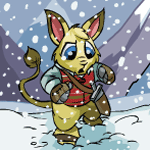 Conversing With Armin the Small

by dustinismine

--------

Have you ever wondered how Neopia's most renowned Bori feels about his partnership? What he thinks about digging through narrow ice tunnels or being unable to swim? Perhaps even the rush he feels when he drives icy no-good-doers shattering to the ground? Well, I have, and I set out to find Armin to get an answer to these questions.

I finally found Armin in a small house high up on Terror Mountain. I knocked on the door, heard a bit of shuffling beyond it, then came face to face with the Bori himself. ...Well, not quite face to face. He is much smaller in person!

Armin gave a rather confused look before clearing his throat uncomfortably. It didn't seem like he had many visitors.

"Hello, Armin! I was hoping to ask you some questions."

Armin seemed shocked, but not in the uncomfortable and timid kind of way. A brightness came to his eyes. "Sure thing! Come in."

The Bori and I walked to the living room and seated ourselves across from each other. The conversation we had is as follows:

Armin: I can't believe you're here to interview me. Me! No one seems to pay much attention to me anymore.

Me: You'd be surprised. Many Neopians talk about you. Anyway, Armin, are there any nicknames you go by?

Armin: Not so much nicknames, but I was given the name "Armin the Small" due to.. Well, the fact I'm small.

Me: Oh, being small.. I know where you're coming from there. I'm not too large either. Does the name ever offend you?

Armin: It did offend me at first, but, I sort of grew used to it. I realized it wasn't really an insult but more of a recognition. I'd prefer to just be referred to as "Armin the Bori", "Armin the Digger", or even just "Armin." But, you know.

Me: Well, then, I'll just refer to you as Armin! So, Armin, how did you and Hannah meet?

Armin: I sort of stumbled upon her one day and brought her home.

Me: *pause* I beg your pardon?

Armin: Oh! I guess that did sound sort of strange. She was around the peak of Terror Mountain, close to where we are now, and she collapsed. There was a curse on her, I guess. So I took her home to help her get better. We ended up talking a bit; it turned out she was betrayed by Kanrik. After she told me her story, I told her the tale of the Bori. At the time, Boris weren't actually known to the rest of Neopia.

Me: Oh, that makes more sense now. And the Bori population, is it true that they were at one time all frozen?

Armin: Indeed. The Bringer ( of Night ) wanted to wipe out the Bori population, but a spell cast over the Bori population froze them, protecting them in the process. You would think that would make them more fragile or vulnerable, though. Anyway, the Bringer ended up frozen at one point, so I shot him with my sling shot and shattered the monster.

Me: Wow! Great job, Armin! I guess that's why you're the one shattering those ice warriors in the Ice Caves you and Hannah explore, huh?

Armin: Oh. Yeah. Hannah and the Ice Caves. Would you like some borovan? [Armin gets up and shuffles over to a nearby kitchen]

Me: Err, sure. Is something wrong?

Armin: Nope, just got thirsty. Continue asking questions if you'd like.

Me: Alright... Well, do you ever feel inferior to Hannah? Or, rather, like you're just kind of there, and she's the centre of attention?

Armin: *very long pause* Hannah's great.

Me: ...Great?

Armin: Great. [Armin comes back with two cups of vanilla borovan and seats himself again]

Me: Is there something you're not telling me, Armin?

Armin [Armin's cup of borovan is unintentionally flung into the air] IT'S ALLLLLLL ABOUT HANNAH. EVERYTHING'S ABOUT HANNAH. IT'S HER THAT'S ALWAYS MENTIONED OR TALKED ABOUT, ME THAT PEOPLE GET ANGRY AT IN THAT GAME, HER THAT'S LOOKED UP TO, HER NAME IN THE TITLE OF THE GAME, UGH. Don't make it "Hannah, Armin and the Ice Caves" or something. I'm there too, but COMPLETELY DISREGARD ME. "Oh, it's Armin. Whatever." ALL I AM TO NEOPIA IS AN ANNOYING, INCONVENIENT BORI. IT'S NOT LIKE I SAVED AN ENTIRE NEOPIAN SPECIES FROM AN AWFUL DOOM, OR ANYTHING.

Me: [I stare at Armin in utter shock]

Armin: [Armin's eyes widen as he realizes what he's just said] I'm so sorry. I guess I do feel a bit like she's the centre of attention.

Me: A bit?

Armin: Okay, a lot. But I figured that if I said that it wouldn't solve anything, or it would make things worse. They all might start calling me a cry baby or something.

Me: Well, despite the fact Hannah seems more recognizable than you, more of an icon, all that stuff, Hannah would not have been capable of getting through the Ice Caves without you. She didn't have the ability to crush those icy villains like you did. [I triumphantly stand up] You were the one who dug through those icy tunnels to explode a path for Hannah to go through! You bravely slew the villains in both of your paths!

Armin: I can't swim.

Me: Oh, right. Well not all neopets can swim, anyway. Would you ever want to learn?

Armin: No need to learn to swim when you live on a gigantic icy rock.

Me: What if it melts?

Armin: Are you being serious?

Me: Good point. Do you enjoy living on Terror Mountain? Do you ever get cold or tired of all the snow and whatnot?

Armin: I do enjoy Terror Mountain, especially since this is where my species comes from. But, I have been thinking about taking a trip to Meridell and living there for a while.

Me: Meridell, you say?

Armin: Yes, Meridell. There's so much more colour and sunshine! Not to mention the ever-so-nice Illusen.

Me: Illusen? I guess she is relatively nice. But the food there is kind of..

Armin: Kind of what?

Me: Uhh, well, have you ever tried stone soup? It's relatively painful to eat. I would avoid it.

Armin: Oh, okay, thanks for the advice. I have actually wanted to try that soup, but there are also these shiny blue egg-looking things I've been dying to try eating.

Me: WHAT? You don't want to eat those either!

Armin: What? Why?

Me: THOSE ARE DRAIK EGGS!

Armin: OH SWEET MOTHER OF HANNAH I HAD NO IDEA! You know what, maybe you could come to Meridell with me. Or maybe I could even bring it up with Hannah-- No, terrible idea. She would be confused as to why I would even want to go.

Me: Well, whatever you decide. I would be glad to go with you if that's what you decide. Anyway, back to the questions. Are there any colours you wish you could be painted, or any new ones you would like to see on any other Bori?

Armin: Personally, no. I'm happy with being yellow. I can't think of any colours I would like to see on any other Bori either. However, I would love to see a stealth-painted Cybunny.

Me: You too?! It's not only Kappinia and myself! I should write a letter to TNT about this.

Armin: Splendid idea. I'll try writing one too! Though, have you seen these paws? So difficult to write with. Maybe if I dipped my claws in ink or something...

Me: Really?

Armin: Then again they'd listen to Hannah before me.

Me: Armin!

Armin: Whaaaat?

Me: You should quit being so hard on yourself. Anyway, that's all the questions I have for now! Thank you very much for the borovan and answering all these questions. If you ever do end up going to Meridell and want me to join you, send me a Neomail!

Armin: Thank you for coming! I feel better about everything now. And I will certainly send you one if I do.

So, we've all learned some new things about Armin the famous Bori. Sure, he doesn't feel that self confident, but at least he's not arrogant or anything. Thank you all for reading!