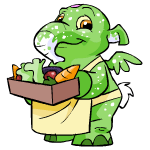 Seasonal Foods of Neopia: Vegetables

by blessed_faerie

--------

If you're a health nut like me, you know that fruits and vegetables are very important in your diet. These foods are delicious and nutritious! Fruits and vegetables are even better when they are purchased and eaten in season. "In season" means they can be grown and harvested right here in Neopia Central. When you buy produce "out of season", it has either been frozen or packed and shipped from another part of Neopia. These processes sap some of the taste and nutrients from fruits and vegetables. By purchasing produce items when they are in season, you can maximize their flavor and healthfulness.

This two-part guide will help you determine when is the best time to purchase your favorite fruits and vegetables. You will also find some recommended dishes for each season, filled with great-tasting foods that are in season. If you enjoy eating fruits and vegetables, you should plan ahead and spend your hard-earned neopoints on foods with full flavor and as many nutrients as possible. After reading this two-part guide, you'll never have to buy another bland piece of produce again.

Part one of the two-part Seasonal Foods of Neopia guide focuses on vegetables. Next week, you can read part two of the guide, which will cover the best time to buy fruits in Neopia, as well as recommended recipes for each season.

Summer

Summer is about to begin in Neopia! Lucky for us, summer is a great time for food. It's also a great time to take your fresh vegetables and fruits and go on a picnic. Summer is a great time to buy aubergines, beets, broccoli, corn, courgettes, cucumbers, green beans, radishes, peas, and tomatoes.


Recommended dishes: An Aubergine Wrap from Neopian Health Foods is both delicious and nutritious, yet still light enough for a summer lunch. A Broccoli Crepe is another great option for lunch or breakfast. For something a little more unique and refined, try a Roasted Beet Salad. It's great for entertaining and will really impress your guests.
Fall
As the weather starts to cool down, you can find some great vegetables in season. Fall is a wonderful time to purchase various types of squash, broccoli, cauliflower, jicama, kale, and sweet potatoes. One of fall's favorite vegetables is the pumpkin. It tastes best in fall, so now is the time to go nuts on pumpkin-flavored treats.


Recommended dishes: This one is easy! Fall is the right time for Pumpkin Pie. If you want pumpkin for breakfast, try Pumpkin Waffles and Pumpkin Spice Coffee. Not crazy for pumpkin? Take advantage of other seasonal vegetables with a Broccoli and Cheese Pasty or a Stuffed Cauliflower Pastry.
Winter
Winter is the season of squash and sweet potatoes! Most types of squash flourish in winter. Cauliflower, kale, and brussels sprouts are also in season during the winter. Even though it's cold outside, you can still get a selection of delicious seasonal vegetables.


Recommended dishes: A basic Brown Sugar Sweet Potato is the perfect way to celebrate winter with a little warmth and sweetness. A Cauliflower and Lentil Pizza is another great warm and filling food for the winter. If you're craving soup, Chunky Cauliflower Soup is the way to go during winter.
Spring
Spring is probably the best season for vegetables. Now is the time to really enjoy them! You can try spinach, rhubarb, peas, green beans, and broccoli. Spring is also the best season for all of Neopia's favorite vegetable: the asparagus.


Recommended dishes: As the weather starts to get warmer, you'll want to think about beverages. A Jicama Lime Smoothie a great drink to try, since both jicama and limes are in season in spring. Now is the time to cook up a batch of Asparagus and Borovan Lasagne or an Asparagus Pie. If you like something simpler, try a Meaty Asparagus Dish. Spinach Alfredo Omurice (an egg and rice combination) is another interesting dish that is even better in spring. A Spinach and Feta Omelette is a very healthy (and super yummy) breakfast dish for spring.
Year Round
Some vegetables can be easily harvested all year round. Peppers, cabbage, carrots, celery, leeks, lettuce, mushrooms, onions, and turnips can be eaten with maximum flavor all year round. Mix these with seasonal vegetables for an extra-tasty vegetable experience.


Recommended dishes: A Mushroom Sandwich contains many vegetables, with a big mushroom instead of a bun. A Lettuce Wrap is another nice way to substitute vegetables for grains. A basic salad is a great idea all year round. Try the Deluxe Organic Salad or Mixed Greens Salad and feel free to add other foods to it: more vegetables, nuts, or meat. There are also a ton of tasty carrot dishes available, like the Carrot Pastry Puff and Crunchy Carrot Burger.
Most vegetables are superstar foods: they give your body the nutrients it needs and help keep you healthy and fit. The healthiest vegetables include dark leafy greens and anything that is a yellow, orange, or red color.
It is best for full-grown Neopians to aim for nine servings of vegetables and fruits each day. Before you ask, french fries do not count as a serving of veggies. Fruits are delicious and easy to eat as a sweet treat. Developing a taste of vegetables can be a bit more difficult. Try some of the "recommended dishes" listed in each section above. They combine seasonal vegetables with other ingredients to make tasty dishes. Eating cold, raw vegetables is not the only way to get your recommended servings each day. Try grilling vegetables with a little olive oil from Altador. You can also try roasting them with a little cheese on top. Get creative: mashed up cauliflower with cheese and butter on top can be a great (and healthier) substitute for mashed potatoes. If you start getting bored with your vegetables, mix it up! Try different vegetables each week to keep some variety in your diet.
It won't take long experimenting with different recipes to fall in love with vegetables. Soon, you'll be eating many servings per day! Next week, we will learn about the best fruits for each season. Until then, visit Neopian Fresh Foods or Neopian Health Foods and stock up on some seasonal vegetables and start cooking.