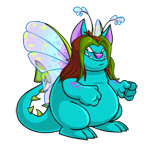 Style Guide: A Hairy Situation

by ilovezacandhsm

--------



Welcome back to another edition of Style Guide! This week we're tackling a hairy situation – the top ten Neopian wigs! None of these wigs are pet specific, so everyone can enjoy them. They are a mix of NC and NP wigs, so there is a little something for everyone. To find out which wigs pets prefer, we brushed up on our wig knowledge and took to the streets of Neopia; here are the results.

1. Tower Princess Wig – 150 NC
This wig isn't just for those tower girls anymore! The NC Mall released this hair-tacular design back in 2009. It's a popular pick for and pet species. One Lenny said, "This wig is a great cost, and makes me feel like I'm trapped up in my Neohome's Tower. I just wish I had a tower..." The wig itself is fine, blonde hair woven into a simple braid. For added details, the wig is littered with tiny pink and blue flowers. Don't worry about neck pain, because the braid is lightweight and stylish. Made with an anti-itch wig cap for comfort and style.

2. Illusen Wig – 70,000 Neopoints
If you or your pets aspire to look like Illusen, the Earth Faerie, look no further than the Illusen Wig! This wig was released on her special day back in March 2007. The wig features her signature style – long brown locks with her famous green highlights. One Illusen fan told Style Guide, "I absolutely love her unique hair style and now I can have it too!" Found in shops everywhere for only about 70,000 neopoints, this wig is a little expense to hardcore Illusen fans. This wig is complete with an anti-itch cap for the ultimate experience. Wings not included.

3. Curly Pink Wig – 150 NC
This bubblegum pink wig makes any girl stand out from the crowd. This wig was released in 2009, but has then since been retired from the NC Mall. However voters chose this wig because of the neon silky curls that can't be found anywhere else! During its release, the hair piece was quite popular among the young girls who wanted to pop. A young Usul told us, "There really isn't anything quite as bright on the market. I especially love the neon blue bow, it adds a lot of detail." Like all the other wigs, this one also comes with the anti-itch wig cap.

4. Curled Blonde Wig – 17,000 Neopoints
This wig, which was released in 2007, is a truly timeless classic. The wig itself features medium length blonde hair that is curled to perfection into ringlets. Each curl is guaranteed to stay curled for as long as fifteen fashionable years. The bangs are also rolled to perfection and held back with a rose clip. A Kacheek told us her experience with the wig. She said, "I adore this elegant wig. The curls make you look so classy and ladylike. The price was fairly good for how nice the wig is. A definite fashion statement."

5. Shining Princess Wig – 150 NC
Here's a princess look that's not quite as... well long as the Tower Princess Wig. This was a limited edition wig, released in December 2010. It was only available until January 2011 and was flying off the shelves during those few weeks. The blonde bun has delicate curls that frame your face and a shimmery tiara to top off the look. Any princess in training would give anything to get this item from a trade. One Aisha reported, "I would pay anything to get this rare wig! It's just so beautifully crafted, and it's a shame that only a few were made." Finding this wig may be harder than others, but definitely worth it.

6. Cute Pink Wig – 74,000 Neopoints
This wig may be the neopoint version of the Curly Pink Wig (see #3) but it is still gorgeous! The long, side swept bangs are just the right length to avoid hair in your eyes. The short layers are chopped to perfection! The sparkly, pink and silver clip keeps flyaways tamed and in their place. The underside is smooth, so your head doesn't get irritated. One customer said, "I really like this wig. I don't have Neocash, so this is my Curly Pink Wig. I think it is a nice substitute for it." This wig is more costly than others, but a good neopoint version of the Curly Pink Wig.

7. Charming Wonderland Wig – 150 NC
Ever dreamed of being in a fairy tale like no other? With the Charming Wonderland Wig you can get closer to that dream. The wig features flowing blonde hair that is not too short or not too long. To help keep the hair out of your eyes, there is a nifty black bow with some white frilled edges. A friendly Buzz told us, "I think this wig is versatile! It screams wonderland, but can also work with any outfit. I pair mine with anything and I look ready to take on the day! Two thumbs up!" Note, super-sized adventure not included.

8. Spring Negg Wig – 9,000 Neopoints
Spring into style with the Spring Negg Wig! For only 9,000 neopoints, this wig is a great price for style. The wig is a grassy green color with petal pink highlights. The clip on the side features three different neggs surrounded by a golden metal. The inside is a diamond patterned, so your scalp won't get irritated while wearing it. A Cybunny hopped along to tell us, "This wig looks like a vintage hair style. Very 50s. The clip on the side is super cool and keeps the hair out of my eyes. The colors pop, and in an attractive way. Very nice." The Spring Negg Wig is always in season.

9. Adorable Pink Heart Wig – 150 NC
Rounding out the Neocash picks, is the Adorable Pink Heart Wig. This wig just oozes cuteness. From the long, deep pink and red curls, to the heart tiara on top, this wig is one of our favorites. Released in January 2010, this wig was a limited edition item was only available until a week after Valentine's Day, February 2010. A Bruce told us, "I think this wig is sweet and girly. The red highlights really stand out, but aren't overdone. It's a shame only a few were made, but the girls who got one are super lucky."

10. Jhudora Wig – 100,000 Neopoints
Last, but certainly not least, is Jhudora, the Dark Faerie's Wig. This is the ultimate collectors item for her fans. You may not be able to do magic like Jhudora, but at least you can have her signature locks. The wig features her long, purple hair. Framing the face are a few green pieces of hair. A fan of hers told Style Guide, "Ever since I was a little girl, I've loved Jhudora's hair. Now, you tell me that in Neopian shops you can find a copy of her locks? I rushed to get the wig! Now I look just like her! A wonderful copy of the actual thing."
Well, that ties up our hairy situation! There are Style Guide's picks for top ten wigs in Neopia. Run to the NC Mall or the nearest salon to get one (or two... or ten) Time to cut this one off of our to-do list. For more hair raising puns, tune in next time for another edition of Style Guide.