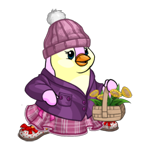 Style Guide: Bruce Day

by ilovezacandhsm

--------



Welcome, welcome one and all to this week's edition of Style Guide. This week we're focusing on our favorite, cuddly pet – the Bruce. December 5th is the one and only Bruce Day! Everyone has been awaiting the Terror Mountain native's winter party! This week, we are joined by Kakoni Worrill, captain of Team Faerieland in the Altador cup, to help us pick out the top ten wearables for the Bruce. Don't forget your coat, because we traveled north to get the scoop on these cool pieces.

10. Bruce Tooth Faerie Crown
Have you always dreamed of becoming the queen (or king!) of the Snow Ball? Look no further than the Bruce Tooth Faerie Crown! Released in 2010, this crown makes anyone look like royalty. For only about 25,000 neopoints, this headpiece won't break your bank, and you still look fabulous. Crafted from the finest gold that is adorned with six purple gems. (purple is the color of royalty you know!) Kakoni Worrill, stated, "This crown makes anyone look like a winner, and I should know; I've owned this crown since 2010. Ever since then I've been the Belle of the Ball. A must have for any fame-seeking Bruce."

9. Tropical Bruce Shirt
Celebrating away from home? The Tropical Bruce Shirt helps keep you cool in a warmer climate, such as Mystery Island. Released 2007, this top only goes for about 3,000-4,000 neopoints. Adorned with miniature pink fish, with blue waves at the collar; this shirt makes us smile. Any laid back and relaxed Bruce can rock this look. Simply pair the shirt with shorts (or a skirt ladies!) of your choice, some sandals, and a kicking pair of sun glasses. Worrill commented, "I am not ashamed to say the team and I own multiple of these groovy shirts!"

8. Pretty Pink Bruce Skirt
Dance the entire night away in the Pretty Pink Bruce Skirt! Released in 2007, this piece only goes for about 5,000 neopoints, so it is fairly priced. The cotton skirt moves with you as you spin and twirl. The length is perfect; not too long or short. The pleated style gives added fair to the pink fabric. The captain told us, "I actually got this skirt the day after it came out. It still fits and it still looks as good as it did when I bought it. Very nice price for something that lasts a long time!"

7. Stylish Bruce Shoes
Want comfort and style for you precious feet at the party? Look no further than the Stylish Bruce Shoes. Released last year, in 2011, these babies go for anywhere between 30,000 and 50,000 neopoints. A little on the pricey side, but oh so worth it. Polished to perfection, these shoes include little dot like details on the toe of each shoe. Any Bruce who will be partying all night needs these shoes to keep their feet cozy and comfortable. Kakoni told Style Guide, "My brother has a pair of these shoes and he loves them! He says he can run a mile in them. Definitely a good Christmas present for any brother out there!"

6. Bruce Tooth Faerie Dress
The Bruce Tooth Faerie Dress is so sweet that you might need the actual Tooth Faerie after you wear it! Released in 2010, this dress goes for about 100,000 neopoints. The dress comes in a sugar plum purple and is embellished with lots and lots of sparkles! Much like the tutu looking skirt, the puffy sleeves are also adorned with lace details at the bottom. Worrill commented, "This makes me think of a party dress I had when I was younger. This dress is the grown-up version of a classic. It will look good on any aged pet, trust me.

5. Stylish Bruce Scarf
Winter accessories are so in season right now! (well to be fair, it is winter in Neopia after all!) Don't be left out in the cold, grab a Stylish Bruce Scarf! Released last year in 2011, the wooly scarf only costs about 15,000 neopoints. This scarf is neutral enough to fit in with anyone's wardrobe! The simple cream and brown stripes don't distract you from the rest of your outfit. Kakoni told us, "I like the simplicity of this stripy scarf. All Bruces can wear this lovely scarf. A must have."

4. Lovely Bruce Shoes
Tip toe your way to the top with the Lovely Bruce Shoes. These were released in 2011, and are pretty hard to come by. But they still made the countdown because they are so darn adorable! The white fabric is dotted with red polka-dots and a big red bow on each toe. Perhaps you could match these shoes with a red and white dress, or just throw on a pair of jeans. Kakoni described the shoes as, "CUTEEEEEEE! I need to find these shoes as soon as possible! So adorable!" Well you heard it from the source. (good thing I wasn't the only on crazy for these shoes!)

3. Bruce Tuxedo Jacket
Fancy looking dapper for the party this year? Wear the Bruce Tuxedo Jacket. (*shirt not included) Released in 2007, the jacket is rarer than most, but definitely gorgeous! Perhaps you and a lady friend are arriving together, pair this jacket with the Elegant Blue Bruce Gown! (see below!) Color coordinating is so cute and everyone will be talking about you two. Worrill said, "Matching is so adorable, and even if you're going with your brother, you'll still turn heads."

2. Elegant Blue Bruce Gown
Going to a formal Bruce Day party? Look no further than the Elegant Blue Bruce Gown and the Bruce Noil Tamer Jacket. (see below for jacket) This dress, released in 2008 is the ultimate showstopper. It goes for about 80,000 neopoints in stores. Pair it with the Bruce Tooth Faerie crown (see #10) and some sparkly shoes! We love the dark blue and light blue paired with that beautiful gold. This just screams Belle of the Ball. The captain said, "I have this! I wore it to the Pre-Altador Red Carpet Party when it first came out! I was voted best dressed of the night too! Every girl needs this!"

1. Bruce Noil Tamer Jacket
Another formal party pick is the Bruce Noil Tamer Jacket. Released two years ago, in 2010, this jacket goes for about 30,000 neopoints in store. A small price to pay for how good your pet will look at the party. The sturdy jacket, made from the finest materials is dyed red with accented with a black collar. The jacket also comes with a white vest, featuring three black buttons down the center. The cherry on top is the black silk bowtie. Pair this with either the matching trousers, hat and shoes, or create one of your own looks! Note: Noil not included. Worrill stated, "Yes. A million times yes. Every boy needs this."
Well, this concludes another edition of Style Guide, there you go; the top ten picks for the Bruce Day Festivals. Pack your gloves and hat, and head over to Terror Mountain for the parties. Make sure you get your hands on some of the styles you saw today, to really make you stand out from the other Bruces at the parties this year. We would like to thank Kakoni Worrill for visiting Style Guide. Thanks for reading, and make sure to tune in next time for another Style Guide!