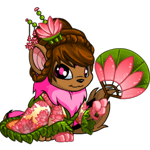 Style Guide: Xweetok Day

by ilovezacandhsm

--------



Ladies and gentlemen, welcome to this week's edition of Style Guide. This week, break out the streamers and cake, because November 29th is Xweetok Day! Xweetoks and their owners have been waiting an entire year to celebrate this spectacular pet. And what better way to celebrate than dressing up for the occasion? Neopia voted, and here we are to bring you the top ten wearable items made exclusively for the Xweetok!

10. Xweetok Space Boots
Moonwalk your way to the top in these top notch shoes. Released in November 2007, these go for about 5,000 neopoints. These shoes are not only cheap, they are super trendy! These boots are indestructible and definitely made for walking! Sturdy boots will come in handy when dancing up a storm at the party. Everyone can rock these trend setting shoes!

9. Space Pirate Xweetok Trousers
Space Pirate Xweetok Trousers are so out of this world! Fortunately, the price isn't; they go for about 35,000 neopoints and are worth every one of them! Released back in 2010, these trousers are made from temperature controlled denim. These pants can actually go into space with you (granted you are an actual space pirate) or just help you keep your cool when you accidently slip on that piece of cake at the party (yikes!). Distressed denim is totally in right now, whether you are a female or male Xweetok! Slip into a pair of these babies and you're guaranteed to be the life of the party.

8. Lotus Xweetok Wig
This wig, complete with a Lotus flower, is a showstopper! Retailing at 300,000 neopoints (much like the matching dress, see #4) this over-the-top piece is definitely Xweetok Day ready! This beauty is lined with an anti-itch cap, so your precious scalp doesn't get irritated mid party. The flower is 100% secure to the wig, so no accidents while limbo-ing or apple bobbing! The braid, bun, bang combo is always a knockout! Overall, a must have for any girl partygoer!

7. Easygoing Xweetok Shoes
These lovely slip-ons go for about 30,000 neopoints at retail value. Originally released in 2011, these shoes are simply a must have for every female Xweetok on the go. The silver lining on the top of the shoe will perfectly match any look that you want to create. You can run a marathon in these slip-ons, but do not fret, because they have excellent traction so no embarrassing moments this year. (remember last year *shudders*) Even with the price, these shoes definitely should be invited to the festivities this Xweetok Day!

6. Easygoing Xweetok Skirt
Dance the night away in this swing skirt. Valued at 50,000 neopoints, this skirt is surely a dancer's favorite! Pair it with the matching shoes. (see #7 for more info) This skirt is long and flows beautifully on the dance floor, which is where everyone will be rocking this piece. The black cotton fabric is embroidered with red and white flowers at the bottom. This can easily be paired with any top to create a fabulous look. This skirt was released in 2011, along with the rest of the Easygoing Xweetok collection.

5. Space Pirate Xweetok Flannel
Every guy is going to want to dress up to impress those ladies at the party, and what better way than a Space Pirate button down! Released in 2010, it has been a natural charmer ever since. The black and white plaid is a simple yet classic piece that all the minglers are bound to be sporting. The four buttons are made from the best buttons that can be found in Neopia! And only for about 60,000 neopoints, it is a cheap, but quality piece for the talkative partygoer.

4. Lotus Xweetok Dress
This dress is a must have item for any girl who just wants to relax over her holiday. This dress made a flashy debut in December 2009 along with the matching fan, gloves, and wig, (See #8 for more info) but the dress is definitely the showstopper of the group. Created using the finest silks, this dress is built for comfort and mobility. The contrast between the green and pink will make any Xweetok stand out from the crowd. This can be found in the trading post starting at 300,000 neopoints, which is a small price to pay for the overall quality of the gown.

3. Snowy Xweetok Dress
Celebrating in Terror Mountain this year? Ladies, go for the Snowy Xweetok Dress to keep you warm. Drenched in sparkles, this will make you the belle of the ball for sure! It is also fur lined, for extra warmth in the colder climates. The cuffs and bottom are also lined with fur to make a fuzzy fashion statement. Finding this dress has been a challenge since its release in 2008, but if you manage to get your hands on it, be sure to head up north to celebrate! Any snow princess will dazzle under the lights of their festival.

2. Laid Back Xweetok Vest
This sweater vest and shirt combo retails for about 50,000 through 100,000 neopoints. To really create the look of a corporate business man, pair the vest with the Laid Back Xweetok Shirt, and a pair of glasses of your choice. The vest is made out of the finest wool and stitched to perfection! The subtle V neck helps to relax the look and make every male Xweetok look his best for socializing at the party.

1. Xweetok Popstar Dress
Rule the karaoke competition in this preppy popstar gown! This sparkly ensemble released in November 2007, this dress is rarely sold. All the lucky popstars who can come up with enough neopoints to get this rare, classic piece are truly pop princesses. The look features a light pink and white plaid skirt, a hot pink sparkle tank, and a bling-ed out denim vest. The full outfit set includes earrings, a hat, and a microphone. To be a total showstopper at the Xweetok Day party, be sure to grab a popstar dress and sing out at the party.
Well, folks, there you have it; the top ten wearable pieces for the Xweetok Day Festivals. Make sure to grab a piece or two to make you stand out from the other Xweetoks at the parties this year. Knowing the background on these pieces can help you avoid a last minute outfit... or a fashion disaster (we ALL remember last year, don't we?)Thanks for reading, and make sure to tune in next time for another Style Guide!