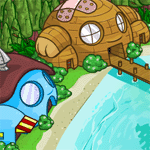 Kiko Fest, Unplugged

by jocelyn_joy

--------

Kiko Fest: the ideal way to hear Chomby and the Fungus Balls, Blue Kacheek Group, and all of your favourites unplugged!

Hi all, Mayor Fuff of Kiko Village here! I'm delighted to invite you to our first ever open-to-the-public Kiko Fest!

What is it, you ask? Kiko Fest has been going on below the water for decades. It's a family-friendly music festival that has previously only been open to Kikos and other water-dwelling citizens. However, due to popular demand and, erm, the sustained difficulty in getting Neopia's best bands to actually play under the lake, we've decided to host the event on the lake shore this year. Or, well, next year, at any rate. Our hoped for date is in the month of Hiding, Y15. What does this mean for you? Get your towels ready, Neopians, you're invited to (purchase tickets for) Neopia's first ever summer music festival! Before you rush to the nearest ticket booth, I've prepared this handy festival guide for you. Read up, and make sure that this is the event for you! (And remember, you've got almost a year of prep time, so there's no excuse!)

How to be a great festival participant:

First of all, welcome to Kiko Lake! It's a lovely little place, and we love tourists... but we'd also really like our home to remain as beautiful as it is now. Be sure to recycle your recyclables, and to trash your trash on the way out.

Second, the festival runs because of volunteer efforts of the inhabitants of the lake. We don't accept donations (beyond your ticket price), but we do love a good "thank you." Every Kiko that you see with a clip board or headset doing a sound check or hurrying one band onto the main stage for your entertainment is a volunteer.

Finally, be kind to your fellow festival goers! There is plenty of camping space near the lake, and we encourage you to camp. We also anticipate many day-trip Neopians; fans of particular bands that will come out just to support them. We at Kiko Lake would like to keep our friendly, free-spirited reputation, and would like you to help us out by being as friendly and helpful as possible to the other guests. So lend a helping paw or fin, and make sure to share your Neocola!

What to bring:

Never camped before? No problem! We'll supply the music, you supply the camping. Here's an easy to read list of everything you'll need!

1.) Shelter.

Kikos and other water-dwelling species are welcome to find under-lake accommodations. The rest of you, however, will need to pack in a shelter of some kind. Evenings and nights around the lake can get rather chilly, so we recommend a high quality tent. The Lost Desert Tent is a durable yet affordable option that has a high resale value for campers that aren't quite sure that they will make the festival a yearly thing. For those campers with a few extra neopoints to space, the fun and durable NeoQuest II Tent can be purchased for just under 40K. It might be a bit pricy, but it sure is stylish!

2.) Sleeping Bag.

After a full day in the sun listening to your favourite bands, you'll want a nice warm sleeping bag to cuddle into once darkness falls. Your tent will keep away the wind, but the cold.... let's just say that a sleeping bag is highly recommended. For Neopians with a bit of spare NP, there's the always excellent Cosy Sleeping Bag. At around 20K, this bag is guaranteed up to minus 25 C! This bag is really a must-buy for the hardcore camper, and will even let you camp at terror mountain on most days! For the less wealthy, or less extreme Neopian, there are other options. The Spardel Print Sleeping Bag is great for those camping with young ones, and the Symol Sleeping Bag is great (if not a little small) for those camping on a budget.

3.) Swim Gear.

Kiko lake is best known for it's lake-like qualities. That is: it's a medium sized body of water that's perfect for taking a bit of a dip in! A swimming break can be a life saver on the hottest days of the festival- so don't forget your swimmers! You can pick up sandals (excellent beach footwear) just about anywhere, but what about other swim gear? My personal favourites are the Tropical Swim Trunks. They're affordable, brightly coloured, and covered in teensy little palm trees! What more could you ask for in swim wear? Neopia is full of beach accessories in various fun prints- why not try the seashell print beach towel, or the wave print beach ball? Those of you dealing in neocash these days might try the NC beach sandals, or the baby summer swimsuit for your young ones.

4.) Band Wear.

Bring along your shirts, caps, and other merchandise for your favorite bands, and get them signed after the shows! How much cooler will your Chomby & the Fungus Balls T-shirt be once it has been signed by Chomby himself?

5.) Snacks.

If you only bring along Neocola and crisps, I can guarantee you'll be battling indigestion. We recommend planning ahead (one full year, in fact): be sure to bring a balanced selection of fruits and veggies, as well as the requisite jellies and omelets. The Festival is not responsible for any illness caused by improper diet (or by swimming in the lake), so plan carefully. The Neopian Health Food store, located in Neopia Central, is a great place to start; you can stock up on fresh foods, as well as some of the excellent and easy to carry dried fruit slices they carry.

6.) Souvenirs.

Most importantly, you'll need souvenirs! Be sure to bring some neopoints for spending, as Kiko Lake has plenty to offer by the way of souvenirs. Sweet tooth? We've got you covered! Try our many varieties of rock slices, rock sticks, Kiko treats, and lollies! They make great snacks during and between shows, and we highly encourage you to bring them home for those friends and family members that can't make it out.

Well, now that you know what you need to do, you should probably get started! Notices for ticket prices will go out in the month of celebrating, should we see enough interest in the festival to go ahead with it. Remember, this may be your only chance to see all your favourites in one place- don't miss it!