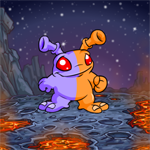 Neopian Fashions Part 2: Kreludor

by petpet_master_

--------

Kreludor, Kreludor! The winners of the seventh annual Altador Cup, home of Neocola and orange Grundos. There are so many things to do here. For instance, have you been to Booktastic Books? The books there are so... booktastic! But let's not get ahead of ourselves, there is still so much to discover. Take Cafe Kreludor, for example, a quaint little cafe out in the middle of space that serves only the finest of pastries suitable for up to 32% normal gravity! Outstanding! Still have not had enough? Why not head over to Kreludan Mining Corp.? Oh boy, oh golly gee. Okay, well there is not really much to do there, but wasn't that giant robot yelling at you just SO COOL? I thought so too.

If all that was not enough, how about playing a super Kreludor-tastic game of Hannah and the Kreludor Caves! Help Hannah navigate through the treacherous, danger ridden caves of Kreludor as she collects keys and treasure and ultimately escapes. Another awesome Kreludor themed game is Spacerocked. You play as one of Kreludor's many, many Grundos. With your trusty slingshot, collect power-up and bonus items as you try to hit the spaceship at the very end. Are you in the mood for more of a puzzle game? How about Time Tunnel! Choose the correct combination of coloured stones to open the lock and get to the next level.

Now that we have got those measly activities out of the way, let us get to the fun part, fashion! If you want to successfully explore Kreludor, you have got to look the part. It is the most important thing, of course! Without further ado, onward to Neopian Fashions Part Two: Kreludor!

Neopoint

1. Exploring Kreludor Background
Rarity: 88
Price: 500,000 NP
Have a few neopoints you would be willing to spare? How about making a nice investment in this lovely backgrounds? You are sure to wow everyone you see with the magnificent colours of Kreludor (and it will match your outfit).

2. Kreludor Cave Door Background
Rarity: 101
Price: 30,000 NP
Maybe you do not have those extra neopoints we all hope to have. No big deal! Try this background on for size instead! Remember, it is not how much your background costs, but the fact you are on the moon that counts. Okay, that was lame even for me, but hey, it is a stylish background and a cheap alternative.

3. Holidays on the Space Station Background
Rarity: 101
Price: 500 NP
Feeling festive? Show your holiday spirit as well as your space expertise with this background. It is sure to bring joy to everyone who sees it.

4. Shiny Obsidian Foreground
Rarity: 80
Price: 40,000
Who says obsidian can only be found in Moltara? These rocks look pretty space-like to me. Go adventuring in the mines of Kreludor (if they let you in) and see if you can find something worthwhile with this shiny foreground.

5. Cover of Darkness Foreground
Rarity: 101
Price: 250,000 NP
Delve into the mysterious undiscovered depths of Kreludor with this foreground. You will never know what is around the next corner! It is a little bit more expensive, but how could you NOT buy this awesome item?




6. Space Suits
Rarity: 93-95
Price: 15,000-500,000 NP
These space suits are a necessity if you want to keep up with the latest Kreludan fashion. It is not exactly the cheapest option, and is not available for all species, but if you can find one that fits, they sure are out of this world!

7. Its Too Cold in the Office Jacket
Rarity: 101
Price: 200,000 NP
Apparently it is too cold in Kreludor as well! Stay warm and bundle up in the space-themed jacket. All your alien friends will surely be jealous.

8. Lunar Cape
Rarity: 101
Price: 1,600,000
Show your royalty and wealth even in the vast depths of space itself. Wear this cape with pride and show your appreciation for everything that dwells in space.

9. Hardy Blue Trousers
Rarity: 68
Price: 20,000
With all the space adventures you will be going on, you cannot go wrong with a sturdy pair of pants. These pants can withstand the varying gravity of Neopia's moon and will last to infinity and beyond!

10. Explorer Backpack
Rarity: 88
Price: 50,000
Every space explorer needs a backpack sturdy enough to hold whatever they find. The last thing YOU need is a fancy moon rock falling out of your backpack. Light, durable and can hold up to 250lbs, this backpack is an absolute must.

11. Virtupets BX-288 Boots
Rarity: 86
Price: 1,800 NP
You cannot go wrong with a pair of sturdy boots like these. Suitable for flying through space and will not give in under pressure; these boots are fit only for the best space explorer.
Neocash

11. Space Battle Background
Rarity: 500
Price: Retired
You are sure to have fun with this awesome moving background. Who does not enjoy flying through space? Note: This item is retired, meaning you cannot buy it in the NC Mall anymore. Instead you will have to trade someone or have a generous Neopian gift you one.

12. Floating in Space Background
Rarity: 500
Price: 200 NC
Maybe your space adventure did not go as well as you planned and you ended up... well... lost. Do not fret! It happens to the best of us. Show off your cunning or not so cunning adventure skills with this fun background.

13. Kreludor Crater Foreground
Rarity: 500
Price: N/A
Feel like a true space explorer with this neat Kreludor Crater Foreground. Just make sure you are wearing heat resistant boots! These crater can get pretty warm depending on the time of year.

14. Space Station Message Foreground
Rarity: 500
Price: Blumaroll Prize
Who says there are no thieves in space? Prove yourself to be the ultimate space burglar with this stolen Virtupets technology. This foreground is sure to make you look at least 4.2 times cooler than before. I mean just look at that lovely shade of green.

15. Space Trooper Superpack
Rarity: 500
Price: 700 NC
Do you have what it takes to be a space trooper? Do you have 700 NC? Perfect! This super pack consists of Space Trooper Helmet, Oxygen Tank, Shirt, Trousers and a bonus Weapon. Everything you need to take over Kreludor! I mean... what? Oh uh... nope, nobody's taking over any moons here. Move along!

16. Darkest Faerie Dress
Rarity: 500
Price: 200 NC
Am I the only one who thinks this dress looks suitable for a space princess? Did not think so! Wow everyone you see with your high-end Kreludor fashion tastes and colours. All of you friends will surely be jealous of your intergalactic mix and match skills.

17. Dashing Gothic Jacket
Rarity: 500
Price: 150 NC
Show off your space ruler/gothic style with this amazing jacket. It says sophistication and power all at the same time! This jacket is sure to earn you a seat an interplanetary throne of some sort. So get your golden scepter ready and maybe a crown, because with this jacket, you are going places!

18. Time Tunnel Music Track
Rarity: 500
Price: 100NC
With this lovely soundtrack, you can take the beautiful zen sounds of Time tunnel with you wherever you go! This soundtrack is perfect for moon walking, or just playing Time Tunnel.

19. Kreludor Team Mask
Rarity: 500
Price: 100 NC
With this funky mask, you can cheer on the greatest Altador Cup team all year round! It is a great deal too at only 100 NC. Get it while you can as it will not be around much longer!

20. Kreludor Team Jersey
Rarity: 500
Price: 150 NC
Have a bit more NC than you expected? Why not put it to good use and splurge! Support your favourite team even more with this super stylish Altador Cup Jersey. It is an exact replica of the jerseys used in the real Altador Cup! Made with breathable, expandable fabric, this jersey is perfect for a little game of Intergalactic Yooyuball. Get it while you can as it will be retiring soon!

21. Kreludor Room in a Bag
Rarity: 500
Price: 1,000 NC
Bring your love for Kreludor into your home for only 1,000 NC! This pack consists of Rock Kreludor Floor Tiles, Orange Panel Kreludor Wallpaper, Glowing Kreludor Bed, Glowing Kreludor Desk, Glowing Kreludor Sofa and a Kreludor Jar Lamp. This fun furniture is sure to make your guests feel welcome.
Well, that brings us to the end of our Kreludan fashion tour. You have learned how to dress for space! Use your newfound knowledge wisely as you venture to the NC Mall and other stores around Neopia. All the best in your future fashion escapades!