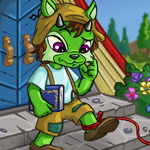 Red Thread: Part One

by kevboizz

--------



Terry the Green Ixi is walking in Neopia Central on a sticky summer day when a bright red string appears around his hoof. The string is more thin and fragile than he had imagined it would be, looped around his left hoof and secured with a simple knot. He stops in his path and stares at it for a long moment as if contemplating its existence. Almost instinctively, he uses his other hoof to try to touch the red string, though he already knows that he won't feel the string, only the soft fur surrounding his ankle. He spins his head around to watch the thread as it snakes past the Money Tree and the Petpet Shop toward the Neopian Bazaar.

A Blue Wocky further down the street is dressed in a white blouse and jean shorts. A large yellow sun hat sits on her head like a lemon slice as she walks with her tail swishing behind her, and if Terry squints, he can see her pass through his string as if it isn't even there. He turns around and continues in the opposite direction of his string, remembering his mission to pick up some more books for his sister. The red string lengthens behind him, reminding him of where it is he is supposed to go.

Terry walks into the Magical Book Shop and greets the shopkeeper with a wave of his hoof. The Blue Nimmo sitting at the register is apparently reading a book but puts it down. The Nimmo smiles at Terry, not noticing the string around his ankle, before returning to his reading. The smell of paper and literature meanders around the store, and the Ixi picks out a few books for himself from the tall, brown shelves.

"Do you have any suggestions for my sister?" Terry asks when he walks up to the Nimmo again, and quickly adds, "She's a lot younger than me." He shifts around on his hooves, waiting for the Nimmo to reply.

"Hmm... I believe the Quiggle Art Book is in stock. That one's always a favorite among young Neopets. And maybe the Chomby Pop-Up Book, if she likes books like that."

"Yeah, Kim loves pop-up books," Terry says with a smile. "In which aisle should I look for those?"

"They're sorted alphabetically, so the Chomby Pop-Up Book should be on the "C" shelf and the Quiggle Art Book on the "Q" shelf."

"Ah, thank you." Terry nods graciously and hurries to look for the books. After finding them, he brings them up to the Nimmo, pays 1,000 or so neopoints, and starts to walk toward the exit.

"Oh, by the way, not to be rude or anything, but why do you have something tied around your ankle?" the Nimmo asks, his voice filled with curiosity.

"Oh, that?" Terry silently groans at the Nimmo's questioning, wishing he could hurry back to ask his owner the same question. "I actually am not quite sure myself why it's there," he says with a chuckle. "It just... appeared. Today. My owner mentioned something before, about the Faeries or something. I really can't remember, though. It was a long time ago."

"Faeries?" the Nimmo murmurs, quietly, as if to himself. "How odd. I remember reading about some type of string once, but have never seen anything quite like this before." The Nimmo stands up and walks toward Terry with this book in one hand, the pages dog-eared to act as a bookmark. He squats to peer at the string more closely, and then tentatively reaches out a hand. "Do you mind if I touch the string?"

Though Terry awkwardly stands there as the Nimmo inspects his ankle, he nods and gives an encouraging grin. "Yeah, sure. You won't feel it, though. I've tried... it's almost as if it doesn't really exist."

Following his reply, the Nimmo reached to feel the string. Surely enough, his nimble fingers move past the string as well. In shock, he jumps back and looks at Terry. "Wow," he says, still staring at the primary red string. "This is quite new." He tilts his head thoughtfully. "Is it a type of disease? Are you sure you don't want to go to the Hospital to get it checked out or to Kauvara to see if she has a potion to get rid of it?"

"No, it's alright," Terry says with a shake of his head. "I better be heading home. Kim and Ally are probably waiting for me." He nervously turns around and exits the store quickly, leaving a puzzled Nimmo behind him.

When Terry returns from his trip with a few books in tow, he calls out to his owner. "Ally, I can see the string," he says as he opens the refrigerator and pulls out a jug of orange juice. Taking a glass from the kitchen cabinet, he pours himself some juice, trembling hooves slightly spilling the liquid as he tries to keep calm.

"Really?!" Ally replies, looking up from her Neopian Times. She sits with her light brown hair tied up in a messy bun, the extra hairs framing her mouse-like face.

"Yeah, you told me about it before! I didn't believe you back then," Terry says while sipping his orange juice carefully. "What's the story behind it again?"

"It happened when you were young," Ally says, her hazel brown eyes opened wide. "During the beginning of the reign of the Darkest Faerie. One of her minions saw you and your twin, Thomas the Brown Ixi, walking around Faerieland. I had told you back then to never go out in public because there was, and still is, a prophecy that a set of twin Neopets will overthrow the Darkest Faerie. Under her command, all twins seen would be taken and separated." Ally shifts in her chair and continues. "The Light Faerie, who was imprisoned by the Darkest Faerie, saw this terrible treatment and wanted to help out in some way. She knew that she wasn't powerful enough to stop the Darkest Faerie, but thought of an ingenious way to keep all twins together. She created a string illusion out of light, shielding it from sight until five years passed. Each end is connected to the ankle of one of each pair of twins. After five years, the string would appear again, and all the twins would be able to follow it to find one another. If the Darkest Faerie was still in power, one of the twins might be able to stop her." Ally finishes her story and looks up at Terry with tears in her eyes.

Terry swallows and tugs at the string by moving his leg. "So... I have to find Thomas? My twin?"

"I suppose you don't have to find him..." Ally smiles, her eyes crinkling around the edges, "but don't you want to know your twin? Twins have this sort of connection no one else has. I know you haven't seen Thomas in over ten years, but I bet he wants to meet his brother. You do too, don't you?"

"Ah." Terry nibbles on an almond cookie thoughtfully. It would be incredibly difficult, he thinks, to find someone in all of Neopia, even with a string attached to your ankle.

That night as Ally is washing the dishes, Terry's younger sister Kim, a Baby Xweetok pipes up. "What's the red thing around your ankle?" she asks, eating a spoonful of Lemon Meringue Baby Food. Ally walks over and wipes some of it off of the Baby Xweetok's cheek with a napkin, and Kim giggles.

"What? Oh, this string? It's nothing," Terry replies, eating some more of his Mummy Spaghetti. He sighs and slurps a noodle, thinking about how he is going to find Thomas.

"If you're still thinking about Thomas," Ally says, turning her head toward Terry, "don't worry about it. I know I told you the story today, but we can wait a bit and decide if we really want to go. I guess five years have passed; Thomas is probably living well enough on his own. Plus, it's dangerous out there. Better if we wait a few years until the Darkest Faerie is overthrown. I heard they're working on a plan."

Terry sighs and looks down at his half eaten spaghetti.

*******

He packs his things when it's still dark. It's not like he'll be gone forever, so he only throws a couple changes of clothes, underwear, his secret stash of neopoints that he has been saving for months, and some other miscellaneous things into a heavy canvas backpack before he's set. He writes a brief note, assuring his owner that he'll be fine and he'll be back soon, and sticks it down on the kitchen counter before he quietly opens the door and slips outside. There's dew on the lawn and a few birds are chirping softly, saying hello to the rising sun. Terry only heard about the story this afternoon, but he's already tired of waiting, he decides. He keeps an eye on the red thread leading him on, and he finally feels like he's doing something right. It doesn't matter what everybody tries to tell him: he's going to find his twin on his own.

To be continued...