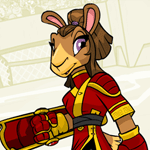 Altador Cup Pre-Season Report

by amarise

--------

Most Neopian lands are still mired in the depths of winter, but for Altador Cup fans, Spring has finally arrived. This past week marked the official opening of the pre-season training camps, and while the actual facilities are closed to the media, certain Neopian Times reporters have been granted exclusive access to both players and support staff from all eighteen Yooyuball teams. Coaches have remained largely mum on the prospect of bringing in new players, but several organizations are rumored to have invited free agents to work out with the team, as well as holding open tryouts. "Last season was absolute chaos," one staffer inside Darigan Citadel told reporters. "With as closely-matched as all of the teams were, it's been a mad dash to try to find the perfect combination of players to propel us into that top bracket this year."

One of the first camps to open was that of last year's third-place finishers, Kreludor. "ACVI was another tough finish for us," Zenor Kevix told reporters after a training session. "We had a slight rough patch at the start of Round Two, but it seemed like we'd recovered by the time finals rolled around. It's been frustrating, coming so close year after year but never being able to win that trophy." KD's coach also spoke to reporters later in the day, and he confirmed that the organization has decided to take a radically different approach to this year's Altador Cup. "We do train in specially gravitized facilities," he said. "But the rest of the time our team lives in the regular reduced-gravity environment of Kreludor. For ACVII, we plan to move the entire team to Neopia a few weeks prior to the start of the Cup, so that they can have time to acclimate to the planet's gravity."

Another team getting an early start to the pre-season was Terror Mountain, despite the blizzard conditions that have been in effect since the start of the year there. "Are you kidding?" TM player Rinok Fitel joked with reporters during one media session. "If you can still see five feet in front of you, it's practically swimming weather around here." A small number of fans showed up to greet their favorite team, and they took the opportunity to sing TM's praises to the gathered media. "We had a great first round last season," one fan said. "These big teams were dropping left and right, and even though it might not have gone as well the second round, nobody took us for granted." Despite the coach's refusal to discuss the matter, Terror Mountain is rumored to be one of the teams currently testing the free-agent market. Already players from Shenkuu, Meridell and Kiko Lake have made trips to the frigid north country.

Maraqua is also said to be trying out new players, although given their strong showing in ACVI, it seems unlikely that they'll be making any changes to such a successful formula this year. In a private interview shortly after the conclusion of the fourth day's practices, Maraqua's GM expressed satisfaction with the level of play her team displayed the previous season. "Not only did we perform well in Yooyuball, we were also one of the strongest side game teams in the league. As Roo Island proved, it's no longer good enough to just win Yooyuball, you have to have a strong squad in the other games as well." She dismissed concerns about MQ's weak showing in the finals, expressing her belief that the results were only a matter of experience, and that this time around people would see a much different outcome.

Roo Island is taking their example from last season to heart as well, reportedly devoting up to half of their practice time to the side games. RI player Gordo Gunnels had to be excused from attending one media session due to a sore throat, and Roo Island's coach is said to be spending extra time in the workout room to combat the extra weight he's put on from consuming the excess slushies. In fact, during one otherwise normal interview with Lilo Blumario, a slushie came flying through a window and nearly took out the star player. "I guess that's good practice for when I face "The Black Hole" Hughlis," the Blumaroo quipped. Upon hearing of the near-disaster, hundreds of concerned RI fans descended upon the facility, and it took all of King Roo's royal guard to maintain order. Practice had to be suspended for the remainder of the day, although the crowds had sufficiently cleared for them to resume the next morning.

Just across the waters from Roo Island lies the tiny nation of Kiko Lake, where inhabitants are still buzzing about some of the big upsets their team pulled last season. "It's been absolutely amazing," Kiko Lake player Meela Kitah told one reporter. "When some of us had to take extra jobs just one year ago to support the team, even our co-workers had no idea we were on the Yooyuball squad. Now random strangers come up to us and ask for our autographs, or ask us to pose for pictures with them.... It's been really gratifying to finally have all of our hard work recognized." While Kiko Lake's team may be showing improvement, there is strong evidence that one of their members has been considering retirement ever since the events that forced the team to sit out of Altador Cup III. KL's coach has emphatically denied such reports, but a credible source has indicated that Kiko Lake has sent scouts to several different teams over the past week.

Down in the subterranean depths of Moltara, the start of practices had to be delayed slightly thanks to an overflow caused by too many neopets attempting to use the Magma Pool. While the team waited for the lava to be cleared off of the practice field, reporters spoke with MT player Vere Polnicek. "I can't say I'm totally happy with how ACVI turned out," he told them. "I mean, we finally won on day three after losing every single Yooyuball match during ACV, and we had that great win over Krawk Island, but it hurts to finish in last place two years in a row." MT's owner echoed the same sentiments during the next day's media session, but she also expressed her confidence that the new training staff they brought in during the off-season would help her team gain the skills needed to move up the leaderboard in their third trip to the Colosseum. The Wocky also remained adamant about leaving the roster unchanged, despite having two consecutive last-place finishes.

In an environment no less stifling, reporters eventually found their way to the remote oasis far outside of Sakhmet City that holds the training facility for Lost Desert's Yooyuball squad. Thanks to the extreme heat, an exemption was given to the closed facilities rule, and all who were lucky enough to be present got a full tour of LD's state-of-the-art training compound, including a practice field which was cooled from below with ice imported all the way from Terror Mountain. During the tour LD's coach answered questions from reporters and fans alike, and while he remained tight-lipped about their strategy for the upcoming tournament, he did discuss one of the issues they had faced during Altador Cup VI. "We ended up losing one of the key players from our winning team in ACV," he said, "And while we did end up improving as the season went on, it's almost impossible to gel with a new teammate like you can with someone you've known for years." As LD had a roster shake-up last season, it's unlikely that they'll be making another change this year, but several off-the-record comments from LD staffers indicate that the team's owner is sparing no expense in an attempt to become the first team ever to win the Altador Cup twice.

Also trying to claim the mantle of repeat winner is Krawk Island, who held a special tribute day to retired KI player "Dasher" Soley prior to the start of the pre-season. Much to fans' delight, KI unveiled a larger-than-life statue of Dasher at the entrance to the practice facility, and several portraits of the Krawk were added above the trophy display case, including one featuring "Dasher" Soley drinking grog from the Cup itself. "Even though he's retired, Dasher will always be a member of this team," Zayle Sufhaux told the gathered crowd. Soley has reportedly been hired in an administrative position, although it was unclear exactly what his duties entailed, other than encouraging the team to join him at the Golden Dubloon every few days. As for the team, KI's GM said during one interview that no major changes from ACVI were planned, although a certain free agent from one of last year's top teams is reportedly interested in joining them. While their practice regimen remains largely unchanged, neopets with close ties to the team report that the coach has banned all use of the words "Moltara", "magma" and "lava".

Things could not be more different in the birthplace of Yooyuball, where royal scholars and statisticians have been working feverishly all offseason to try to figure out what has been causing Altador's poor performance year after year. "We've tried just about everything," one scholar said. "We've rearranged team formations, upgraded to the latest gear, even tried practicing only on Sundays...... Nothing seems to work." The players on AD's Yooyuball team exhibited the same frustration, some even becoming visibly angry when asked about their failure to win a single game last season until the thirty-seventh day of the tournament. "I don't think we've got any less talent than any of the other teams do," Winberto Seliz said during an interview. "We work as hard as anyone, we've supposedly got the homefield advantage, and we have the most loyal, supportive fans that anyone could ask for. There's absolutely no reason why we end up at the bottom year after year." With so many other attempts at changes failing to produce improvements, it seems almost a certainty that Altador will attend this year's tournament with a different roster, although fans have become increasingly vocal about resisting the loss of any of their beloved players.

No less vocal are the fans of Tyrannia's Yooyuball squad, although the mood in the prehistoric land is decidedly more upbeat. "We've been known as one of the better side game teams in the league," one fan told reporters, "But the addition of Spikes last year really took our Yooyuball game up a notch." Team captain Loryche also spoke with reporters about the changes that have come about due to TY's improved performance in ACVI. "We landed a key Slushie endorsement at the end of the tournament," she said, "And combined with exploding merchandise sales we were finally able to move our practices out of the Grarrl Keno hall and into a genuine practice arena." All indications are that the team will not be making any roster changes this year, although with the pressure to improve on last year's record-high finish staff insiders are reporting that the team has been training almost double the amount of time as they did last season.

After slogging through an endless maze of trees and swamps, reporters finally located the team compound deep inside the murky forests of the Haunted Woods. After giving them time to clean off the clinging ivy and Spyder webs, HW's owner spoke with the gathered media. "Altador Cup VI didn't end as well for us as I had hoped," he said. "We had a strong surge in the middle of the tournament, but we just weren't able to hold on to our momentum." The second-year owner also openly acknowledged his search for talent around the league, stating that his goal was to create the best team possible. HW's coach was more circumspect, telling reporters that he would welcome any player who wanted to be a part of the team, but cautioned that it would be a risk to break up any team that had learned to play so well as a unit. Despite the tension growing between management and the owner, certain training assistants have indicated that the players themselves remain in a positive frame of mind, and that practices have been progressing smoothly.

Equally difficult to access was the training area for Team Shenkuu, and only a few intrepid reporters were able to gain the summit which houses the team's mountain-top abode. One particularly adventurous reported joined SK player Mirsha Grelinek for a rappelling run while conducting the interview. "We had some great games last season," she told the reporter, "And there were a few times when we really felt like we were the old Shenkuu again. But I think we all feel like we've let a lot of people down by not playing up to the ability we showed in ACII." Back on solid ground, Shenkuu's GM spoke with the small number of gathered media. "Unfortunately, we weren't prepared for the difficulty we faced in the years after our third-place finish," he said. "We did so well in our very first Cup that we just couldn't overcome the demoralizing effect that losing so many games had on us. It was a failure on all of our parts, but particularly for those of us responsible for preparing this team for the rigors of the Tournament." He went on to describe in general terms the changes they planned to make in their training regimen, and even hinted at the possibility of bringing a different coaching staff to Altador Cup VII. Rumors had persisted during the off-season that SK's owner was looking for a new head coach, and it is worth noting that while reporters were given access to both players and support staff, none of the coaches were made available for interviews.

The coaching situation in Meridell is also tenuous, as King Skarl has reportedly given their head coach one more season to make the podium. Despite the added pressure of making the championship bracket this year, many within the organization remain upbeat. "We had a few rough patches last year," player Fiorina said during an interview. "To start off with, Gregorio was injured just prior to the Cup, and then we had a late slump towards the end of the second round. However," she added, "We were able to overcome those challenges and we finally ended a season on a high note." "Wizard" Windell was similarly optimistic, stating that the experience they gained from finishing out ACVI strong, combined with all of the players being healthy, was almost a guarantee that they would place even higher this season. With Skarl being notoriously anti-media, very little information had been coming out of Meridell, although several sources have indicated that training sessions remain largely unchanged from last season.

Located in the vast emptiness of space, a special restricted-access level of the Virtupets Space Station holds the training grounds for VP's Yooyuball squad. In the media room just off of the main elevator, the defending champions posed for yet another picture with the Altador Cup before the start of interviews for the day. "Honestly, it still seems like a dream," Weldar Xupenfarb told one reporter. "Just a few seasons ago, we finished dead last, and now we're the champions. It's been surreal." When asked about the possibility of repeating this season, player Keetra Deile brushed off the specter of raised expectations. "We've always striven to simply play our best, and whether that means making the podium again, or dropping down the leaderboard, we'll be happy with that no matter where we finish this year." Despite the players' laid-back approach, several assistants have mentioned that the head coach has been pushing the team hard in practices, in an effort to avoid the fate that befell Lost Desert in Altador Cup VI.

Team Faerieland, meanwhile, is reportedly happy to be starting the season off with any expectations at all. "Things weren't looking great for Faerieland last year," player Ciona Broan said during a Q & A session. "After all the havoc that Xandra caused, we weren't sure we'd even be able to make it to Altador, let alone compete." Later, FL's coach commented that she was happy with how well the team played during ACVI, despite all of the hardship their homeland had been suffering. "It wasn't quite the season we expected after ACV, but we did manage to sneak up on a few teams that underestimated us," she said. Reports out of Faerieland indicate that there may be a major roster shake-up for Altador Cup VII, as several of the players are supposedly considering taking the season off to spend more time aiding in the ongoing recovery efforts there.

The scholarly land of Brightvale remains largely unchanged by the start of the Yooyuball pre-season, thanks in part to King Hagan's ban on any demonstration of fan spirit until the official start of ACVII. "The yearly tournament is but a small part of our lives, and as such it should remain relegated to the season set aside for it," he proclaimed in the royal decree. Meanwhile, BV's team is dedicating themselves to studies of a less intellectual nature. "Honestly, our strategy going in to last season was a complete bust," Brightvale's coach told reporters. "Once we stopped focusing on the other teams' strengths and weaknesses, and started focusing on our own, we really began to show what we were capable of." Brightvale is said to be pursuing a more aggressive strategy going into this season, though the coach flatly denied any rumors of returning to the shady style of play that BV was known for in years past.

Floating high above the farms of Meridell, practices for team Darigan Citadel are being held in near-total seclusion in the lowest depths of DC's dungeons. "Sometimes I miss the sun, but this makes it nearly impossible for any spies to watch our practices," Reshar Collifey joked to the media. DC's coach, meanwhile, took a more serious tack, discussing certain changes in game preparation for ACVII. "We didn't spend enough time last year practicing to play against specific teams, and it showed at the end of the tournament. This year, we're going to tailor each day's game plan to best maximize our strengths." Darigan Citadel is another team that is said to be conducting open auditions, and given that several players are reportedly entertaining offers from other teams around the league, it seems likely that a new set of players will be wearing the purple and black to the Colosseum this season.

While every other team has been hard at work since the start of the pre-season, team Mystery Island still has yet to conduct even a single practice. In keeping with their relaxed style, reporters found MI's Yooyuball squad lounging on one of the island's many sandy beaches. "In all honesty, Yooyuball isn't the main focus here," player Vela Binal told one reporter. "Of course, when the Altador Cup rolls around, the whole island roots for us, but most of the year the interest is in other sports like surfing, mountain climbing, and beach volleyball." Lor Benneveldt echoed the sentiment, but added; "Even if Yooyuball were the only sport on Mystery Island, we still wouldn't obsess over it. Our main goal is just to have fun." "And frankly, it's easier to be totally random when you haven't spent much time practicing." Teylore Nix commented, smiling. No news is coming out of Mystery Island yet, as the team hasn't even opened their facilities, but things are soon to be kicked into high gear as MI's coach is expected back from his vacation in Kiko Lake within the week.

Finally, the Altador Cup Planning Committee has also met for the first time this week, and sources within the Colosseum are reporting that several changes are being discussed among the committee's members, including the possibility of adding two new teams to the tournament and revising some of the unpopular changes made to the rules of Yooyuball last season. Speaking on the condition of anonymity, however, one highly-placed insider cautioned that it was extremely unlikely that the ACPC would agree to revert to pre-ACVI rules.

Even though the start of Altador Cup VII is still several months away, fans all over Neopia are gearing up for their favorite event of the year, bringing their hats, posters, and even good-natured taunts out of storage. Even though it's still too early to know how this season will turn out, early reports from all eighteen teams have given a tantalizing glimpse into all of the excitement that is to come.
Search the Neopian Times


---
Great stories!
---------
---------
---------
---------
---