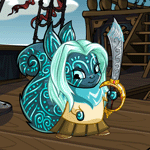 Child of the Drenched: Intrigue in Faerieland - Part Five

by kristykimmy

--------

Mara knocked on Florina's office door. She hoped that the headmistress of the Royal Academy of Faerieland would be in. They needed her help in trying to clear her uncle's name.

"I am not seeing anyone right now, please leave," Florina called from within.

"Florina, it's Mara, Howl's niece. May I speak with you?" Mara called out.

The door opened in a hurry and Florina stood there. Her eyes were red as if she had been crying. She forced on a smile for Mara and Jacques and invited them in. They sat down in chairs and she moved behind her desk and sat down.

"Mara, I am so sorry this had to happen right when you came to see Howl. This is just; I don't know what to say. Such an innocent girl like you in the middle of this too. I really can't believe Howl did this." The words poured out of Florina in a rush.

Mara managed to keep a straight face, but Jacques could see some amusement creep into her eyes at being labeled 'an innocent girl'. The sarcastic pirate in Mara was highly amused by that. Jacques was rather amused by how no one ever suspected happy, bubbly, little Mara anything, much less of being a pirate and fearsome sorceress who had been raised by the most dreaded sea witches in Neopia.

"Thank you, Florina; I really can't believe it either. In fact, I don't believe it. I really don't believe Howl would do this, he says he didn't do it. Please, Florina, can you help me?" Mara asked as sweetly and innocently as possible.

Jacques hid another smile. Mara was working Florina exactly the way they needed.

Florina took off her glasses, stared down at the desk, and sighed. "Honey, you really should go back to wherever it is you live."

Mara threw Jacques a look; this was not what they were expecting from her. Florina looked up at them again. "Please, Mara, I can't help you."

"Why not? You said you were Howl's friend! Friends don't abandon each other when they need help," Mara cried.

Florina rubbed the bridge of her nose and looked out the window thoughtfully. "I'm not supposed to talk to anyone, so if I tell you what I know you cannot tell anyone, do you understand?"

"Of course?" Mara said doubtfully, as if not sure she wanted to hear what Florina had to say.

"Okay, I cannot help you because there is nothing you can do. Howl is guilty; I know this for a fact. Last night, around midnight, I looked out my window and I saw Howl coming up the steps to the front doors of the academy. This struck me as very odd because Howl is very meticulous; he never forgets anything so there is never any reason for him to come back to the school after he has left for the night. Not once in the fifteen years he's worked here could I remember him coming back. I went to my door to talk to him because it worried me. However, he was moving too fast and had long passed my door before I even had it open. I stepped out into the hall just as he was turning the corner and in his hands I saw the staff. I was busy and I expected he was too, so I didn't go after him. I didn't think anything of the staff at the time, I thought it was probably a prop for future lessons and he was putting it in his office. However, when I heard early today that the staff had been stolen, I remembered the whole incident and I felt it was my duty to inform them of it. I really was hoping that it would turn out that it was just a prop and I had overreacted. Howl denied the events of last night ever happening and then those letters were found... I'm sorry, but Howl is guilty. I wouldn't have believed it either if I hadn't seen it with my own two eyes. Mara, you should just go home."

Mara looked down at the floor; she had no words to say.

"When and where were these letters found?" Jacques asked.

"In a book that is one of Howl's favorites; they turned up in the search this morning," Florina replied.

A moment passed in silence as Florina looked out the window with a frown on her face. "I am sorry for you. I really can't believe this had to happen while you were in town. You would think Howl would have had the decency to wait until your visit was over. But, well, I guess some things can't be put off. I'm sorry, but I've told you what I know and as wrong as it feels, I've still got a job to do as headmistress and I need to get back to it."

"I see, I guess Howl did do it. Thank you for your time," Jacques conceded.

Jacques and Mara rose and left. Once outside Jacques suggested returning to the hotel for lunch. Mara was staring off into the distance with a look in her eyes Jacques had never seen before. He put his hand on her shoulder and asked her what was wrong.

Mara pushed Jacques away, screaming, "Don't touch me! What did you mean Howl did it? He is innocent and you know it! It's all lies! He didn't do it!"

"Yes, I know," Jacques replied calmly.

"But, what? Oh, Jacques, what are you playing at? This isn't funny and I'm so confused right now," Mara all but whimpered.

"I said that to Florina who was working her hardest to get us to believe Howl did it and leave. There is something about her story and her demeanor that seems off to me," Jacques answered.

Mara looked down again. "Florina is Howl's friend; why would she betray him like that? Friends aren't supposed to do that."

"Mara, this isn't a faerietale. Friends betray each other all time in real life. Just because you would never betray a friend doesn't mean we can expect the same from everyone we meet. That being said, we don't know that Florina has done anything. We don't know if this story about Howl is true or not yet. She might have actually seen what she said she saw, but it might have been an imposter. Mara, I'm not giving up until we prove Howl's innocence," Jacques explained.

Tears stood in Mara's eyes, but she blinked them back as she said, "Thank you, Jacques. I'd be so lost on my own. I'm sorry for doubting you back there."

Jacques smiled and again suggested they go get lunch and Mara agreed. When they were out on the street again after lunch, Jacques looked around. He didn't see anyone suspicious. He was still mildly worried that whoever was framing Howl would try to cause them trouble. He whispered to Mara again that they had to be extra careful not to draw too much attention to themselves or their investigation.

They decided to try to find Hanso again to talk to him. After all, the Ixi never shut up so long as you said the right thing. If they were going to get any more useful clues in the investigation, it would come from him. However, he had gone back to the palace and Brynn was there, and she would be sure to make him keep his mouth shut.

They went back to the palace and caught a lucky break. Not far from the gate stood Hanso. Leaned Hanso, was a more accurate description. He was leaning against a building talking to a brown Wocky child.

"But, Hanso, I don't to hear about how you saved Faerieland again. I've heard that story ten times now. Tell me a different one," the child complained.

"Oh, all right, Timmy. I suppose I could tell you about the time that I stole Jazan's Nabile plushie." Hanso laughed. "That is a great story."

"And you told me that one three days ago." Timmy sighed, rolling his eyes.

Mara walked up quietly behind Hanso and said in a timid voice, "I'd like to hear that story."

Hanso jumped and turned around and Mara looked down at the ground shyly. "That is, if you don't mind."

Hanso's grin grew huge; he was dying to share it. Mara and Jacques listened to his story, Mara nodding and laughing throughout most of it, her eyes growing huge and gasping with suspense at all the right places. She was the ideal listener and Hanso's tale became greatly exaggerated as he strove to impress his listener even more. Inwardly Mara laughed at the sheer ego of the Ixi thief, but outward she worked to make a friend of him. The better he liked her, the more likely she was to get something good out of him. Timmy wandered away early on in the story.

"Wow, that is amazing!" Mara cried when he was finished. "Is your life always that exciting?"

"Well, not always, it can be a little dull between... things. How are you doing? Going to see your uncle?" Hanso asked.

"Well, we've already seen him today, sir. I wanted to ask you something, actually. How did you know which book was Uncle Howl's favorite? The one he hid the letters in?" Mara asked.

Hanso's face darkened. "What, how do you know about that? I didn't tell you that the letters were found in a book. No one but Brynn, the investigators who found the letters, and I should know that."

To be continued...