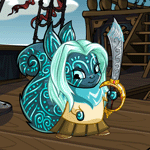 Child of the Drenched: Intrigue in Faerieland - Part Two

by kristykimmy

--------

Mara and Jacques followed Florina down the halls of the Royal Academy of Faerieland. The building had already been restored to the way it had been before the fall. Mara looked around and wondered if she would have come here to study magic if she hadn't been taken by the Drenched as a small child for the same purpose.

"My uncle is a teacher here?" Mara asked as they walked down the halls.

Florina nodded.

"He uses magic?" she asked, wondering if magic ran in her family.

"No, not at all, he doesn't have that ability. Howl is our lore teacher. Fact and myth of Faerie magic from time gone by are his friends, and his books are his refuge. He has not had an easy life and he likes to be alone. However, he is a brilliant teacher. He really brings things to life and makes a lasting impression on his students. He's never had a student fail the class," Florina told her. "He is also a dear friend to me."

She came to a door with a plaque on it that read: Howl, Professor of Lore.

Florina knocked at the door and sharp voice called out, "Who's there?"

"'Tis I, Howl," Florina called. "With friends of yours."

Behind the door Mara could hear Howl shout, "What friends? I don't have friends other than my books!"

Florina started to open the door and Jacques pushed Mara on, she had lost the will to move herself. He whispered in her ear that he liked her uncle already to tease her, but Mara was too nervous to laugh. Her mouth was dry and her heart thundered in her ears. She wondered why meeting the only real family she had left should terrify her so. Jacques succeeded in pushing her into the office.

The place was dimly lit, and the furniture dark colored and old. Bookshelves lined the walls, filled to bursting, and books cluttered every table and lay in piles on the floor. Behind a very cluttered desk sat a Darigan Yurble. Mara swallowed hard as he looked at her.

"Well, if it isn't Delia! So you've finally come," Howl said, getting up.

"Delia?" Mara asked faintly, he hadn't mentioned her real name in the letter.

"What? Don't tell me you don't know your own name?" Howl asked, that sharpness in his voice again.

"Um, no, I'm afraid not. The people we met on Zephyr Island didn't remember my name," Mara stammered.

"Huh, and I'll bet those sea witches wiped it out of your head? Yes, I heard about those accursed creatures and that they were responsible for your disappearance," Howl snapped.

Mara's face turned dark; she knew what the Drenched had done was wrong, but she still loved them as her mothers. Jacques decided he needed to step in before Mara and her newly-found uncle got into a fight over Mara's foster mothers.

"That doesn't really matter anymore and I know Mara doesn't like the topic to be brought up."

"Mara? What a pathetic excuse for a name; I suppose they gave her that one too? Who are you anyway?" Howl demanded, turning his red eyes on Jacques.

"Howl, dear, you're being rude again," Florina said softly.

Howl laughed lightly and ran a hand through his hair. "Sorry."

"My name is Jacques, I'm Mara's friend and I happen to like her name," Jacques said pleasantly, reaching out to shake Howl's hand.

Howl turned to Mara and said, "What about you? Why don't you speak?"

Mara smiled awkwardly and said, "It is nice to meet you, Uncle Howl."

Some softness crept into his face as she called him 'Uncle Howl'.

"My, how long it has been since I heard you call me that? You have your mother's eyes. Come and sit down, both of you, and let us talk about the past. That is my area of expertise, after all."

Florina left them, though it was clear that should really have rather stayed and heard Mara's story. Howl settled back down in his chair at the desk and Mara and Jacques cleared chairs for themselves. After they were seated, Howl asked, "Well, shall I tell you about me or would you like to tell me about you first?"

"I'd like to hear about you and Miranda and when I was a baby on Zephyr Island," Mara replied.

His face saddened as she said Miranda. "You really don't remember her, do you, Delia?"

"No, I don't. Nor my father, nor anyone from my time on the island," Mara replied honestly.

Howl sighed and rubbed his forehead. "Well, I suppose that is to be expected. The sea witches couldn't really expect cooperation from you if you knew what you had lost. Well, I was born on Zephyr Island, of course. Miranda was nine years younger than I. We got along pretty well, so long as she didn't disturb my studies." He laughed at this recollection. "I moved away to Faerieland to take a job as an assistant teacher here and Mira and I lost touch until after your birth. I came back to Zephyr Island to see your family as often as I could after that. You were a Blue Usul then, and the sweetest little thing. Miranda and Walt were absolutely mad about you. I've never seen parents so besotted with their child as your parents were with you. Then, when you were three, I got a letter from Miranda saying that you had been taken away. Miranda was so stubborn; she never gave up trying to find a way to get you back. The end is history."

Mara nodded. "What did you do?"

"Well, I turned to my books for comfort. Miranda and Walt were gone forever, and I thought you were too. But now, our story has a happy ending after all. You cannot imagine my amazement when a childhood friend of mine sent me a letter informing me that a girl who claimed to be Miranda's daughter had visited Zephyr Island. He told me that his grandmother spoke with you. After that I managed to learn you were sailing on some ship or other and I sent a letter to that pub on Scurvy Island, and now you are here. Mira would be so proud if she could see the woman you have grown into."

Mara smiled and then told him her story, omitting that she and her companions were pirates. She also decided not to mention her training because it would have taken too long. Howl listened, his face stony and unreadable. He was silent a long while after she finished.

He turned to Jacques and said, "Thank you, Jacques. Without your help, Delia would never have found who she was and I would never have seen her again. All I can say is that I am relieved that the Drenched were not unkind to you. But, I will never forgive them for what they did."

"I'm not asking you to, my mothers have done unforgivable things. However, I do love them in spite of that and all I ask is that we not talk about the subject," Mara replied.

"I think that is fair," Howl replied then glancing at a clock. "I need to get to my class. I've written down a good hotel for you two to stay at while you are here. I'll drop by there at six and we can go to dinner to get to know each other better."

Mara took the paper and nodded. They left the school and went directly to the hotel. They booked two rooms and Jacques followed Mara into her room to talk to her before he went to his.

"So, Delia, how do you like your uncle?" Jacques asked with a grin.

Mara smiled sweetly and said, "I like Howl very much, and I will make you suffer if you call me Delia again."

"What, you don't like your real name?" Jacques asked.

"No, I like it just fine, but I am Mara now and I intend to stick with this name," Mara replied, sitting on her bed. "Ooh, this is soft. I've never slept in a bed this soft." A moment of silence passed. "Jacques, I don't know how I'm going to sleep without the motion of the waves. I can't even see the ocean from here, I've never been anywhere in my entire life where I couldn't see the ocean."

He could see she was fighting back tears. "I'm homesick too, if that makes you feel any better. A week isn't that long a time. We'll be back on the Black Pawkeet with Garin before you realize it."

Mara nodded and forced a smile. "Okay, now get out so I can change my clothes before dinner. I feel dreadfully out of place here in my white and black. Thank goodness I bought some new clothes for this trip"

"New clothes, huh? Are you going to wear a dress?" Jacques asked.

"I might, and then again, I might not," Mara replied.

"You've spent too much time with the Island Mystic," Jacques countered.

Mara stuck her tongue out at him. "Leave."

"Are you going to wear a dress?" Jacques asked again teasingly. "I don't think you've worn a dress since you joined the crew."

Mara shoved him out of the room and locked the door behind him laughing.

To be continued...