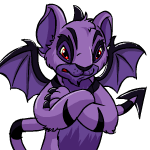 I Always Thought We Were Rich

by 7_candy_girl_7

--------

I always thought we were rich.

We lived in an enormous mansion. Our furniture was all unbuyable, and our gallery was high class, the best in Altador, where we lived. Jay loved the stock market, and invested heavily. We lived in luxury that suited Queen Fyora. We went on huge shopping sprees. I have read almost every book in Neopia, while my sister, a Draik named Kay, had more clothes than every Neopian put together. We had more money than the bank. Notice I'm using past tense here.

Jayleen always bought us expensive gifts. Like the time she bought Kay a Royal Paint Brush. Or the time she got me a Meowclops. I named it Spark. Or when she bought me a Darigan Paint Brush and said that I was the handsomest Kougra she had ever seen. Or the time that she bought the Grimoire of Affluence from the Hidden Tower shortly after it was released. Jay had said to me, "Don't worry, Kart, it didn't even dent our bank account!" So, even though she spent a lot, I wasn't worried, because Jay always told us we had plenty of neopoints.

Turns out, we didn't.

I started getting suspicious when the neomails started coming in, and I mean more than usual. Jay never tried to look worried when she read them, but one day I saw her stressing out after she read one. I was able to glimpse the title: Where's those Neopoints? When I asked her, she told me that her friend wanted to pay back some neopoints she owed Jay. But it was the other way around.

A week later, I noticed our food getting considerably cheaper. Instead of pricey avatar and gourmet food, we started eating only 40k food, and one day we had strawberry jelly for dessert instead of brucicles. Not that I minded the change of meals, it was nice and interesting, but Kay and I both started to get worried that maybe we weren't as rich as Jay continually told us we were.

*

After a month had gone by, the most expensive food we ate was priced at 10k. Jelly was the main dessert. Jay started selling things that we never used, and even though we earned well over 1 million NP, our diet and shopping trips barely changed. We couldn't even afford to go on our usual weekend trips around Neopia. Our normally simple house bills became very stressful for Jay. The day we had to move was devastating. I didn't want to leave for Kiko Lake! But we had no choice. We still had a fairly big home, compared to normal sized homes, but it was still a drastic change from what we were used to.

Jay was becoming neopoint desperate now. She would spend hours playing games and staying at the Money Tree to earn neopoints to try to keep us happy. This was when the angry neomails started, demanding that they should be paid back immediately. Jay was almost never happy now, trying to make us think we still had lots of neopoints when it was obvious we didn't. She went so far as to try to sell Spark, but I was able to keep him. Kay's once neohome sized clothing supply was now smaller than Spark. She had sold most of her clothes when we moved, and kept only her favourites.

What had happened was that the stock market had plummeted. Jay had asked close friends for neopoints to keep us happy, but that had added up over time. We were deep in the red. The bank almost never saw us anymore. Jay owed millions of neopoints to her "friends" who kept asking for them and wouldn't give her time to pay them back. Maybe if Jay had told us sooner, we could have helped her out.

*

It had been a year since it had started. Kay and I were sorting through the gallery. It was very small now, as Jay had sold most of the things to pay back her so-called friends. Once she came home, we would eat our omelettes and jelly, along with every freebie she had gotten that day. It was what life was probably like for most poor Neopians, but we couldn't eat at the Soup Faerie's. Jay told us that she would never admit we were that desperate. It was at that time the doorbell rang. It had to be Jay, with her hands full of free food and the neopoints she had earned to pay people back. I went to open the door, my claws clicking on the cement. Kay floated beside me. It was really late, and very dark.

As I put my paw on the door handle, Kay gasped. She was looking out of the window at the top of the door.

"Kart," she whispered, "It's not Jay. It's her angry friends. They have Hidden Tower battle items and torches."

My eyes grew wide. Spark clung to my back. I flew up beside my sister. Sure enough, about twenty people stood on our lawn. The torches were actually portable kilns. One person had a bag of glowing battle dung. About five or six held fire and ice blades, and I saw at least one Pirate Captains Cutlass. We could fight them, but because of our situation we didn't have any weapons, and our battle training was more than rusty.

"Let's go out the back door," I murmured.

When we got to the back door, we saw that there were even more people holding even more weapons.

"How many people does Jay owe?" Kay muttered. "And how much does she owe each person?"

We raced to the second floor and peeked out the window. The angry owners' angry, flying pets flew around the second floor of the house holding, you guessed it, yet more weapons.

"Well, this is just great," I moaned. "What do we do now?"

"Simple." Kay obviously had an idea, as I had hoped she would. She raced to her room and returned moments later holding a black ninja outfit.

"This was one of the outfits I kept. I knew it would come in handy!"

After changing, Kay grabbed her Belonthiss, Kat, and her Royal Girl clothes and opened a window. She slid out first, and I followed after her.

We were on the roof. Only five pets circled the second floor. Looking at Kay, I nodded, and we silently flew up and over the pets, my colour and her suit camouflaging us. We were about twenty meters away when we heard a shout from the house. The open window had been spotted. I looked back, and saw small balls of fire entering our home.

We continued flying, the image of those people entering our home echoing in my mind. They were crazy! I bet they thought Jay was holding out on them. Speaking of...

Kay had started to slow down. She had spotted Jay heading down the path to Kiko Lake. We landed beside her.

"Kart? Kay? What's going on?" she asked, setting down her bags and neopoints. Without saying a word, I gave Spark to Kay and motioned for our owner to hop on my back. Kay stored the bags behind a rock. We flew off back towards our house.

I will never forget what I saw when we arrived.

All of our possessions were on the lawn. All our clothes, food, furniture, and books. Everything we owned was there. Even a pile of dung. The pile was lit up by our house. It was on fire.

Our house was on fire. These neopoint hungry Neopians were so desperate, so impatient, that they had taken everything we owned, and burned what was left. What they thought was worthless. What was once ours. Spark was shaking; Kay's arms were just hanging at her sides, her wings barely keeping her in the air, as Kat shivered on her head. I looked behind me. Jay's face was in her hands, and from the way her shoulders shook, I could tell she was crying. Hard.

We flew back to the rock where Kay had hidden our stuff. I wasn't sure what we should do now. Jay slid off my back, her long, brown hair in her face. Kay picked her up and carried her behind the rock, whispering softly. She placed our owner down gently, then curled up on Jay's left. I curled up on her right. Soon, we were asleep, our petpets on Jay's lap.

When morning came, we returned to the house with our bags, to see if there was anything that could be salvaged. It was easier to see the ruined house in the daylight. Everything that had been on the now charred lawn was gone. The house was a pile of rubble. I couldn't see anything that had been spared. As Kay dug up the Safety Deposit Box, Jay picked up a note that had been taped to the broken neomail box. It read, "We have taken your possessions to sell them. Here is how much you still owe each of us. You better hope we don't find you. We'll come for your pets next." Underneath the threatening note was a list of all the people Jay owed, plus the amount each of them still wanted back. The lowest was 10k, and the highest was 2 million neopoints. In total, we owed over 20 million neopoints. Jay was shaking. I placed my hand on her shoulder to steady her. Kay came over when she had unearthed the safety deposit box. As I went to check inside, Kay read the note.

I looked through the shelves. It was a very big safety deposit box, about the size of a small neohome. All the shelves were empty. I left, feeling dejected.

Kay and Jay were sitting on the ground when I came back outside. My owner looked defeated, while my sister was fearful. I wasn't sure what we were going to do. I went over to my family. Jay suddenly sat up, looking solemn.

"Well." She turned to us. "I guess we'll just have to do the best we can with what we have. Let's go."

The three of us got up, with bags and petpets in hand. We walked away from our ruined house, back towards Neopia Central. We may have lots our home, and possessions, but at least we still had each other. At that moment, I realized it was good to at least be together, and as long as. As a family.

The End

If you are reading this, then I'm in the NT! Woot, woot! Have a muffin! More to come!