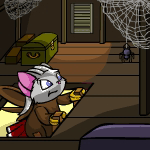 Halloween Costume Ideas

by rock_star_megs

--------

It's that dreaded time of the year again: trying to decide on your pet's Halloween costume! Well, never fear, my fellow Neopians, I've scoured and rummaged through the shops and come up with Halloween costume options for everyone! You don't even have to buy a Halloween Paint Brush or any other paint brush to get these great looks. Hurray!

(Note: Price and availability of the items listed below are current as of this writing and are subject to change. Also, these are just the basic costumes; accessories sold separately.)

And with that, I present to you, my list:

The Scary

1. Giant Moach Costume (est. 4,000 NP)

AHHHHH! Right off the bat, this one will ignite fear in all who look upon your pet. Well, okay, maybe not those Neopians who aren't scared of creepy-looking GIANT moaches, but for the rest of us, it's terrifying. Like it's going to attack you in your sleep. And for the low price of 4,000 NP, it's definitely scary on a budget. I would suggest looking through your Safety Deposit Box before shopping (for this and some of the other items listed below) in case you're like me and hang on to the Advent Calendar prizes.

2. Meepit Costume Pack (retired)

Perhaps the scariest costume of all, the Meepit costume! (Headpiece, suit, gloves, and shoes included.) The only thing is, it's a retired NC Mall item. So unless you're lucky enough to have this stashed in your closet or you're able to trade with someone on the NC Mall Board for it, you will be out of luck.

The Cute

1. Pyjamas

Not a fan of scary? Have no fear, try cute instead! One of my favourites is the Purple Cybunny Pyjamas (est. 8,000 NP). Yes, I know these are pyjamas, but hey, they instantly transform your pet into an adorable Cybunny! I mean, look at those slippers. SO cute! And you know, purple is in right now, so you'd be keeping up with fashion trends as well. But if you're not a fan of Cybunnies, there are some pet-specific pyjamas that you could try instead (Eyrie, Ruki, Nimmo, Pteri, Lupe, Quiggle, and Ogrin).

2. Polarchuck

If you want to be a bit more fancy in the cute department, then try the Deluxe Polarchuck Costume. This ensemble includes the Deluxe Polarchuck Costume (the body suit, that is; est. 80,000 NP), the Deluxe Polarchuck Costume Head (est. 40,000 NP), and the Deluxe Polarchuck Costume Gloves (est. 100,000+ NP). But if you're on a budget, there is the much cheaper Homemade Polarchuck Costume, which includes the Homemade Polarchuck Costume (the body suit; est. 1,000 NP) and the Homemade Polarchuck Costume Head (est. 8,000 NP). Not quite the same look as the Deluxe version, but much more affordable.

3. Negg Costumes

If you have a Meerca, I would highly recommend shopping for the Fish Negg Meerca Costume (est. 20,000 NP). It's like permanently having your very own giant fish negg! And who knows, it might even bring you luck while playing MCII (note: not guaranteed to bring you luck). There's also a Ferocious Negg Suit (95,000 NP) if you want to have a scary/cute costume for your Meerca.

The Festive

Super excited for the month of Celebrating (i.e. December)? Why not start the celebration early this year with a festive costume? You can combine the Holiday Mystery Island Shirt (est. 1,000 NP), the Holiday Tutu (est. 6,000 NP), and the Tacky Lighted Holiday Shoes (est. 600 NP) for a costume that will brighten your holiday spirits. If you want to tone down the festiveness, then go for the definitely-not-ugly Ugly Christmas Sweater (est. 1,000 NP).

Or, if you'd rather embrace the snow aspect of the holidays, then select the Snowflake Shirt (est. 2,800 NP) and the matching Snowflake Skirt (2,800 NP), and maybe add the Snowy Scarf (est. 1,600 NP) for some extra snow.

However, if you're not quite ready for winter, then hold on to the autumn spirit with the Gobbler Costume (est. 99,999 NP) and Gobbler Mask (4,500 NP).

The Stylish

Who says Halloween is all about scary/cute/weird/funny costumes? (Note: One of the funniest costumes I came across was the Elephante Peanut Suit; est. 8,000; but only for Elephantes.) Instead, amp up with style this year!

For boys:

Be stylish and sophisticated in the Brown Suit Coat (2,200 NP) or the Dapper Yellow Shirt and Green Jacket (1,400 NP). Only 5 species have tuxedos (Bruce, Eyrie, Cybunny, Tonu, and Quiggle), so sorry to all others who wanted a tuxedo! If you want to go super fancy, then buy the AAA Host ensemble, which includes the AAA Host Shirt and Jacket (est. 60,000 NP), AAA Host Trousers (18,000 NP), AAA Host Shoes (13,000 NP), and AAA Host Cane (15,000 NP), all of which can be worn by all pets. Very dapper indeed!

For girls:

A classic dress is the Fancy Pink Gown (est. 2,000 NP), and is a reasonably affordable price too. Talk about a bargain! Unfortunately, in my research, I had a hard time finding other universal dresses (i.e. not pet-specific) besides ones available in the NC Mall. Nevertheless, for whichever pet you want a dress for, just try searching for that specific pet. For example, there's the Purple Ogrin Dress (est. 50,000 NP), the Hissi Pop Star Dress (est. 80,000 NP), or the Lacy Blue Wocky Dress (est. 30,000 NP).

The Sporty

Do you have a very active pet? Love Yooyuball more than anything? Are you counting down until next year's Altador Cup? Well, why not show your Altador Cup spirit on Halloween! As a basic, you could try the Altador Cup Fan Jersey (est. 15,000 NP). If you want to reminisce about previous Altador Cup champions, I would recommend choosing a Vintage Altador Cup Jersey, available in Haunted Woods (est. 6,000 NP), Darigan Citadel (est. 6,000 NP), Krawk Island (est. 13,000 NP – note that you have to search for "Vintage Krawk Island Alt Cup Jersey" for this one), Roo Island (est. 5,000 NP), and Lost Desert (est. 20,000 NP). Sorry Virtupets – maybe next year! If you want to keep on celebrating, then consider the Altador Cup V Champion Laurel (est. 100,000+ NP) and the Altador Cup V Competition Torch (est. 5,000 NP). For any female fans who want something more than a jersey, I suggest looking at the Altador Cup Skirt (est. 40,000 NP) paired with the Altador Cup Wig (40,000 NP) and the Altador Cup Brooch (est. 250 NP). Finally, if you're a die-hard fan, then you should definitely think about the Altador Cup Collectors Jacket (est. 600,000 NP).

The Warrior

In my research, I only managed to find 2 universal warrior-ish costumes. For girls, there's the Fancy Brightvale Gown (est. 40,000 NP); and for boys there's Brynns Brightvale Tunic (though girls can totally wear this too; est. 75,000 NP). Otherwise, it is a tad limited to what pets are able to pull off the warrior look: Cybunny, Kacheek, Grarrl, Kougra, Peophin, Usul, Lupe, and Zafara.

The Basics

Now, say you don't want to go all out with a costume or don't want to spend tons of money on something that will be worn for a very short time, but still want to celebrate Halloween, then just stick with something basic.

1. Wings

An easy costume idea is to buy a pair of wings. They come in a variety of colours and styles, and have a wide range of prices. You can choose from wings like the Beautiful Glowing Wings (est. 1 million NP), the Charred Steam Wings (est. 38,000 NP), and several styles of faerie wings (Dark Faerie, Earth Faerie, Faerie Queen, Fire Faerie, and Shell Faerie).

2. Wigs / Hats

Another simple idea for a costume. Since I found 106 wigs and 327 hats while researching, I won't list them all. A notable hat is the Edna Costume Hat (est. 99,999 NP); and a notable wig is the Illusen Wig (est. 98,000 NP). There are A LOT of pet-specific wigs and hats, so it's probably easier to search for whichever pet you have.

3. Masks

Another relatively simple and easy costume idea. Pretty ones include the Butterfly Mask (est. 60,000 NP), the Pretty Flower Mask (est. 150,000 NP), and the Usukicon Y9 Magical Hair Usuki Mask (est. 50,000 NP). Pet themed ones include the Scared Kacheek Mask (est. 1,000 NP) and the Plushie Eyrie Mask (est. 900 NP) – look like other pets without buying a morphing potion! Scary masks include the Esophagor Mask (est. 20,000 NP) and the Xandra Mask (est. 15,000 NP).

The Super Cheap

Really low on cash? Don't worry, for the very, very low price of 1 NP (that's right, ONE Neopoint) you can pick up the Ultra Fashionable Potato Sack. Gorgeous, isn't it?

The Mall

Of course, there's always the option of shopping at the NC Mall. As you may have noticed recently in the News, the latest costume to hit the streets of Neopia is the Lawyerbot Costume Set. What better way to pay tribute to the one and only bot with awesome lawyer skills?

Still, if you'd rather not scare other Neopians with the Lawyerbot costume, there was a Mad Tea Party outfit that caught my eye, as well as a Figure Skating ensemble complete with skates and tights (if only they offered non-pink ones *sigh*). If those don't strike your fancy, you can always mix and match items from the Mall and create your own unique costume.

Well, there you have it. Several ideas for your pet's (or pets') Halloween costume. Of course, with so many clothes and accessories available, you can always come up with your own costume idea not listed here. Happy Halloween!
Search the Neopian Times


---
Great stories!
---------
---------
---------
---------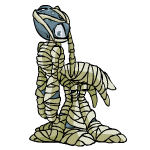 The Awakening
Touch came first. Clammy, moist and clinging touch. Zoe could feel dirt encasing her body.

by teaspill
---