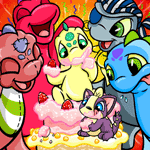 The Super Fun Birthday Bash Crossword

by kspare2

--------

In honor of Neopets' twelfth birthday, here is a fun little crossword puzzle that is all about the events that happened during Neopets' eleventh year of existence! Some of these answers are fairly easy, but others may require you to go out and search for the answers. Don't worry, though; if you find yourself stuck, an answer guide is provided down below. Ready to see just how much attention you have been paying to Neopets this past year? Well, then, what are you waiting for! Go ahead and start answering questions. :D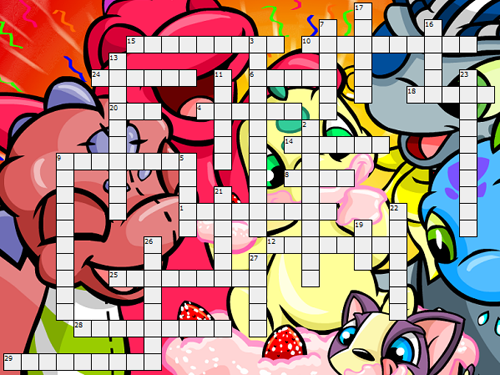 Background image is © Neopets 2005.
Across:
1. This new petpet paint brush color began turning Neopets into a lovely blue-ish color. The first few petpets to be lucky enough to be painted were the Slorg, Blurgah, Dartail, and Gallion!
4. This pet could be zapped into a yummy chocolate pet as of this year's Annual Chocolate Ball.
6. You can now paint your petpet Royal and them into a king or queen if you buy the paint brush at the Hidden ______... if you can figure out where that is located.
8. The Neocash Mall turned ______ years old.
9. "The ______ might look a bit edible, but trust us - if you try to bite into him you are in for a nasty surprise. This little guy is covered in sharp spines!" is the description for this new Maraquan Petpet.
10. This world found itself with a makeover after the Faeries' Ruin plot.
12. After reaching a ______ page views, some expensive items were auctioned off or given away through trades by Neopets, like Draik Eggs, Malevolent Sentient Plushie Poogle (TCG)s, and even some Super Attack Peas!
14. She is the newest faerie who hands out Crafting Faerie Quests. Completing her Neocash quests will earn you a lovely Neocash prize.
15. "Along the far coast of Krawk Island lies the ______ Shore. Treacherous reefs surround the area, and more than one vessel has been lost for daring to approach. Every once in a while, old cargo still washes up onto shore... "
18. Late September saw the introduction of ______ morphing potions. Previously, this color could only be painted using a paint brush that is found in the Hidden Tower. The first pet to get this type of morphing potion color was the Kyrii, for both the male and the female variety.
20. These types of wearable frames began appearing in the shops. Variations of this frame include the seed pod, playful, flower, delicate, and dripping.
24. In mid-January, this young sorceress, who is known for attempting to make a world of Neopets ruled by her, earned herself a spot in the Gallery of Evil.
25. For only ten prize points, you could buy yourself a ______ Cereal at the Altador Cup VI Prize Shop. Mmm, tasty!
28. This new disease was thought to be contagious during the Spring time. Neopets were encouraged to stay away from places marks with crossed skull boards as those were areas with reports of the disease.
29. ______ was the great winner of the Altador Cup this year, with Krawk Island and Kreludor earning a second and third place spot, respectively.
Down:
2. This petpet was the winner of the Petpet Production Ponderance Poll with 44% of the votes. It can now be bought at the Fanciful Fauna.
3. The Wheel of ______ made an appearance in Neopets with a spinning cost of 100,000.
5. I am not sure why you would want a stinky Neopet, but you can now get one if you use the ______ Gas Paint Brush.
7. ______ McGill could be found living in a shanty that was located on a tiny speck of land after the disappearance of Krawk Island, spending his time asking kind Neopians to help him locate the missing island.
11. Dr. Sloth began his ______ Reeducation Fund. In order to raise neopoints for this fund, Dr. Sloth began to auction off expensive stamps like the Coltzan Stamp.
13. This brand new game was introduced to Neopets. In this game, you are able to raise petpetpets who gather resources for you. But be careful as you need to take proper care of your petpetpets and make sure that you feed them in order to make them last long!
16. He earned a spot in the Gallery of Heroes after his heroic endeavors during the Faeries' Ruin.
17. If you were lucky during the spring, you may have received a random event that gave you a Spring Gift Basket. If you were extra lucky, you may have found a ______ Snowbunny inside your gift basket.
19. Chombies were the first pets that could be painted 8-______.
21. This seemingly cuddly petpet is actually dangerous with the spines on its back! It uses its sharp claws to catch fish straight from the rivers of Altador.
22. After the Secret Laboratory Map was given a brand new look, the mad scientist was so excited that he hosted the Secret Lab Ray Giveaway, during which time one ______ Neopians won a free map set.
23. A week prior to Valentine's Day, Neopets announced that it was having a ______ Day dedicated to all of the things that make you go BLAH on Valentine's Day.
9. This new book, along with The Best of Love, was one of the new items to make an appearance in Neopets this past Valentine's Day.
26. You can now get a trophy for collecting these types of cards.
27. The Jhudoras ______ Background was introduced on Jhudora Day.
--
Answers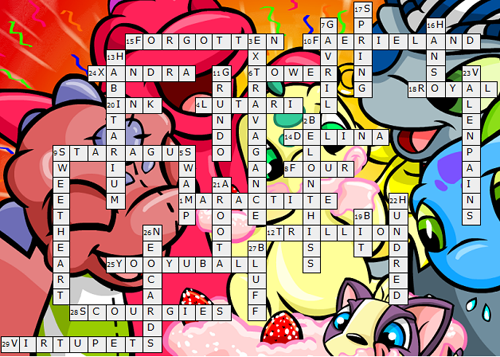 Background image is © Neopets 2005.
Across:
1. MARACTITE
4. LUTARI
6. TOWER
8. FOUR
9. STARAGUS
10. FAERIELAND
12. TRILLION
14. DELINA
15. FORGOTTEN
18. ROYAL
20. INK
24. XANDRA
25. YOOYUBALL
28. SCOURGIES
29. VIRTUPETS
Down:
2. BELONTHISS
3. EXTRAVAGANCE
5. SWAMP
7. GAVRIL
11. GRUNDO
13. HABITARIUM
16. HANSO
17. SPRING
19. BIT
21. AROOTA
22. HUNDRED
23. VALENPAINS
9. SWEETHEART
26. NEOCARDS
27. BLUFF