Blumaroo: Celebrating Blumaroo Day in Style

by blackfriar

--------

With help from kirsty_to_stay

The biggest day in every Blumaroo's calendar is fast approaching; a day that revels in the greatness of our bouncy friends. Yes, Ladies and Gentlemen, this is the one time a year where everything else is abandoned in the celebration of the delightful Blumaroo! If you are unfamiliar with this species of Neopet, please feel free to read my previous article "Blumaroo: Right For You" (Neopian Times Edition 440), which explains everything you could possibly need to know.

But there is no point in celebrating unless you are looking as fabulous as you feel. This guide will detail several outfits for Blumaroos that can be worn on the big day, each with a different budget so there will be no straining your owner's pocket, and will leave your friends in awe. Prices correct as of 12th day of Swimming, Y13.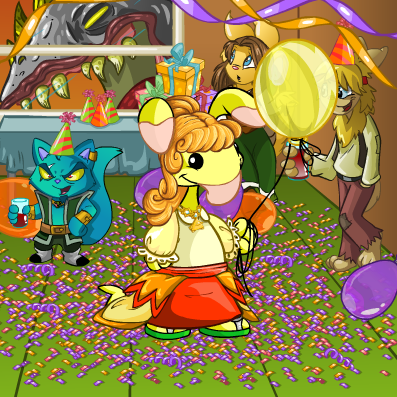 The 60k-er
Whilst it may be true that with quality comes price, cheap doesn't necessarily mean tacky! Celebrations are meant to be magnificent, and what could be more fitting than a Celebrating Neopets 10th Birthday Background? If you managed to get Magax to turn up to a party then you must be doing something right! Complete with confetti, presents and party hats, this background will have your friends clambering at your front door to try and get in.
Oranges and yellows are set to make a tremendous break through this autumn, some say to mimic the gorgeous golden of the falling tree leaves. So set yourself up on Blumaroo Day with a Long Orange Dress and Geb Necklace. The two colours perfectly complement each other and with a Basic Yellow Balloon you will feel like you were a baby Blumaroo again! Natural, sweeping hair is a must with an ankle length dress, so go long and get a Blumaroo Shepherdess Wig. Made with hair from real Shepherdesses, this gives you value for money, even if it does smell somewhat of Babaas.
Forget the footwear, shoes are so Y12 and going barefoot will allow you to feel every nook, cranny and thorn on the floor. This outfit is a must for every Blumaroo on a budget.
Price breakdown:
Blumaroo Shepherdess Wig – 45,000 NP
Celebrating Neopets 10th Birthday Background - 400 NP
Long Orange Dress - 950 NP
Geb Necklace – 12,500 NP
Basic Yellow Balloon – 800 NP
Total Cost: 59,650 NP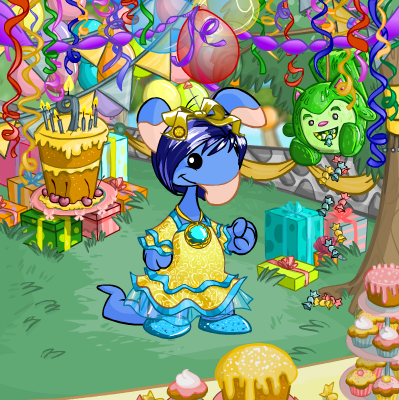 The 500k-er
If ever you wanted to rock up to a party looking like it's been thrown for you, then this is the outfit you've been waiting for. With a Birthday in the Park Background and Birthday Streamers combo, you'll be bringing with you enough entertainment to last for a week! Fully supplied with balloons, presents and (most importantly) cake, it even comes with an imaginary Meuka Pinata which, although we cannot guarantee this, will not break even if clubbed with a Ghostkersword*. The newly released Altador Cup Wig lets you have a spiffy new hair do even if you have no hair to speak of. Merging a pair of Colourful Blumaroo Dancer Shoes with a Colourful Blumaroo Dancer dress and Gormball Necklace means you will be looking stunning in the calming, restful colour of aquamarine. This outfit will turn heads with every shimmering step you take.
Price breakdown:
Altador Cup Wig – 45,000 NP
Colourful Blumaroo Dancer Dress – 200,000 NP
Colourful Blumaroo Dancer Shoes - 43,000 NP
Birthday in the Park Background – 2,500 NP
Gormball Necklace – 7,000 NP
Birthday Streamers – 200,000 NP
Total Cost: 497,500 NP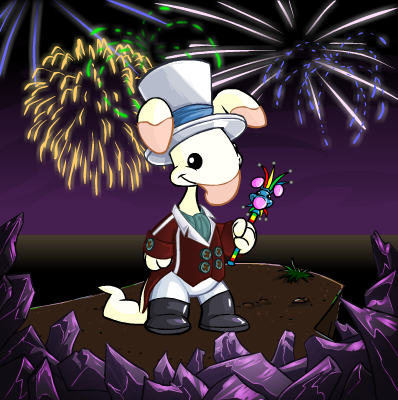 The 1 million-er
It's a well known saying that the greatest things in life are free, but this adorable outfit just proves that completely wrong! White is most definitely the new black when it comes to staging Neopia's best firework display and that is exactly what this costume is designed for. A glorious Fireworks Background gives a hint as to the grandeur of the Blumaroo firework show and lets the purple night sky blend into a Shiny Obsidian Foreground. One would almost think that this was Kreludor, but no, merely the tallest mountain on Roo Island. The chocolate colouring of an AAA Host Shirt and Jacket is mixed ever so sweetly with white of a pair of Blumaroo General Trousers and Boots. To top this off with the peak of sophistication, a Blumaroo Magician Hat is worn. The playfulness of Blumaroos is never forgotten, however, and is accentuated in this dress by a Blumaroo Jester Mock Sceptre. This expensive outfit is perfect for rejoicing the evening away and is most certainly worth the price.
Price breakdown:
Fireworks Background – 200,000 NP
Blumaroo General Trousers and Boots – 16,000 NP
Blumaroo Magician Hat – 9,000 NP
AAA Host Shirt and Jacket – 60,000 NP
Blumaroo Jester Mock Sceptre – 600,000 NP
Shiny Obsidian Foreground – 100,000 NP
Total Cost: 985,000 NP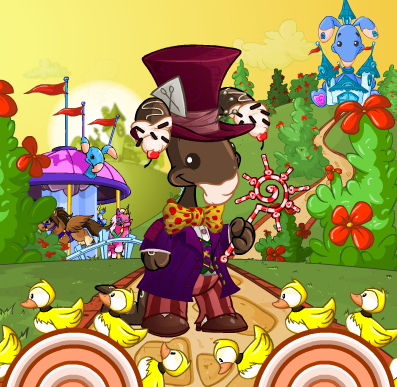 The NC Addict
This is the outfit for those of you who want to go that little extra mile and use NC items. This is the ultimate dress-up. This is for the dedicated Blumaroos out there. Roo Island is the home of Blumaroos, so including a Roo Island Merry Go Round Background ensures that everyone knows you are true to your ROOts. One of the most common activities on the Island is their legendary tea parties. Every young Blumaroo is taught that nachos and tea are a formidable snack best enjoyed at around 3pm, so there is nothing better to wear than the Mad Tea Party costume. This includes a Mad Tea Party Jacket, Mad Tea Party Trousers, Mad Tea Party Shoes and a Mad Tea Party Hat. A mad choice you might say, but it only shows how crazy you are about being a Blumaroo. Plus, bow ties are cool.
If nachos aren't your thing, and one would have to question why not, then a close second would be anything sweet. As such a Candy Cane Snowflake Wand fits snugly into this outfit and is very useful to dip in tea, if you are so inclined.
Additionally just to prove how loopy you are, consider a Mallard Carnival Foreground. Caution: Staring for too long may induce a strong desire to play Dice-a-Roo. You have been warned.
Some of these items aren't currently available for purchase in the NC Mall store, so you may have to do some trading around for them, but they are definitely worth the effort if you consider yourself to be the classiest of Neopets.
Price breakdown:
Mad Tea Party Jacket – 150 NC
Mad Tea Party Trousers - 150 NC
Mad Tea Party Shoes – 100 NC
Mad Tea Party Hat - 150 NC
Candy Cane Snowflake Wand – 3/4 Caps**
Mallard Carnival Foreground – 2 Caps**
There we have it; four styles in four price brackets. I hope you found this article useful and will stop by the nearest clothes store to make your Blumaroo Day one to never forget.
* Ghostkersword is not included in the package. But you knew that already, didn't you!
** Caps are used to judge a retired NC item's worth, for more information please visit the NC Mall chat. These are estimates.