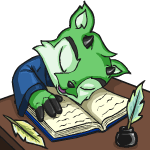 How to Dress for Issue 500

by mamasimios

--------



It's not every day that the Neopian Times can celebrate a milestone like its 500th issue. Indeed, it's not every day that any publication can pause to think about, to admire and commemorate, the many writers and artists who have, over the years, contributed to the high quality of Neopia's finest newspaper. As many are putting up congratulatory banners, beginning to camp out in the Catacombs in the hopes of being one of the first to purchase the landmark issue, and otherwise adding to the buzz surrounding its publication, one question keeps repeating itself: whatever can one wear to acknowledge the 500th issue of the Neopian Times? As time draws short and the masses lament that no one has yet assembled a guide for how to dress for this auspicious occasion, do not fear, for here is such a guide with my top ten ideas.

10. Artist Studio Background
Just as a Neohome is built from the foundation up, so too must an outfit be built upon a solid background. With the Artist Studio, any Neopet will feel creative and inspired. With plenty of paints and canvasses at hand, a large window that allows for the admittance of natural light, and a shelf filled with joke books, it will be a snap to look like, and to feel like, one of the Neopian Times' many talented cartoonists.

9. Artist Smock
As a companion piece for the Artist Studio Background, this smock will guarantee authenticity, while keeping a Neopet's clothes nice and clean. Although any Neopet can wear this smock, it should be noted that Flotsam, Shoyrus and Yurbles all have their own species-specific artist smocks that can be used to individualize their outfits and keep their clothes safe from paint smudges while creating, or even reading, comics.

8. Magical Quill and Book
For those whose talents lie more with writing than with drawing, this magical quill is a true essential. Hovering at your Neopet's side, the quill is poised, ever at the ready to begin writing when ideas and inspiration strike. Never again will a brilliant concept for an article, series or short story be lost for want of the pen or paper with which to jot it down.

7. Neopian Times Writing Quill
Whether ready to begin writing that inspiring story or informative article, or perhaps just appreciative of its beautiful colours, any Neopet would be proud to sport this special quill. As a prize treasured by the contributors to the Neopian Times, it may be difficult to obtain, but it is certainly worth the investment: not only is this quill a fine writing instrument, but also serves as an advanced tickling device!

6. School Desk With Books
Now that your Neopet is at the ready, paint brush or quill in hand, you really ought to provide a nice work surface. The School Desk is sturdy, attractive, and has a built-in seat. As an added bonus, books and a shiny apple are also included, so there are no excuses for not sitting down and getting to work at creating a submission or kicking back to read that latest issue.

5. Smart School Girl Eye Glasses
As the highly anticipated 500th issue of the Neopian Times rolls off the presses, these spectacles will ensure that your Neopet is ready to read even the finest of prints (with apologies to Lawyerbot). Not only useful, these glasses are an attractive accessory that will lend a scholarly air to any look. Note also that, despite their name, these glasses are entirely appropriate for both girls and boys.


4. Blue Newsboy Hat / Valentine Newsboy Hat
Ready to really get into the spirit of the Neopian Times? These Newsboy Hats are perfect for any Neopet who wants to pick up a few extra issues to distribute to friends and family. The look is young and fresh and jaunty, and as with the Smart School Girl Eye Glasses above, look good on both boys and girls, despite their names. It is also worth noting that Lennies can wear their own species-specific Newsboy Hat in a funky orange plaid.



3. Spring Weewoo Garland / Weewoo Bath / Weewoo Clock
Especially as the 500th issue rolls around, it would be remiss to make recommendations regarding costuming without adding a nod to the Neopian Times' sweetest mascot, the Weewoo. Although it would be adorable to wear all three of these items at once, to surround your Neopet with multiple Weewoos and their haunting call, it must be noted that you would need to choose between the Clock and Bath as they occupy the same zone.

2. Evil Coconut Mask
For those who are missing the weekly appearance of Mr. Coconut, or even for those who would enjoy vexing those others who are happy to see the end of him, I would recommend this fearsome looking disguise. I can just imagine those masked Neopets now, wandering the dark recesses of the Catacombs, jumping out at the unsuspecting with hearty bellows of good night!! It would make for a fine commemoration.

1. Gift of Fresh Baked Cookies
Dressing in ways that celebrate the artists, the writers, the paper carriers, and even the Weewoos, would be meaningless if the editors were not also acknowledged. This lovely basket of cookies, tied with a bright ribbon and emitting the sweet fragrance of freshly baked goods, is a perfect way to say thank you to those whose hard work behind the scenes has made the Neopian Times possible for 500 issues. Please, though, there is no need for throwing these cookies; the basket is designed so that those who are interested have easy access for helping themselves.
There we have my own top ten list of how to dress for issue 500, but of course the fun of customizing is coming up with your own ideas. Would your Neopet like to have a cosy place to curl up with the landmark issue? You could add a Mynci Defender Bean Bag Chair or Summer Lounge Chair. Is your Neopet concerned about getting inky fingers from reading the Times when it is too freshly printed? You could try on some Elegant Feather Gloves or one of the many species-specific types of gloves. The possibilities are, truly, staggering.
I will end with heartfelt congratulations to the Neopian Times: bravo on 500 issues! Here's to at least 500 more!