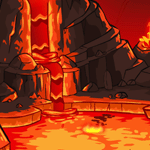 Moltara: Neopia's Hottest Vacation Spot

by littlebitlux

--------

MOLTARA - Summer vacation is fast approaching and you know what that means; people will soon be visiting their nearest Techo Travel Agent to find the hottest vacation spot around. Between skiing down the slopes of Terror Mountain, lounging on the beach of Mystery Island and even seeing the ruins of the Altador coliseum, there are so many places to choose from. Some people are put off by the idea of waiting in line to ski the slopes, or to try their luck with Tombola. Even the once quaint and quiet Kiko Lake is being overrun with loud neopets crashing around the beautiful and majestic waves. You might be wondering why you should even bother to take a vacation this year. Moltara is the answer for you if you're that person. Moltara has been around for a little while, though few people have ever thought to vacation there. I'm here to tell you why Neopia's newest land is also this year's hottest vacation spot!*

*Paid for by the Association for Advancement of Moltara, or the AAM

Magma Pool: The Magma Pool is without a doubt the most iconic spot in Moltara. Get pictures of your neopets pretending to fall in to scare Grandma with! The pit itself is a great place to camp next to if you want to stay warm at night. The illuminating light from the bubbling magma is great to tell stories next to. And even toasting marshmallows is easier at millions of degrees. If you're lucky enough you might get past the guards and get a new look for one of your pets. Now that's what I call a great souvenir.

Dark Cave: If your pet is more the type to explore, then Moltara has that covered. The Dark Cave sets itself as a challenge with a winding hike up a steep rocky mountain to get to. Once inside your pet can explore to their heart's content. With so many winding caverns and pathways, you could get spend hours of fun exploring each and every cavern without getting bored. Plus, camping right outside the Dark Cave will give you and your neopets a scenic view of the landscape. Pretty cool, huh?

Igneot's Cavern: The main appeal of Mystery Island is the Island Mystic. However, few know of Igneot, Moltara's own resident Guru. Feel free to ask him any question you can think up. Like, should I hunt down those glow worms? Or even, How many Blumaroos does it take to start a band? With the knowledge and life experience Igneot has, you're sure to get a satisfying and fun answer to any question you have on your stay in Moltara.

Tangor's Workshop: Is your pet a tinkerer? Well, then Tangor's Workshop is perfect to fill your pet's creative side. After bringing Tangor different items, your pet can help him create their very own petpet. Every set of items gets you a new little friend for your pet, creating dozens of possibilities that will surely make your pet happy you decided to vacation in Moltara.

Molten Morsels: If you and your pets are fans of spicy food, look no further than the local cuisine! Molten Morsels has a wide variety of foods for all palates. Whether you're a fan of waffles, rice, or even dinner rolls, Molten Morsels puts a spicy spin on all your favorites. Don't forget to wash it down with a cup of sparkling carrot juice or even a Blazing Stone Mug of Borovan. And remember not to try and swim in the Magma Pool for at least thirty minutes after eating!

Lampwyck's Light Fantastic: The nightlife in Moltara will without a doubt be the highlight of your vacation. After spending time hiking around, you can top off the evening with a fantastical light show courtesy of Lampwyck. Relax and enjoy his laser light show powered only by lanterns and lamps. Plus, after every show, each neopet will receive their very own lantern, perfect for creating hand puppet shows or even catching the beautiful glowing worms that roam freely around Moltara.

The Arcanium: Looking for something to bring back to your friends? Look no further than the Arcanium. This quaint bookstore is filled to the brim with discount books and bargain deals. Educate your friends about the many uses of cogs with Interior Decorating with Rocks and Cogs. Expand your friends' cooking skills with the best seller Cooking with Magma. Or even delight your friends with the fun, feel good novel Dirt is Your Friend. With so many titles at such a cheap price, you're sure to find a book for any of your friends!

Cave Glider: Looking for adventure? Well, then Cave Glider is your answer! This is a native game of Moltara with a fast pace and high stakes. Glide down into the caves of Moltara and enjoy the heart pounding excitement as you glide down the caverns in hopes of earning tons of neopoints. With so many levels and unlimited play time, you might have a problem getting your pet to leave! No worries, though; your pet is in no danger of getting eaten by a Barbat!

The Gilded Page: Finally, if your pet is an artsy type of pet, look no further than the Gilded Page! A collection of drawings featuring the founders of Moltara itself. Each picture is free and your pet will take delight in coloring each picture. But if you want to color one yourself, we certainly won't tell anyone!

So there you have it, a guide to your next vacation getaway. When you and your friends get together to brag about your vacations, you'll surely have the upper hand. Just imagine the look on your friend's face when you tell them there was no line to swim in the Magma Pool, or even a wait to get your amazing food. Your friends will envy you, your darling little neopets will love you and you will always have the memory of a fun and exciting vacation in Neopia's HOTTEST vacation spot; Moltara!