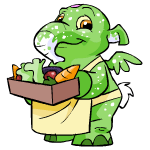 Ten Vegan Dishes To Try Today!

by krn55

--------

What is more enjoyable than food? Nothing beats tucking into a freshly prepared meal after a long day of trying to beat that high score, attempting to complete a faerie quest or simply exploring the many lands of Neopia. While some neopets are willing to eat anything (all you Grarrls and Skeiths out there – I'm looking at you!), others may gravitate toward specific kinds of foods.

Taking into account that different neopets have different tastes and preferences, I have compiled a list of ten vegan food items, which not only is perfect for those who do not wish to eat any meat or milk products, but also is great for those neopets who wish to try something different.

So, go on, have a look at the many vegan dishes I have managed to find from all around Neopia!

Disclaimer: The following food items listed below do not contain any meat, fish, petpets, neggs, milk or cheese products of any kind.

1. Vegan Turkey Dinner
Sometimes, neopet owners find themselves staring into their kitchen cupboards, scratching their heads and wondering what in Neopia they should feed their vegan pets. A basic but tasty dish is the vegan turkey dinner. Using tofu as a substitute for turkey and with mounds of vegetables and cranberries on the side, this meal is ideal for satisfying your pet's hungry bellies. Now nobody needs to feel left out at Thanksgiving dinner!

2. Vegetable Soup Pot
A vegan staple, this vegetable soup is as healthy and delicious as you can get. Not only does it come in a large and attractive bowl, but it is also chock full of many different kinds of vegetables, chopped and sliced into easy to eat, bite-size pieces. The large garnish in the centre of the bowl adds to the flavour of this broth and makes sure that this soup is anything but bland.

3. Brightvale Celebratory Fruit Basket
What is the one thing that vegan neopets eat more than vegetables? Fruit, of course! This fruit basket is bursting with a wide selection of Brightvale's juiciest offerings with at least six different fruits to each basket, ensuring your pets are eating the necessary vitamins and minerals needed for them to stay healthy. In addition, these colorful fruits come in a charming wicker basket which not only looks good on your kitchen table but would also make a great gift idea for any other neopets in your life!

4. Coral Cake
Looking for a taste of the sea, without the seafood? Not a problem! Head on over to Kelp restaurant situated in the heart of Maraqua and take a bite out of their Coral Cake. This sweet delicacy is known to satisfy many a Maraquan's sweet tooth, so do not miss out on the opportunity of sampling this unique dessert. Served on a beautiful blue dish, this enormous purple cake is guaranteed to put a smile on your neopet's face.

5. Snorkle Vegan Platter
This vegan dish is too cute! The serving plate is shaped in the form of a Snorkle and all the vegan ingredients used for this dish were carefully selected to resemble the adorable pink petpet. This dish would be perfect for the younger vegan neopets to munch into, since this dish is a fun way of enticing them into trying out something new.

6. Fruit Stuffed Jacket Potato
A unique twist on an old classic, this fruit-stuffed jacket potato will be enjoyed by all neopets. Replacing butter for syrup and topped with large chunky slices of fruit, this potato is sure to satisfy your hunger cravings. The heat issuing from the potato slowly melts the fruit on top, allowing the delicious fruit juices to ooze over the whole potato and providing flavour in every bite your neopet takes. Satisfaction guaranteed!

7. Carrot Wrap
When looking for a quick snack, vegan neopets will be delighted by this healthy carrot wrap. Long strips of crunchy orange carrots are tucked and folded into a large fresh lettuce leaf, sealed with a black olive-topped toothpick. Easy and nutritious and a good way of introducing more vegetables into any neopets' diet, whether they are vegan or not. This Carrot Wrap can also be added to any young neopets' lunchbox, with no trouble whatsoever.

8. Chokato Dumplings
Shenkuu has plenty of vegan dishes to offer, including the scrumptious chokato dumplings. The three steaming dumplings are served on a bed of seaweed, and are large enough to be shared, since even one dumpling is sure to curb any neopets' appetite. A handy pair of chopsticks is also provided, since trying to eat this dish with your hands (or paws) will get a little messy. Not to mention it is bad manners, too!

9. Lentil Stew
Nothing is better for warming you up than a nice big bowl of lentil stew. This hearty dish is packed with a wide of variety of lentils, vegetables, beans and herbs resulting in an aromatic blend which will surely have your neopet asking for more. Serve this on a cold day and your neopet will forget all about their rainy day blues.

10. Bag of Nuts
A popular snack for vegans on the go, this bag of nuts is ideal for carrying around with you when your neopet is roaming around Neopia. Full to the brim with a varied assortment of nuts, this little treat will keep your pets full till lunchtime. Plus, nuts are definitely a healthy mid-morning nibble so your neopet need not worry about over-indulging.
I trust that this list introduced to you some new food ideas and proved that being a vegan neopet does not mean having to limit yourself to tasteless or boring food. Hopefully, this handy list has helped all you neopet owners who have previously felt daunted at the idea of trying to find vegan-friendly meals for your neopets. And for the non-vegans reading this, why not try feeding one of the meals listed above to your neopets? You never know, they might just love it!
Thanks for reading and happy eating, everyone!