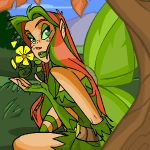 How to Make Illusen Day Something to Remember!

by rachxface

--------

You tidy up after another tiresome day of running your shop and ferrying your pets around to the Toy Store to buy the latest craze. You take a quick glance at your calendar and have to do a double-take. "What? It's the 16th of the month of Awakening ALREADY? That means tomorrow can only be... Illusen Day! But... but... but I have nothing prepared! Arghhhhhhhhh!" Don't worry, there's no need to panic! No matter how well-prepared (or not) you are for the event, I'm here to give you a few inspirational ideas of how you can celebrate this annual event.

Illusen, the Earth faerie, is one of Neopia's most loved and well-known faeries, but she (unlike her arch rival, Jhudora) has never let that fact get to her head. So, on the 17th of the month of Awakening, every pet and their owner should make way for a day dedicated to our favourite Earth faerie. Here are my top tips, whether you have hours to spend decorating your neohome with green and brown garlands, or whether you just have five minutes to perhaps pay Illusen a quick visit. Either way, nobody should feel left out of the festivities!

1. Send a Neogreeting!

Begin the day with a thought to your Neofriends; after all, Illusen is best-known for her loving, caring and helpful nature! A Neogreeting is the perfect way to communicate with a Neofriend and show that you are thoughtful towards others; just like Illusen! Perhaps you want to congratulate them on achieving that new avatar, or simply say hello if you've not spoken in a while. There are around 10 neogreetings featuring Illusen, all conveying different messages such as "Good Luck", "Missing you" or "Friends forever". So, whatever you want to say to your neofriend, there's a themed greeting out there to say it for you!

2: Pay Illusen a visit

How can you not partake in Illusen Day without paying the faerie herself a visit? Although I can't be held responsible for the long queues and hundreds of neopets ahead of you, it will be worth it in the end. She shows gratitude to everyone that comes to visit her in her little humble Glade in Meridell, no matter how long she's been stood outside greeting them. Don't forget to check the weather before you go, and if it's a beautifully hot day - pack some 'Illusens Sunscreen'!

3. Do one of Illusen's quests.

"I have a couple of jobs that you may be interested in. If you can fetch me some items from around Neopia, I can reward you with some of these cool things I have made over the years!"

Whilst you're in Meridell, and as it's Illusen Day, it's the perfect opportunity to offer a helping hand to our favourite faerie and get her the item she so desperately needs. Not only do you have the chance of receiving a reward, but if you complete a quest on Illusen Day- you have a chance of getting an Illusen themed avatar; bonus! Throughout the year she needs items, so if you've not already done a quest, Illusen Day is the perfect time to start. And who knows... you might even strike up a great friendship with her if you continue to help!

4: Buy your pets an Illusen Day food item for lunch!

After a hectic visit to Meridell, and the hurry of completing a quest, your pets' stomachs will be rumbling furiously! There are hundreds of Illusen themed food items in Neopia, so you are spoilt for choice. Don't forget, lunch should be light, so save the heavy meals for tea-time. It doesn't matter if you are on a strict budget, or you have lots of neopoints to spend, there's something out there for everyone. Here are some of the most-recommended lunch items you can buy, that won't take up too much room in your backpack!

Illusens Cream Cookie

Illusen Leaf Burrito

Illusen Day Sandwich

Illusen Crepe

Illusen Ice Cream

5. Show your Illusen spirit by having an Illusen-themed neoboard font!

When you've settled back into Neopia Central, decorate your Neoboard font in celebration of today! Have no fear if you don't have an Illusen-themed avatar; you can use the default "Earth faerie" avatar instead. After you've updated your font, head on over to the boards and wish people a "Happy Illusen Day!" Go all out, feel free to blind fellow Neopians with a wash of Earthy green and brown colours. After all, it's the one day that you have an excuse to!

6. Play, play, play!

Illusen is well-known for her love of the great outdoors, and of course, your pets enjoy and benefit from the fresh-air too! So, it's the perfect excuse to take time out of your hectic schedule and play with some Illusen-themed toys!

For the younger pets, why not try the Illusen Building Blocks? They'll spend countless hours making words and pictures from the array of different coloured cubes.

For the adventurous, the Toy Illusen Bow and Arrow Set is perfect! Now, your little adventurer can run around silly, pretending to be Illusen herself and fighting for the good of Neopia! Best of all, the arrows are made from 100% plastic, so there's no fear of a trip to the Neopian Hospital (which would certainly spoil your day!)

For the calm and relaxed among us, why not try the Illusen Kite? It's a rare experience to see Illusen flying, so now your pet can watch Illusen soar high up into the clouds for as long as they want to! It's like a trip to Faerieland, only without all of the blinding sparkle!

7. From play-time to tea-time!

Exercise and the fresh air sure makes you hungry. So have a break, invite some friends and sit down to an amazing feast, fit for Illusen herself!

For starters there is an array of things to select from...

Illusen Biscotti - Two crisp slices of Meridell yeasty bread infused with herbs and spices.

Illusen classic combo - The equivalent of peanut butter and jelly. A baked piece of bread is smothered with chunky peanut butter, served with a leaf-shaped, mint jelly.

Illusen Chilled Summer Soup - Easy to prepare, light and exceptionally tasty!

For a hearty main course, you could choose from...

Illusen Day Burger - A veggie burger made in honour of Illusen's love for nature. Served with salad leaves freshly picked from her Glade.

Illusen Day Hot Dog - A 100% vegetarian hotdog, with bread infused with herbs and spices to produced a green and brown mixture in honour of Illusen.

Illusen Day Pizza - A vegetarian pizza with lashing of herbs and salad leaves, in celebration of the Earth faerie. So light it won't spoil your appetite, so there's lots of room for dessert!

And to finish off, dessert!..

Illusen Day Cupcake - What a combination! A chocolate and mint infused sponge with marzipan wings. It's exactly like Illusen herself, in cupcake form!

Illusen Waffle - A leaf shaped waffle, carefully hand-cut and smothered in rich, dark syrup.

Illusen Frosted Cupcake - A well deserved treat after a lengthy day! A light, soft bun topped with lashings of green frosting and delicate chocolate sprinkles!

Illusen Day Jelly - How is this possible? A mixture of chocolate and mint jelly, so cleverly crafted the end product turns out striped!

Illusen Day Doughnut - A light and fluffy circle of chocolatey goodness that simply melts in your mouth!

Chocolate Mint Swirl Illusen Cake - Perfect for a dinner party with a large number of guests, and a great solution if you're too tired to bake yourself.

8. Give your pets an amazing end to an amazing day!

So it's bedtime, and after spending hours playing, cooking, questing and eating you and your neopets are exceptionally tired. After all of the effort you've put in for today for you, your pets and your guests, you need the day to go out with a bang! So, why stop at bedtime?

After they've had a relaxing bath with Illusen Organic Replenishing Shampoo (and their fur no longer looks like coarse tree bark), you should serve your pets a warm mug of Illusen Tea. Then, as the day draws to a close, of course they need an engaging bed-time story! Some of the best books are Illusens Novel, Illusens Journey and Illusens Leaf. These stories will help to explain to your neopet why we celebrate Illusen Day: in honour of a great faerie that shows good always triumphs over evil.

Have an amazing day, everyone!