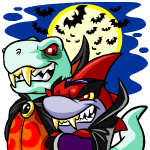 Vampire Neopets; A Short Guide

by magicalcameron

--------

Co-edited by: charm373

Be advised that reading the article, Vampires Need Love Too! by Jennuine_1, (issue 252 of the Neopian Times) would enrich your understanding of this particular article and would benefit the care of your vampiric Neopian. Jennuine's article outlines recommended foods, décor, and literature and, though published several years ago on the 11th day of Hiding year 8, still has merit and insight to the proper care of vampiric Neopians.

Now sit down, enjoy an icy strawberry vampire pop and continue through this article.

Section I: Are vampires evil?

There are two vampires that your fanged neopet should understand are evil and that living in the same manner is a degradation of themselves, outcasting, and wicked. Like many things in Neopia, there is no clear dichotomy between good or evil; however, Count von Roo and Count Hubrid Nox have both been depicted in many a shady light to which you wouldn't want your darling neopet to be subjected.

Quick Stats:

Count von Roo:

Reported as: the "Nasti[est][...] denizen of Neopia[...]" (Neopedia)

Born: 200BN

Species: Blumaroo

Residence: ruined castle on the north of Roo Island (Recently awakened)

Count Hubrid Nox:

Recently involved in the conflict between Xandra and Hanso.

Confirmed dead (during the the Faerie's Ruin) in issue 474's editorial of the Neopian Times

Reported as: "Nefarious[...] [and] scheming[...]" (Gallery of Evil)

Species: Chia (described as a warlock with fangs *Cough*)

Uses others to carry out his bidding

Residence: Haunted Woods

Archenemy: Magax

It should be observed that both of these characters could be defined as nasty, nefarious, and scheming. These words should most certainly never be the achievement of your vampire neopet. When inflicted by the "Touch of Von Roo" one must be prepared to deal with the aftermath of the transformation.

When raising a non-evil but not necessarily good vampiric neopet, one must discourage random attacks on normal Neopians but encourage them to partake in several of the alternative foods outlined in both this article and the Jennuine article, to avoid fresh blood.

Section II: The Transition

The alarming transformation, in the case of the victims of Von Roo attacks informally known as the "Touch of Von Roo", in no lighter terms, is difficult. A novice vampire would have to learn quickly to avoid sunlight and injury during bat-flights. To prepare for these inevitable wounds one should be fully stocked with: sun block lotion, after sun aloe gel, lip balm with sunscreen, and numerous healing drafts for burns, from sunlight or fire, and abrasions sustained during bat-flights.

Food containing high amounts of protein should be supplied in large amounts (e.g. Tofu, organic if possible) to keep off hunger, and for the most desperate occasions, spooky food could be consumed to avoid hunting.

If you have other neopets in the house or even if he/she is an only-pet, I recommend that you bolt your windows, particularly those in bedrooms (not that of your vampiric pet) to avoid unnecessary bitings. To further secure your home, keep a ring of garlic bulbs pegged to the doors and windows as an added security feature. This can be phased out as the neopet gets used to the urges while they are up and their siblings (or you) are asleep.

Living in the Haunted Woods is favourable because of the lack of general sunlight and the similar company. Moreover, people of other regions tend to be terrified of vampire neopets and that psychologically can result in a developing hatred for your vampire pet.

The first flight as a bat should be monitored. The neopet should have eaten before the auspicious occasion and as mentioned above, healing potions should be bought in bulk. Carry a few of them on hand during the first flight for there are going to be several bumps and bruises. In rare circumstances increase the strength of the potion to mend broken bones.

Note: Brushing their teeth (like all neopets) is important!

Section III: Harmful Foods and other Articles

Garlic foods are rather toxic to your darling fanged neopet including, but not limited to: garlic bread halves, garlic bulbs, garlic kebab, garlic mashed potatoes, garlicy Mushrooms, garlic pizza, garlic butter hot dogs, garlic cheese toast, garlic butter scones, and garlic juice. Please note that these noxious foods are perfect for the use of limiting the access of your life-challenged neopet within the house but should never be consumed. Plushies of garlic JubJubs and Kikos should be avoided, not to mention the actual neopet. It should also be brought to your attention that snow garlic doesn't have any negative effects.

Note: Fiery and sharp battledome equipment could be potentially harmful if not regulated and supervised to avoid harmful accidents.

Section IV: How to tell his/her siblings

Breaking the news to his/her siblings personally is the hardest part of transition process and therefore I have divided it into its own section.

Many neopets around Neopia have grim suppositions of vampires, this is common and I would deem it fairly uncommon to find a neopet that has not a single doubt about living with or around these pale denizens. To confront the many concerns that your neopets may have, I believe that the most direct manner is to confront your pets as a whole on the couch or in the garden, anywhere that is open and comfortable.

Many questions can be answered right off the bat:

"Is he (or she) scary?"

No, they are not scary; they merely have fangs, red eyes, an uncommon pallor, and can turn into a bat. They do not need to be feared, but give him/her space for the first year. He/she is just getting used to having all these precautions, desires, and new abilities.

"Do I need to share my room?"

I do not recommend under any circumstance the sharing of rooms. Having the neopoints to support the diet and housing of your neopet is important. Therefore, no you will not have to share your room.

"If he/she isn't dangerous, why is it that we need to put garlic by our doors and windows?"

They aren't necessarily dangerous, but at first they are confused and they follow their hunger — or more accurately their thirst. It is just a safety precaution that shouldn't be petrifying. It is only the training wheels to ensure that your other sibling realizes that you are family and not food.

"Wait, he(/she) thinks we're food?"

No, it is only that blinded by this hunger they are barely aware of themselves, let only social constructs (e.g. siblings aren't food). This phase of their life doesn't last more than a year and shouldn't be thought of as negative but an opportunity to grow as a family. Imagine the same feeling you get when you're hungry, but tenfold.

The most important thing to remind the siblings of is that he/she is still a neopet that wants to be loved. Even though there are extra precautions, it doesn't mean that they are anything but friendly. If the now-vampire sibling was once not a vampire, it is crucial to remind them (and the vampire neopet) that he/she is still the same and he/she just needs a little extra care.

Section V: In the Home

(The aforementioned application of a ring of garlic bulbs pegged on the door and near the locked window is also advised for extra protection for yourself and your other neopets. This is directly divergent to the style of the vampire's room.)

Do not include:
Uncontainable fire
Garlic
Non-tinted/uncoloured windows
Sunlight (real or generated)
Do Include:
Bed or coffin depending on sunlight exposer and preference
Ample amounts of lamps
Literature (To pass the nights)
Grandfather clock
A grandfather clock with working chimes is needed so that they know the time of day or night to either avoid nasty burns or avoid waking up late. A full closet of pale colours may also detract from the visibility of the ghoulish undertones of your neopet and hopefully brighten and warm his/her complexion. Altador sun lamps could cause unnecessary warmth and would make your neopet uncomfortable.
Is the Haunted Woods the only place for them to live? (Though during the first new year of your blood-red eyed neopet's vampiric life, it is a more vampire-friendly environment and would foster a group of friends as well as local sources of non-living food.) The following places are recommended for alternative housing: Terror Mountain because the snow is so thick in the air that it nearly blocks all direct sunlight; Maraqua is also perfect because the light is fractured by the water; and Moltara City; however, warning pay extra attention for magma and flying gizmos.
For the first few years I do not recommend living or vacationing to most other places in the world of Neopia, unless you plan on traveling by night and have prearranged a sunless room or a room with tinted or coloured windows. Be wary that many high class or even medium class hotels are not stocked or prepared for vampire guests (nor do they appear to be entirely willing to have a vampire on their property). The lowest end of hotels should be avoided entirely considering their lack of habitability for even regular Neopians. For further information on hotels read (if you absolutely must travel) National Neopia - A Traveler's Guide to Hotels by Kawaktongbee, issue 267.
Section VI: Conclusion
Vampire neopets are just like any other Haunted Woods inhabitant — there are some good, some evil, and some in between. If the owner is potentially evil or in the limitless middle ground, the neopet is likely to follow in their footsteps. Thankfully this isn't always the case. It is the owner's duty to coax their neopets towards their chosen affiliation (good, evil, middle ground). It is the owner's responsibility to do what is right and set a good example for their pet(s).
I hope that by reading this article you are more willing to spend sometime in contemplation over owning a vampiric neopet; they're lovely, playful, and intelligent creatures, and would make any owner proud. Do not judge these incredible neopets through examples such as Count von Roo. If it is possible to live amongst mutants, ghosts, mummies, grim reapers, and other such ghoulish creatures, it is possible to accommodate (as they so rightfully deserve) vampire Neopians.