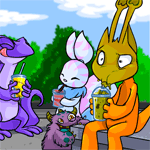 A Guide to the Gross

by iloveharrypotter8989

--------



Gross foods. Those two words alone make most Neopians draw back in fear. But, at last, someone has braved the world of gross foods to bring you the top 10 best (and worst) gross foods in Neopia. That person is *trumpet fanfare* ME!!!! So, without further ado, I present, the best, and possibly only, list of gross foods!!!

10. Bluehamberry Burger
RATING: ***
Now, compared to some of the gross foods out there, this one doesn't even look too bad. Gross, which goes without saying, but not too bad. When I sampled it, I was delighted to find that it wasn't at all disgusting! The sweet blueberries went surprising well with the saltiness of the ham. That said, the lettuce was a mistake, adding no flavor but an annoying crunch, and I'm not quite sure what sauce was used. All in all, the Bluehamberry Burger gets a 3 star rating.

9. Stale Black Jelly Beans
RATING: ***
First of all, I am a bit biased because I love jelly beans. But that aside, these were pretty good. Although very stale, they retained that jelly bean flavor that I love. They were also pretty dusty, which was gross, but hey it's a gross food. Biting into them, though, I cracked a tooth. After a quick trip to the dentist, I was ready to try the next food. 3 stars...NEXT!

8. Mustard Durian Smoothie
RATING: ****
Looking at this for the first time, I was a bit nervous. But, with my tooth still sore, I tried this next. This tastes like a hot dog mixed with ice and blended. This is something that, while would not appeal to a sweet tooth, tasted very good to me. It was tangy and almost as good as eating just a plain hot dog. 4 stars easily.

7. Red Eggs on Toast
RATING: ****
Breakfast! Every had strawberry jam on toast? How about eggs on toast? Well, this combines the best of both worlds. The strawberry flavored eggs taste better than you might expect, and when combined with hearty whole grain toast? Great. 4 stars without a doubt.

6. Woo Woo Grub
RATING: ****
I know what you're thinking. A grub? Really? You expect me to eat a grub? And I understand those thoughts. I had them before trying this. But it really tastes like a sour candy. It's quite sour, more so than most packaged sour candies. The only problem that I can find with this is that it is kind of slimy, but hey. It's a grub. So, not for the faint of heart, but 4 stars anyhow.

5. Extra Gherkin Hot Dog
RATING: ****
This is delicious. I personally am a huge pickle fan, which is a big plus for this snack. But personal preferences aside, this is a crunchy delight. Emphasis on the crunchy. Unlike a lot of gross foods out there, this has not been allowed to go stale. It's quite pricy, though, upwards of 20,000 NP, but it's also a gourmet food. It's a great gherkin dish. 4 stars, 4 stars indeed!

4. Recycled Candy Corn
RATING: ****
Ahh, candy corn. The candy that even saying its name will conjure up images of previous nights dressing up as a meepit and jumping out from behind bushes to scare little pets. No? Just me? Oh. Anyway. But this is falling apart. Is it really any good? Yes. It may be that after that Gherkin Hot Dog, anything sweet would do, but I think it honestly tasted almost exactly like normal candy corn. The lint and dust are a problem, but as one of the sweetest gross foods, I give this 4 stars.

3. Pumpkin Gut Cookies
RATING: *****
As the third in my top 3, and the first to get all 5 stars, this has got to be very good. And it is. The cookies taste like, you guessed it, pumpkin. Very sweet, cinnamon, pumpkin. And the seeds, while they have been arranged in a quite unfortunate way, are just toasted and yummy pumpkin seeds. As good as any pumpkin pie, these are definitely worth the 100 NP you'll have to dish out to get them.

2. Chocolate Taquitos
RATING: *****
As all seasoned sweet tooths know, everything tastes better with chocolate. EVERYTHING! Even these meaty taquitos taste better with chocolate. Mmmm, chocolate. Beef. Excuse me, I think I'll go have another plate.

1. ***
RATING: *****
Sorry, I couldn't tell you the item just yet. It has to be a secret for just one moment. You must be left in suspense! Ok. DRUMROLL PLEASE!
*rat a tat a tat a tat*
The winner
of the very
very best
gross food
that actually isn't
at all gross
is........

Minced Beef Pretzel!
As I have already made clear, I. Love. Meat. A lot. The more meat, the happier I am. So it's only natural that this salty pretzel topped with minced beef and olives appeals to me. It's really quite good! I couldn't find any problems with it, but I would recommend having some water on hand to wash all the salt down with.
And now, since no gross food guide is complete without the worst of the worst, I present to you the 10 worst, most vile gross foods that you should never try. Never. No ratings here, they all get a big fat negative 22! So, in no particular order, the worst gross foods ever.

10. Chewing Dung
It's chewing dung. 'Nuff said.

9. Fantastic Fly Pie
Mmmm, fresh flies. I tasted this and promptly coughed up about 7... live... flies. YUCK!

8. Eyeball Pie
I think all you need is the description and you can see why I went to bed after trying this with a killer stomachache. Description: Maggots, sludge and apple in a deep pie crust, garnished with fresh eyeball.

7. Chocolate Covered Onion
You know how I said earlier that chocolate makes everything tastes better? I take it back. I couldn't see for days with all of the tears that welled up in my eyes. I actually shorted out my keyboard and had to use a friend's to type this!

6. Infested Peach
I swear I will never eat a peach again. I didn't realize that there was a slimy little worm in it until I found the other half. Sorry peach farmers, but I am officially boycotting peaches.

5. Toe Nail Soup
Must I say more?

4. Yellow Growth
I have no idea what this is, and I'm not positive anyone does. It's yellow, slimy, and stinks to high heaven. I don't know what I told myself that convinced me to take the first bite, but it was indescribably bad.

3. Spongy Mound
Again, no idea what this is. It may have been edible about 100 years ago, but now it's like eating a sponge that you used to wash a toilet, excuse my crudeness.

2. Dung Cream Sandwich
Just for future reference, do not ever make something that combines dung and cream. EVER! And if you do, may the meepits hunt you down and infest your neohome. *cough*

1. Eyeball Fungus
This is just rancid. As if eating an eyeball wasn't bad enough, now it has fungus on it?! Just back away slowly.
So, in conclusion, I wish you luck as you navigate the delicacies of gross foods... and those that truly are, well, gross foods. Thanks for reading!