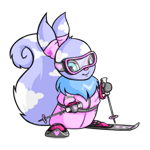 Enjoy this year's Usul Skiing Season

by froopse

--------

It's officially Usul Skiing Season! Get your best pair of skis ready – and don't forget to dress warm! Most pets are likely to spare a helmet, but – alas! – protection is never too much. (But in case you do leave out your helmet, don't forget your goggles!) Snow is never welcome in one's eyes, is it? Apart from the traditional skiing kit used every year, this year's Usul Skiing Season has published a new book, certain to answer all of your questions from "which pair of skis to choose from?" to "how to groom yourself before tea-time with the hosts in case you are selected as the 'Skier of the Year'?" (no terrible rhymes to that!).

This article has been written to guide you during your stay at the event. From "where to stay" to "where to eat", these 1212 words have been carefully chosen to help you out and to answer your questions previously left unanswered, whether you are a contestant or a mere spectator.

First of all, the 27th day of Storing is the opening of the event, but guests are only expected on the 28th. Where exactly are they expected? Happy Valley, of course! This year's hosts, Lord and Lady Pommels, will greet their guests by the Ice Rink at about 8:00am, and will leave at 11:00am for lunch. Be sure to arrive on time and greet them – they do remember faces, and unknown ones aren't welcome in the eyes of a wealthy host.

The rest of the day may be spent as you wish: wandering through stores or drinking a cup of hot borovan at the Slushie Shop are the most popular choices. The real attractions take place at night, after 9:00pm, and include several plays performed in the Ice Arena, in the Ice Caves. They are a surprise, but "The Usuki Skier" is an all-time favorite. Also, don't forget to check the Colouring Pages before you leave – there are always limited edition pages during Skiing Season.

After the plays, dinner awaits you. But where to dine? The top three options are below:

The Rinker: This popular pub is set up on top of the Ice Rink, and is decorated with colored lights from below the Rink itself. Musicians play live classical music and Wilfred the Bruce will happily skate his way around the dining couples to entertain. The Rinker's specialty is the Hot Strawberry Soup, served with a side of radishes. As romantic as watching a Pink Elephante dance Ballet on Valentine's Day, "The Rinker" is undoubtedly the perfect choice for happy couples. There are only a few tables, so remember to book early.

The Neggery: Although "The Neggery" is usually a Negg Shop (and nowadays inhabited since the Negg Faerie was frozen), the hosts decided on carefully removing the faerie's statue from the Shop and clearing space for dozens of tables. Nothing expensive (nor expensive-looking), but it's a clean restaurant for outgoing pets to eat delicious Negg treats. For specialties, ask the waiter, but don't forget to taste the exquisite Negg Sundae before you leave.

The Terror Shack: Not a restaurant for fearful neopets, I shall say! Located inside a cave at the mountain top – yes, you heard it right! Terror Mountain! – pets will be served by scary waiters and will have the delightful opportunity to taste spooky food made by the famous Chef Wardort. Examples are the Gorerito and the Knuckle Sandwich (argh, knuckles!). The view's amazing and the drinks are free! Join in if you have the guts.

After dinner, don't forget to visit the Ice Cream Cart quickly before they run out of Quadruple Scoops of Sorbet. Next, you may either enjoy some carols sung by petpets in front of the Wintery Petpets store, or you may head straight to your hotel. Wait... hotel? Of course! The Usul Skiing Season is a three-day event. The first one is "Greeting Day", the second is "Ski Day", and the last day is called "Awards Day".

The only Hotel near the event is the Mountain Lodge, at 30 NP per night. It's a Luxury Hotel, enough to satisfy most guests, and at an acceptable price. However, if you'd rather eat a Hair Stuffed Maggot than step inside a Luxury Hotel, there are Deluxe Hotels at Neopia Central. Nearest to the event is the Presidential Palace, at 200 NP per night. There are special transfers designed to take guests to the event the next morning, and to pick them up at night.

Ski Day starts early. Contestants should be ready by 7:00am and will meet on the mountain top for top-secret instructions. Tourists are expected at 10:00am, when the races begin. There are around 40 contestants every year, so be sure to choose your favorite one in advance and cheer him/her to victory. You may place your bets near Snow Wars headquarters if you wish. Lunch break is at 1:30pm if there are no delays, and at 4:30pm the races continue. The contestants should be nearing the Ice Caves at that time. They will reach the end at Happy Valley at about 7:00pm. Family and friends will be waiting at the bottom, and the winner will be announced.

The night is young, and so are most of the guests, so a party will take place at 10:00pm inside the Ice Crystal Shop (is there a more lovely place for a bash?). Last year's Hot Blunella Punch tasted dreadful, so drink at your own risk! However, the appetizers were delicious, so don't worry about those.

Contestants will want to leave for their Hotels soon, after skiing hundreds of miles, so the party will most probably end early. Awards Day start at 11:00am at the Ice Rink, where podiums will be awaiting the winners. For better seats, arrive half an hour early. After the medals for third, second and first place are handed out, the winners will be asked to make speeches, and so will Lord Pommels (Lady Pommels will most likely be at a spa – cold weather is no good for an Usul's fur, you know?). Lunch will be served inside the Rink for all guests, who will, later on, be invited to the mountain top to ski freely (just for fun!) along with the host and the winners.

Now, don't forget to dress warm! Those who don't know how to ski may be accompanied by skilled monitors, so no one has an excuse to stay still! Dinner will be served normally, and at 8:30pm, the "Yes Boy Ice Cream" band will perform to entertain guests on their last night. Those awake at the end of the show will receive a package most probably filled with Chocolate Usuls, Double Chocolate Jelly Beans and a cup of hot Borovan, along with a farewell note from the well-known hosts. The event will have, then, officially ended.

You are free to go home or to stay and ski some more – "you're always welcome at the snowy mountains of Neopia" said last year's host, Mr Usuple. Hope you have found this guide very useful, and that you enjoy Year 12th Usul Skiing Season. After all, it happens only once a year!

Note: Security will patrol the mountains during the event. For more safety precautions, read a copy of "Meepits and their evilness" by Barta Black.