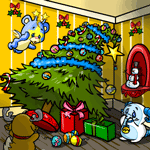 The Festive Season – Gift-giving for the Discerning

by _misspiggy

--------

You may well have noticed that the Holiday season is fast approaching. Why... it's barely more than a month away. While you are probably all focused on what to buy your friends and family, spare a moment and try not to forget your loyal Neopet!

It can be difficult to buy gifts for your pets. I know that I myself have gone to the trouble (and the expense) of selecting the perfect gift, only to have my charming little Moehog frown at me and state, "These are sooo boring." Nothing is more disheartening than putting in all that effort just to have it scoffed at!

To alleviate that problem during the Festive Season, it is perhaps wise to have a little chat with your pets and see what they want... or, what you want for them. Consider your goals. Do you want to be the scourge of Neopia, striking fear into the hearts of people who cross you? Or do you want to be known as the wisest of them all, with brains to challenge even that silly old Lenny who writes the Conundrum? As I began to write this article, I spoke with each of my pets about their own goals. Each of my pets is strikingly different from the next. I mean, I could easily have grabbed them a candy cane each and been done with it, but no – this year, I thought, I ought to put some effort in.

Now, __Bacchus, my Moehog, is an absolute bookworm (hard to believe, I know – but not all Moehogs are smelly little piggies!). He is an insatiable reader, who is striving to be the smartest Neopet in all of Neopia. He is well on his way, too, for someone so young! I would normally buy him a book of some description anyway, but thankfully, this time he gave me some guidance as to what he would like. The two books he would like for Holiday gifts are A Warm Christmas, and A Faerie Christmas – both absolutely heartwarming tales, perfectly suited to the Festive season.

While both books look delightful and will certainly be entertaining, reading books to your Neopets can have greater effects than that. It can increase your pet's intelligence – and let's face it, who doesn't want their pet to be the smartest in Neopia? The more books you read to your pet, the smarter he will become! But remember – once he has read a book, he probably won't want to read it again. Don't double up on books.

__Pasiphae, my Ixi, well... She's a lovely little minx, with the prettiest eyes and beautiful, glossy green fur. She takes a lot of pride in her appearance, and I support her in that – one day she might even win the beauty contest, you never know! Usually I buy her a brush, or some kind of hoof-care product, or even a shiny new collar. This year, however, she has decided that she would like to be painted Striped.

This is a big ask from my little __Pasiphae! The Striped Paint Brush, while not the most expensive of brushes, is hardly cheap – however, you don't see many pets painted Striped at the moment. It might even help her win the Beauty Contest that I mentioned above, or the Pet Spotlight. I could end up with a nice, shiny trophy for my cabinet if she wins! And well... look how beautiful she will look when she is all painted up. Who could resist that face?
__Tulpar, my beautiful red Uni, well... he's the valiant one of the group! A brave-hearted little man, he would do anything to defend his brother and sister, and of course, me. He is also remarkably humble and it was quite difficult to get him to tell me what he would like as a gift, but I finally squeezed it out of him. Unsurprisingly, considering his outstanding bravery, he requested something that would aid him in battle. Of course, he didn't name a particular item. __Tulpar has never actually asked for anything in his whole life! He's far too modest.
So I decided to surprise him with two gifts... A Uni Face Shield, and a Uni Spying Wand. These items will not only protect him, but help him gain the advantage in the Battledome!
The Battledome has long been considered a place of great honor, where Neopets can fight each other – or, if they choose, the forces of evil. Winning in the Battledome can be not only brilliant fun, but you can gain items from defeating enemies! You will also receive shiny trophies for your cabinet, which is always a good thing.
Pets will love gifts, regardless the time of year. If you buy a gift for one pet, who ends up hating it, try giving it to another. Sometimes when __Bacchus gets picky with his books, I read one to __Pasiphae or __Tulpar. They always appreciate the attention, and the little intelligence boost it gives them!
Now if you are still completely lost on what to get your pet this Season, why not grab a dubloon or a codestone? Every pet enjoys training, and leveling up your pet is something that is sure to benefit them long term. Train them in strength, or speed, or defense, and watch them excel in the Battledome, smashing every challenger they come up against! What is better than the gift that keeps on giving?
So... what is the point to this, I hear you all asking? Well, the point is very simple, really – when buying gifts for your pets, whether it's for their birthday, Valentines Day, or the Festive season, make sure you think about what you're buying. It's all well and good to get them a toy, or some food... but how will that help them in the long run? Try to buy items that will benefit your pet long term, an investment, some might say. Food is gone in one mouthful. A toy will entertain temporarily, but they learn nothing from it. Educational gifts need not be boring. You can splurge on a Paint Brush for aesthetic purposes, or, perhaps a deadly weapon from the Hidden Tower – if you can find it. But either way, get your pet something that will better them, and they will love you for it.