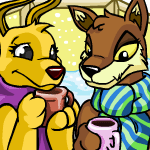 Delicious Hot Drinks!

by xoxkar

--------



Now that Autumn has arrived, the weather is starting to change. The air becomes crisp and cool, and the nights come sooner and darker each week. The cool air has everyone running back inside to put on their warm coats, gloves, and scarves. The leaves on the trees have changed into magnificent colors, and as the wind blows, you see them floating through the sky before they land on the ground. Before you know it, you will be raking them all up. Autumn is a favorite of most, as it's a beautiful time of year. There are many ways to enjoy Autumn; one particular enjoyment of many during a frosty Autumn day is to enjoy a nice hot drink. Whether you enjoy a rich dark coffee, a sweet hot chocolate, or a soothing herbal tea, there's a hot drink that everyone loves. You can enjoy a delicious warm drink when you curl up in front of a crackling fireplace, out in a coffee shop, or even when sitting out on the deck. Because of all the wonderful hot drinks there are to enjoy during Autumn, I have made a list of what I think are the tastiest hot drinks you can enjoy during a cold Autumn day!

Lavender Mint Tea
This wonderful tea is the perfect drink to enjoy after a long stroll around town on a crisp Autumn day. This tea has a delightful refreshing mint and lavender flavor to it. This tea is made from fresh picked lavender and mint leaves that have been brewed in boiling water then drained so you have a silky smooth tea. As a finishing touch a dollop of lavender infused froth has been added.

Roseatte Latte
This delicious latte is the perfect drink to serve when hosting a tea party for your friends. This delectable drink is made from fresh ground coffee beans, the coffee is then layered with fresh vanilla cream, and a thin layer of roseatte puree. To keep this latte warm, the top of a roseatte has been placed on top! The fragrance alone will make your guests excited.

Peppermint Cocoa
On a cool Autumn evening nothing will will warm you up better than this delightful cocoa. Dark rich creamy chocolate is mixed with boiling milk to make this drink. To make this even more scrumptious, a few marshmallows have been stirred in. This tasty cocoa is also served in a festive peppermint mug! If you happen to prefer coffee over cocoa, you can get a delicious peppermint latte.

Candy Apple Latte
This mouthwatering latte is perfect for when you fancy something a little more sweet. This scrumptious latte is made from medium roast coffee with sweet caramel syrup that has been stirred in. As a finishing touch to this latte, fresh whipped cream has been drizzled on top of the coffee, as well as two cinnamon sticks and two slices of sweet juicy apples!

Snow Mint Tea
If you prefer herbal teas, then this snow mint tea is the right choice for you! This soothing tea is made from real mountain snow that has been collected from the top of Terror Mountain, along with the finest and fresh mint available. This tea is made by boiling the snow and placing the mint leaves in a tea bag so the tea can be infused with mint without having pieces of leaves. This tea is not only soothing, but it's also very refreshing.

Strawberry Kiwi Tea
This tea is always a great choice when you fancy something fruity. This tea is made from dried strawberries and kiwis. To give this tea some extra flavor, pieces of fresh strawberries are stirred in, along with a slice of kiwi on the side of the cup. The aroma from this tea will have your mouth watering, and not only does this tea look and smell great, it tastes heavenly.

Caramel Latte
This latte is a great choice for those who are in the mood for coffee, but also fancy something sweet. This savory latte is made from the finest coffee beans. A dollop of sweet caramel syrup has been stirred in this coffee, along with a layer of foam poured on top with a drizzle of caramel syrup. This delightful latte is also served in a caramel shade cup!

Soy Chai Latte
For those who don't drink milk, this luscious latte is a perfect choice. Just because you don't like milk doesn't mean you can't enjoy a delicious hot drink! This soy latte is made from the finest coffee beans that have been brewed to perfection. To add flavor, a large cinnamon stick is used to stir this latte that also gives it a delightful cinnamon aroma.

Caramel Hot Chocolate
Who doesn't love a good hot chocolate? Especially when it has had caramel added to it! This divine hot chocolate is made from rich, piping hot milk chocolate that has been mixed with pieces of caramel chocolate until melted. As if this hot chocolate isn't tasty enough by itself, it has been topped with a heaping dollop of whipped cream and sweet caramel syrup drizzled on top!

Green Tea Latte
This fabulous tasting green tea latte is a perfect choice for those enjoy coffee, and tea! This latte is made from delish premium roast coffee and steamed milk that has been infused with fresh picked green tea leaves. The mix of the coffee and green tea leaves gives this latte a unique flavor that you are sure to love! To match the green tea, this latte is served in a matching green cup and saucer.

Strawberry Butter Tea
This unique tasting and looking tea is great when you are in the mood for a new flavor. This tasty tea is a strong brew that has been infused with fresh sweet strawberries, and butter. This strawberry tea even comes with four milk chocolate dipping sticks for you to snack on!

Orange and Mango Coffee
On a cold fall morning, nothing will wake you up like this festive coffee will. Instead of adding milk to this coffee, fresh squeezed mango and orange juice have been used to make this coffee a fruity sensation that your mouth will love!