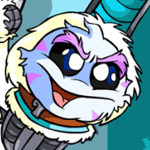 Where Are They Now?

by ben_stiller_rocks

--------



Have you ever wondered what happened to those Yooyuball players back from the first Altador Cup? Well, we have, so we searched all over Neopia to find our former idols. While some are proud of their Yooyuball careers, some would give anything to get back in the game. Whether they get injured, retire, or are cut from a team, all Yooyuball careers come to an end, and we got the story of happens next. After several months of searching we found nine players, all from different teams.

Mungo Lifler, Darigan Citadel
Mungo Lifler, a Darigan Skeith, played goalkeeper for Darigan Citadel in Y6. Although he would often trip over himself, he was said to have the "best hands in the business" and proved it on Darigan Citadel's way to the championship. Though he was one of the best goalkeepers in the league, all that people will remember him for is the last eight seconds of the Altador Cup, where he let up the game winning goal from defender Krell Vitor. Lifler was replaced by Reshar Collifey the following offseason. Lifler was nowhere to be found in Darigan Citadel, but after asking around we found out he opened a weapons shop in the Neopian Marketplace. When asked how he felt about being released from the team, Mungo said, "I gave my heart and soul for my team. My goalkeeping got us to the championship and that was how they repaid me? How do you think I feel?"

Palia Alback, Faerieland
Palia Alback, a faerie Xweetok, played right forward for Faerieland in Y6. She had a very quick release and actually led the league in "one-timers" (taking a pass and immediately shooting it at the goal). However she spent a lot of the season on the bench, due the fact the she got tired rather easily. Though she had starting player talent, when Faerieland went from a 3+1 formation to a 2+2 formation, there was no room for her on the team. She can be found restocking the shelves at the Faerieland Bookshop. When asked to describe her Altador Cup experience, she said, "It was truly just an honor to be able to play on the same field as some Yooyuball legends!"

Chelo Binay, Haunted Woods
Chelo Binay, a Halloween Chia, played centre forward for Haunted Woods up until Y6. Arguably the best defender of all time, Binay played several years past her prime trying to win a championship. After she finally got her wish in Y6, she retired and was replaced by Autrey Fulse. Though born and raised in Haunted Woods, Binay is currently in Mystery Island, living by the beach. "It's quiet here; there are fewer reporters," Binay said, before she slammed her door in our face.

"Dirty" Navers, Lost Desert
"Dirty" Navers, a desert Ruki, played right defender for Lost Desert up until Y8. Even though, as his name suggests, he is a dirty player, there is no denying his skill, being voted onto the All Neopia Second Team in Y7. After the Y6 season the Altador Cup Committee started cracking down on rough players, and as a result more penalties were called. Navers led the league in penalties in Y7, and in the offseason Lost Desert had enough and cut him from the team. Navers can currently be found spending his days at the Poogle races. "The Altador Cup Committee is full of babies," said Navers. "So what if I played rough? It's all part of the game!"

Filo Desenz, Maraqua
Filo Desenz, a green Flotsam, played left defender for Maraqua through the Y7 season. Though Filo is slow, he made up for it with his tough tackling. He is best known for his locker room squabbles with team captain Elon Hughlis. In the Y7 offseason, Hughlis demanded that Filo be cut, and Maraqua complied, leaving Desenz without a team. As of now, Desenz is working in the Deserted Fairground in Haunted Woods. Though Desenz refused questioning, we asked a fellow fairground worker about Filo. He said, "He doesn't really say much. He just goes about his work, minding his own business. I'm not sure what he did before he ended up here. All I know is that he really hates Elon Hughlis, the Yooyuball player, for some reason."

Maital Koric, Mystery Island
Maital Koric, an island Techo, played centre defender for Mystery Island for the Y6 season and half of the Y7 season. He was a good tackler but very injury prone, which proved to be his undoing. In Y7, going into game 14 against Meridell, Koric requested to sit out due to a nagging leg injury, but his request was denied and he was forced to play. And even when Mystery Island went up 9-1, Koric was still in the game and sustained a career ending injury. Koric now has a shop in Mystery Island that sells Yooyuball equipment for kids. When asked about his injury, Koric said, "I have no regrets. I played my hardest and I had fun doing it. That would have probably been my last season anyways."

Dayla, Roo Island
Dayla, a red Lenny, played left forward for Roo Island in Y6. She was the fastest player in the league and an explosive scorer; however, she was inexperienced and had a lot to learn about the game. Her talent did not go unnoticed as she was nominated for Rookie of the Year. But when Jair Tollet of Maraqua wanted out of Elon Hughlis' shadow, Maraqua offered a trade to Roo Island that they couldn't pass up. So Dayla was sent to Maraqua and Tollet to Roo Island. But in only the second practice, Dayla suffered an ankle injury, sidelining her for the season. She was cut from the team in the following offseason. Dayla now runs marathons all over Neopia. "It was kind of a blessing in disguise," Dayla said about her injury. "Running was always my true love."

Selwick Phoss, Terror Mountain
Selwick Phoss, a striped JubJub, played left defender for Terror Mountain in Y6 and Y7. Though she is small, she makes up for her size in energy and enthusiasm. Unfortunately enthusiasm doesn't get you "W"s, so Terror Mountain dropped Phoss after Y7. Selwick is currently battling in the Battle Dome Ice Arena. "Being dropped from that team was the best thing that ever happened to me," she said. "I've discovered my new passion: Battledome."