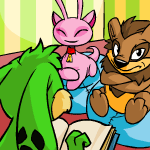 Battle of Imagination - Part Four

by undeadfortune

--------

Act 3 – Scene 4 – Sweet's Story, The Prank

Setting: The playground during recess. Class went by without a hitch and the Neopets are enjoying their half hour of freedom. Sponge and Mere find themselves near the school talking about class.

(Oni and Thai, who look like they're in the middle of planning something, join Sponge and Mere. They do not notice Sponge and Mere until they're nearly on top of them.)

Thai: What have we here?

Oni: Dunno, but if they heard our plan, they're going to be in some big trouble.

Thai: (To Oni.) Shh you, now they know we were planning something!

(Oni has an idea and whispers it to Thai. Thai listens and nods in agreement.)

Thai: (To Sponge and Mere.) How's this. We won't take your Neopoints, but you have to help us with something.

Sponge: (Curiously.) Is it illegal?

Oni: Funny kid! Knows big words. Illeegale-

Thai: (Cutting in.) No it's not illegal, in fact, far from it. All you have to do is tell Ms. Zeppy to come outside for a minute.

Mere: Why can't you do that?

Oni: Why would Ms. Zeppy listen to us?

Mere: Good point. Why do you need her to come outside?

Thai: (Becoming aggravated.) We need to ask her something.

Sponge: Seems easy enough. Wait right here. (Sponge gets up and heads back into the school followed by Mere. Oni secretly follows as well; unknown to Sponge and Mere, he and Thai are planning a prank on Ms. Zeppy.)

(After a minute, Ms. Zeppy comes outside, along with Sponge and Mere.)

Ms. Zeppy: What, what is it now? Thai, did you pawn off someone's books again?

Thai: (Looking innocent.) No, Ms. Z, nothing like that, I just wanted to ask you if two plus two was really in fact four.

Ms. Zeppy: (Surprised by the question.) Well… yes, yes it is. Is that it?

Thai: Oh, ok, thanks for your help. (He notices Oni giving him a signal and then rushes off to meet him.)

(Ms. Zeppy looks around and then heads back inside, as the end of recess bell rings.)

Sponge: Wonder what Thai and Oni have planned…

Mere: Whatever it is, I think we somehow just became involved.

(The two head back inside with their classmates. Blackout.)

Act 3 – Scene 5 – Sweet's Story, The Aftermath

Setting: Back in the classroom. Ms. Zeppy is nowhere to be seen, and the Principal (a Quiggle), of the school is sitting in her desk seat. The class is silently waiting in their own seats.

Principal: (To the class.) Now, I know some of you may know what has happened to Ms. Zeppy, but I must say, it is no laughing matter.

(The class is silent. Sponge glances at Thai and Oni, who look like they're about to explode into laughter.)

Principal: And rest assured, we will find out who the guilty party is. That means whoever was involved will be punished. (He scans the room, as if waiting for someone to come forward.)

Oni: (Raising his hand.) What exactly did happen to her?

Principal: That's not important.

Thai: I heard it involved something smelly.

Principal: (Interested.) And where'd you hear this?

Thai: (Pointing to Sponge.) I believe it was him who told me.

Sponge: (Confused.) Wha? What are you talking about?

Principal: (Checking list of names.) Sponge? Is that your name? Are you the prankster?

Mere: (Raising her hand.) Umm, sir, Sponge was with me the whole recess, I didn't see him play any pranks.

Oni: (Nonchalantly.) Maybe she helped.

(At this, the entire class erupts in accusations at one another. After five minutes, the class knew no more about Ms. Zeppy than before, and the Principal was now paranoid with everyone.)

Principal: (Almost shouting.) That's enough! Everyone calm down and remain seated!

(The class quickly becomes silent.)

Principal: Now, if no one comes forward, I'm going to have to call every one of your parents, regardless of your involvement or not. (He turns around and leaves the room.)

(After only a minute everyone begins to talk about what they think happened to Ms. Zeppy. Their conversations are not heard, only Thai and Oni's, and Sponge and Mere's.)

Thai: (With obvious sarcasm.) Poor Ms. Z.

Oni: (With the same sarcasm.) She's gone to a better place.

Thai: Home? To take a bath?

Oni: (Laughing.) Ha ha ha, you're too much Thai.

(The two continue to talk about the prank. On the other side of the class.)

Sponge: Do you think the principal thinks it's me?

Mere: (Quickly.) Of course.

Sponge: (Not expecting Mere's comment.) Really?! Oh man, my first day and I'm going to be in so much trouble.

Mere: Unless…

Sponge: Unless what? Tell me! Anything!

Mere: We prove Thai and Oni played the prank, whatever it is.

Sponge: That's going to take some work. (Suddenly he has a plan.) Wait a minute, I got something.

Mere: (Interested.) Do tell.

Sponge: Here's what we're going to do.

(Blackout.)

Act 3 – Scene 6 – Sweet's Story, The Plan

Setting: The Principal's office. The entire class is waiting outside of the main office where the Principal is questioning the students one by one. Mere, Sponge, Thai, and Oni have yet to be questioned. Thai and Oni can be seen getting their story straight, while Mere and Sponge listen in.

Sponge: (Whispering to Mere.) Did you hear that?

Mere: (Wide eyed.) They put a bucket… filled with what on her door?

Sponge: Dung. A bucket of dung.

Mere: And it did what?

Sponge: Seems when she opened the door the bucket fell on her.

Mere: Eeeew, that's disgusting.

(Sponge and Mere continue to listen.)

Thai: The story's this, we were outside, playing around with a red bouncy ball, when we saw (Glancing around.), Sponge and Mere sneak back inside. Ms. Z comes out with them, probably after they set up the trap and talked to us.

Oni: Good story, that way we were nowhere near the classrooms.

Thai: Ms. Z will agree with the story, since she talked to me. It's full proof.

(At that the Principle comes out of his office after talking with a red Draik. He looks around and points at Sponge.)

Principle: You're next, let's go.

Sponge: Me?

Principal: No, the other blue Shoyru.

Sponge: (Looking around, realizes he's the only blue Shoyru.) All right.

(Sponge follows the Principal into the office, where he takes a seat near the desk. The Principal sits behind the desk in his own chair.)

Principal: I might as well start this interrogation. (Leans forward.) Do you have anything to say?

Sponge: (Innocently.) About what?

Principal: I think you know what.

Sponge: Obviously I don't.

Principal: (Leans back in his chair.) Where were you at 12:12 NST?

Sponge: With Mere, outside by the schoolyard, why?

Principal: Ah ha! So you were with Mere.

Sponge: (Confused.) Yes… why?

Principal: (Looking down at a paper.) Just comparing notes, checking stories. You're free to go.

Sponge: But I'm not finished; if you think I'm the person who played the prank, you're wrong! It was Thai and Oni! (Pointing towards the door.)

Principal: (Holding sheet of paper.) Well, we'll just see, they're coming in here next. At this moment in time, you're the guiltiest of them all. You were seen entering the school building with Mere, by at least ten other students. Thai was seen outside and Oni as well, for at least the first half of recess. Things are not, and I mean not, looking good for you. You may go.

(Sponge stands and heads to the office door, a look of sadness on his face. Blackout.)

Act 3 – Scene 7 – Sweet's Story, The Verdict

Setting: Back in the main classroom. Thai and Oni are sitting at their normal desks smiling happily to each other. Mere and Sponge are at their own desks as well, along with RJ. The Principal is still in his office, finishing up his notes to decide who played the prank. The entire class is waiting for his arrival.

Sponge: (Still looking sad.) I'm in trouble. This is it for me. My first day at school and I'm in a load of trouble! (Hangs head.) Argh, it makes me so mad.

Mere: (Hand on Sponge's back.) Calm down, its not over yet, the Principal said he's still trying to get the facts straight, you still have about five minutes.

Sponge: I need to fix this; I need to get Thai and Oni to confess!

Mere: That's going to be hard, the Principal ate their every word. He actually believes them, and they've repeated this class five times.

(At that, Sponge stands and heads over to Thai and Oni. Thai and Oni notice Sponge, and await his approach.)

Thai: (Laughing to himself.) Look who it is! The patsy for our best prank yet!

Oni: (Laughing along with Thai.) You should feel great kid! You're a star!

Sponge: (Becoming angry.) Not the kind of star I wanted to be! You ruined me, and on my first day of school. How could you do this! (At this, Sponge shoves Oni, who falls backwards into Thai.)

(Sponge backs up and the entire class is watching Sponge, Thai, and Oni. Oni and Thai hurry to their feet and their previous look has been replaced with annoyance.)

Thai: (Pointing.) You! You think you can push us around and get away with it?!

Oni: Get him!

(At this, the two Skeiths rush Sponge. Using his wings Sponge gracefully flies over the two bullies, who crash into the bookcase. Thai and Oni split up, waiting for Sponge to land.)

Thai: You can't stay up there all day!

Oni: And we'll be here when you come down. Heh heh…

(Sponge finally does land, and makes his way behind the teacher's desk. Oni dashes for Sponge, but his weight causes him to trip and slid into Ms. Zeppy's chair. Thai on the other hand is taking his time and traps Sponge in a corner near the door.)

Thai: Give up kid; you're only making this hard on you!

Sponge: I should be, for everything you've caused me! This is my first day of school, for crying out loud.

Thai: Not my fault, it's just the way I am. (He notices Oni is standing up behind Sponge.)

Sponge: You'll get in trouble sooner or later; you can't keep bullying people forever.

Thai: Me? Caught? Ha! I've been at this game for five years, I'm untouchable. This prank today was nothing, just wait till tomorrow!

(At this he hurries towards Sponge, hoping Oni will hold onto him. Oni remains motionless with his eyes wide. Thai stops and realizes what has happened. Slowly turning around, he sees the Principal standing in the doorway, papers in hand.)

Thai: Heh, hey Principal-

Principal: (Frowning.) Untouchable huh?

Thai: (Feeling sick to his stomach.) You heard that eh?

Principal: I bet it was you that painted Ms. Zeppy Invisible last year?! And the year before that, Grey! We had a tough time trying to cheer her up after that! But it was always someone else. All the clues always pointed to another student. And now it makes sense. You were the one creating the clues to begin with!

(At this Thai knows the game is up. He turns to run, but Oni is blocking the way.)

Thai: Oni? What's going on! (Almost shouting.) Lets get out of here!

Oni: (A halfhearted look on his face.) No more Thai. We've ruined enough school days.

Thai: We can keep it up! The fun, (Pause.) the games!

Oni: No more, I actually want to pass the first grade.

Thai: PASS! (Pause.) Pass! This isn't the Oni I know!

Oni: I've never been the Oni you know, just following you along for the ride. But my ride ends here. I'm done.

(At that, the Principal grabs Thai's arm and leads him offstage to his office. Thai's voice can be heard from offstage.)

Thai: This isn't the end Sponge! (His voice is a tad muffled.) I'll be back!

(Sponge and Mere and the rest of the class celebrate. Oni stands by himself near the teacher's desk, smiling, arms crossed. He doesn't notice the Principal coming back into the class to get him as well. Blackout.)

To be continued...