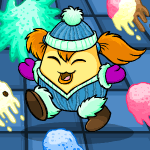 Old vs New: Which Game is For You? Part VI

by lakefox

--------



Greetings, everyone! Today we are off on an adventure through one of my favorite places of Neopia: Terror Mountain. Last week we visited one of the scariest places in Neopia: Haunted Woods. We took a long at a few of the games there: Mutant Graveyard of DOOM vs Mutant Graveyard of Doom II, MAGAX: Destroyer vs. MAGAX: Destroyer II, Korbats Lab vs Korbats Lab, Carnival of Terror vs Carnival of Terror. Wow... some of those games just send shivers down my spine. Today's games bring a smile to my face. Let's face it, who isn't interested in playing in the snow? Terror Mountain brings lots of games but for today my pets and I are taking a look at: Grundo Snowthrow vs Snow Wars II, Ice Cream Factory vs Ice Cream Machine, and Igloo Garage Sale vs Igloo Garage Sale – The Game.

Title: Grundo Snowthrow

Type: Action

Location: Game Graveyard

ID: 31

Status: RIP Y7

Are you ready for a snowball fight? If so, then this is the place to start. Overall, the game is very simple; on one side you have the Snowbeasts (your opponents) and on the other side you have yourself (Grundos). You start the game with three green Grundos, and it will be game over if all three are hit with snowballs in the same round. The object of the game is to knock the Snowbeasts over with snowballs thrown by the Grundos. If you hold down the mouse button for longer periods of time you will have a heftier snowball. Try to be as accurate as possible because accuracy greater than ninety percent will earn you a bonus. You will only have your three Grundos in each round for the entire game, while the amount of Snowbeasts will increase with each round. Good luck and go throw some snowballs!

Title: Snow Wars II

Type: Action

Location: Terror Mountain

ID: 544

Status: Active

Now I'm sure you are wondering why I chose Snow Wars II as the sequel to Grundo Snowthrow. Why not Snowball Fight or a different game. Well, in Snowball Fight you are throwing snowballs are neopets and petpets, while trying to avoid hitting the Faeries. In the original Snow Wars, not Grundo Snowthrow, the game play is similar to the arcade classic: Battleship. Snow Wars was a non flash game, and for the purpose of these articles I'm sticking with the flash based games.

Also in Snow Wars II the Grundos are back, but with catapults. You didn't think that was all, did you? Oh no, the Snowbeasts are back as well and they also have catapults, but you have yet another foe in this version of the game: the dreaded Lupe! You start out the game with a set number of snowmen, which the Snowbeasts and Lupes are out hunting. You must build a fortress around the snowmen, place your catapults, then shoot the Snowbeasts and Lupes. You will do this for every round. Watch out for those Lupes, though, as they will cross the screen and will train to get into your fortress. If the Lupes make it inside your fortress, then they will head for the snowmen and destroy them. A key point to know: when your fortress is properly built, the area inside will have a blue tint. It will be game over if all your snowmen are destroyed or you aren't able to restore/build your fortress in time. An avatar is available for this game, but I was lucky enough to earn it back on the original game. Good luck to all playing this game!

My pick: Grundo Snowthrow, for an easy no brainer type of game but Snow Wars II if you want a challenge!

Title: Ice Cream Factory

Type: Action/Puzzle

Location: Game Graveyard

ID: 57

Status: RIP Y7

This game is worthy of being a predecessor. In each level there are two things you must do before you can advance to the next level. You must avoid ice cream scoops and make it through a warehouse full of boxes. Each ice cream scoop is worth two points, and you must have two hundred points (in each level) before entering the warehouse. The warehouse is made up of boxes (brown and purple) you must get around to the door on the other side. If you manage to collect purple boxes, you will add ten points per box to your score, but there's a catch. The brown boxes can only be moved up or right, so be sure you want to move it before you do so.

Title: Ice Cream Machine

Type: Action

Location: Terror Mountain

ID: 507

Status: Active

Ice Cream Machine lost some of its magic to me. Very similar to its predecessor, you must avoid ice cream scoops. That's it, no puzzle of a warehouse or anything else. Of course, in each level you must avoid more scoops than the one before. If a pink heart scoop shows up, you will want to collect it, as it is an extra life. A plus sign scoop will speed up the scoops, a minus sign will slow them down. A strawberry bomb scoop with reset all the scoops, and the grey shield scoop will provide a few seconds of invincibility. Finally, a cherry scoop will earn you an extra one hundred points, whereas the fish scoop will earn you two hundred fifty bonus points. Also, as each you advance in the levels, they will become faster. Don't panic, but stay calm and practice. I thought I would never earn the avatar in this game, but I did manage to do so, and I know you can as well.

My pick: Ice Cream Factory!

Title: Igloo Garage Sale

Type: Action

Location: Game Graveyard

ID: 169

Status: RIP Y8

When a friend of mine first introduced me to Neopets, she was playing this game and it looked like a lot of fun to me. Turns out... it was. I don't know about you, but I do enjoy simple games, especially after a long day where all I want to do is kick back and relax! Mika and Carassa have decided to clean out the attic. You control Mika by using the arrow keys; he must catch the items Carassa is tossing down to him. If you are able to catch everything in each level then you will earn a bonus at the end of the level. Watch out for bombs, as they will stun you temporarily and you won't be able to catch anything. If you drop five items in any one level, then it will be game over! Also if you should drop an item it will deduct two points from your score. There are six different items you can collect and they range in value from one point up to fifty points, although the fifty point items are rare, so catch them if you can!

Title: Igloo Garage Sale –The Game

Type: Action

Location: Terror Mountain

ID: 676

Status: Active

Once again Mika and Carassa must clean out their attic. Mika has decided to be below while Carassa drops the items. Once again, you will have six items to collect ranging in value from a single point all the way to fifty points, although the fifty points is rare so I collect them if I see them. The bombs are back and will stun you for a set of time which to me seems longer than the original version. A new twist in this game is pianos. Whatever you do, you do not want to catch these. If you should be beneath it when it lands, then it is game over! Furthermore, if you should drop five items in a single level, then it is also game over. Bonuses are awarded at the end of any level where you have caught every item, excluding bombs and pianos!

My pick: Igloo Garage Sale – The Game!

Wow, there were some classic games in this article. In fact when I'm done here, I'm off to go play them, because I play the games for fun, not necessarily to make neopoints. Next week we will visit two different lands: Faerieland and Neopia Central. In Faerieland we will take a look at Maths Nightmare vs Maths Nightmare and Faerie Cloud Racers vs Faerie Cloud Racers vs Extreme Faerie Cloud Racers. We then will jump over to Neopia and look at Meerca Chase vs Meerca Chase II. If you are currently lost or would like to look at more game comparisons, then please read the past articles. Keep in mind to form your own opinions, and that if you aren't playing for fun, then this articles aren't for you. I will say it again; games located in the Game Graveyard will not earn you Neopoints and any possibility of a game trophy, as these games are officially retired! Please come back next week so we can continue on our adventure of Old vs New: Which Game is For You?