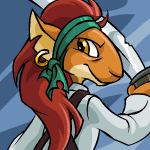 Sidekick Sicknesses

by marina5_55

--------

Ah, the proverbial sidekick. Those annoying little specks which just seem to attach themselves to anyone of importance and hang on for dear life. Now don't get me wrong; the sidekick is almost always the unsung hero of the story. And it seems only fair to mention them. In fact, it's about time they had a little attention all to themselves. Which is why today we will be discussing the unknown illnesses of the sidekick.

Firstly, it's time to clear some things up. The sidekick is an assistant to someone of more importance. They usually stay in the background and just add moral support. Sidekicks have always been getting pushed aside since heroes came on the scene. Sidekicks have been run through the mud by everyone, including the heroes. Heroes, not all, but many, believe that sidekicks are really of no use to them. Some find them annoying or just ignore them. Others are very close and rely on each other for help. The truth is that most heroes wouldn't stand a chance without them. Villains must catch on to this fact and use it. There's nothing more terrifying to a villain than a smart sidekick. So, let's get to the root of this article. Like heroes and villains, sidekicks have illnesses. It's about time someone revealed them.

The Silent One

Example: Hero Lupe

Symptoms: The silent one, truly a sad case. The silent one will never be heard, never be recognized as a true hero and never stand up for himself. Like the name suggests the silent one is very quiet. They stand behind the hero and are more than willing to stay there. The bad part about this illness is that they will never see their true potential. Many sidekicks could make fantastic heroes, none are willing to try, though. In the end they can be considered "cute" or just disappear into oblivion. Neither of these choices seems particularly good. Silent ones rarely come out of their shells. They may if there appears to be no other option, but even then it's usually only to say a few words then be silenced. Some wonder where this could have stemmed from and it is unknown. Many believe it to be just a case of shyness. Others think it could be a characteristic that doesn't allow them to speak their mind, a weak guess at best. The most widely accepted idea is that they're simply nervous or scared to speak up in the midst of a hero. It's only natural to be nervous. Let's look at an example, shall we? The Hero Lupe, or whatever his name may be, is a super hero. Never heard of him? Have you heard of Judge Hog? Of course you have, unless you've been living under a rock your entire life. As it turns out, Judge Hog has a lesser known and very quiet partner. His only time in the spotlight being seen for a second hidden behind Judge Hog. What could have caused him to fall so far behind? Probably a case of the silent one.

Treatment: The first step for any treatment begins with recognizing you have a problem. If you are a sidekick looking to make it big in the world, you need to step up. No one is going to care if you don't make yourself noticed. The only way to get out of this is to get over your fear. Heroes don't bite, usually; you can trust them to listen when you talk. If your friend is suffering from this, it's a good idea to help them. They may deny having it, but it's pretty clear when they do. The best idea is to remember them and openly ask for their assistance. Or compliment them on good ideas. Make yourself open to them and they will return the favor.

Hero Tips: Tips for heroes facing a sidekick with this problem is to acknowledge their existence. You can't expect them to fight this alone. It is your job as their leader to help them. This may seem like a waste of time, but you can get benefits from helping them. Many sidekicks have useful information or ideas. Help them open up and you'll find those villains falling ten times faster.

Villain Tips: Villains may find this hard to work with. There isn't much to change with the silent one. The best idea is to not mention them. As long as they don't get better, you don't need to worry. If they do get better, you will have a much harder time dealing with them. It may be time to consider a new approach.

The Sycophant

Example: Jordie

Symptoms: Have you ever dealt with an annoying little fan or sibling? If so, you probably know what's coming next. The sycophant really can't fall into the sidekick area. They're more like psychotic fans. They suffer an obsessive connection to a hero. They will follow them around asking for a endless supply of autographs. They tend to stick up for the hero but cause more problems than they solve. They dress up in cute little outfits and try to copy their heroes' actions. Unfortunately, this can get them in trouble. Many sycophants have gotten caught by villains because they sneak into the hideout hoping to help. They simply don't care what heroes say and seem bent on getting into as much trouble as they can. An example of this is Jordie, though it is a weak one. Jordie really had little role to Colchester. He did a few minor things but nothing important. He was more a fan club leader than a real aid. While he was smart enough to step aside if any really danger presented itself, he could have been hurt. This is probably the biggest issue in being a sycophant. Many times heroes have gotten hurt because they have been preoccupied with the sidekick.

Treatment: This is a delicate situation at best. If you suffer this, either you don't realize it or you don't want to stop. First, please realize that you are doing more harm than good. If you really want to help, you will need to gain some skills. If your friend suffers this, try to show them the error of their ways. If that doesn't work, help them to find out for themselves. The best way to break their obsession is for them to find out something horrible about their hero. It may be sad, but breaking their hearts could be the only way.

Hero Tips: What a tough job the hero has. Sycophants may be cute and warm, but they're also bothersome. You don't want to hurt their feelings but you can't have them around. Don't ignore them, though! Ignoring can lead to another illness which we will be talking about in a minute. You need to be tough but fair. Let them join you on a simple mission where no danger can occur. This will make them very happy. Satisfy their adoration of you, but make sure they know the rules. This isn't always a bad thing; nothing boosts the hero's ego more than a fan.

Villain Tips: Once more a very easy job. Villains can just lie back and watch the insanity ensue. Ninety percent of the time, the sycophant will mess up any plans the hero may have. They're not a big problem and if worse comes to worst they could be used as a bargaining tool. Not only this but given the right circumstances, they could be a future aid.

The Betrayer

Example: The Darkest Faerie

Symptoms: Just to clear this up at the beginning, no, the Darkest Faerie isn't the only sidekick suffering from this. As I mentioned in the sycophant section, ignoring them can be dangerous. This is what could happen. Betrayers are sidekicks who for some reason or another leave. They usually try to get revenge or target their old hero. Betrayers are dangerous in that they have something over the hero. Heroes don't feel comfortable fighting old friends. Betrayers use this to their advantage and defeat them easily. Also, heroes could become depressed by this and simply give up. Betrayers leave for different reasons. One is because they feel unwanted or hurt by their heroes. This goes back to sycophants. Sycophants have been known to turn on their heroes if they feel they are hated or hurt. Other betrayers have seemingly no reason to leave. Perhaps it is because of a fight, or the feeling they can do better. Or maybe they planned on doing this from the very beginning. In the end it is a fact that they are the most dangerous of all.

An example of this is the Darkest Faerie, nicknamed the betrayer, which this illness is named after. She seemingly without reason left. Fighting and almost defeating her old hero. She could possibly be called the Darkest Faerie because of the depth of her deception. Sinking so low as to befriending the hero and then crushing him with his own emotions. A horrible way to find out the truth, truly.

Treatment: How can you treat something like this? Well, if you suffer this, try taking some anger management classes, or talk about the way you were mistreated to the hero. Sometimes it could all just be a big misunderstanding.

Hero Tips: Heroes can do little after the act has been committed except continue to fight. They must get over the pain of betrayal and treat them like the threat that they are. To prevent this from happening, heroes should be aware of their sidekicks' feelings. They need to be willing to change and at least try to get along with them. It may seem like a pain, but in the long run it is worth it if it keeps another enemy down.

Villain Tips: For villains interested in exploiting this illness, all they need to do is plant the seed. If it appears that a sidekick may be fed up with the way they are being treated, try mentioning how unwanted they are. Possibly say that you would be a much better friend. Also, outright asking if they would like to join you is an option. Bribery usually works on these types of sidekicks.

The Genius

Example: Jacques

Symptoms: One of the more helpful types, geniuses usually have a mixed bag. They can sometimes show signs of the silent one. Geniuses usually try to help but are never listened to. They are, as the name suggests, very smart. They're usually the brains behind most of the ideas. Heroes can sometimes take credit for the ideas of their sidekicks. Others try to ignore them because they feel inferior. Geniuses sometimes stand aside and don't offer help because they know that their ideas are not wanted. This could turn them into silent ones or in some more drastic casesb etrayers. Geniuses are most times close friends to the hero. Heroes will ignore the ideas of their sidekicks because they are friends and they may not take them seriously enough. Sometimes geniuses may just stand back and let the hero learn his lesson the hard way, stepping in at the last second to save them with a well thought out plan. Jacques is a good example of this. He is most definitely the brains behind most of the plans. You can tell Garin's plan usually involves them getting captured or nearly defeated. He seems to fall back and watch Garin stumble about until he takes pity and comes to his aid. They are also close friends which helps a little. These two and many other partners work well with one being the burly hero and the other the smart sidekick. A winning pair.

Treatment: Sometimes the best way to learn is by failure. If you fall into the genius category,you may want to let the hero experiment by himself for a while. Very soon he will realize how important you are and chances are he will come begging for forgiveness. If your friend is dealing with this, try talking to the hero. Convince them that they should let their sidekick take the credit for something.

Hero Tips: Tips for heroes dealing with genius sidekicks is simple. You need to tame your ego. They don't want to take over your role, just help. Be willing to let them speak up and don't take all the thanks. When you defeat a villain, be sure to mention how much help they were. The sidekick is there to make your role easier. Don't be afraid to lean on them once in a while. If the sidekick happens to be a close friend of yours, try sitting down and talking with them about it. You would be surprised by what they want to get off their chest. You may learn some new things about your sidekick and maybe grow closer.

Villain Tips: The genius is a difficult thing to contend with. The best thing running for you is the fact that many heroes ignore the sidekick. So long as they continue to do this, nothing will harm you. If they do take over the planning, new ideas will be needed. Try changing hideouts, getting new goonies or new plans. A better defense and a backup plan is some of the best ideas. The only way to beat smarts is with some of your own.

The Showoff

Example: Kanrik

Symptoms: The showoff is another annoying type of sidekick. They tend to show off how good they are. They may openly fight with the enemy or even the hero. They think they're better than most and want to prove it. Showoffs get in trouble and don't usually follow the plans made by others. They like the direct approach. Sometimes they may even abandon the hero because they don't like they way they work or feel disrespected. Most times they know the truth, though. They need the hero; without them they have no meaning. This angers most and they will deny it if asked outright. Sometimes they have strong connections to their hero and will come to their aid even if they don't want to. The showoff is an outgoing fellow who probably spends most time making sure he looks ten times better than the hero. Sometimes showoff sidekicks are found by mistake. Someone gets dragged into the role by accident. This was the case with Hannah and Kanrik. Kanrik was a thief who used Hannah to get what he wanted. In the end he ended up helping her and became rather close, even saving her life. He didn't want to help her and only ended up doing so because of the other thieves kicking him out. Even though he tries to deny it, he probably cares deeply for Hannah. Showoffs may be rude, but they are also one of the most caring sidekicks a hero can get.

Treatment: Treatment of the showoff is difficult if you have it. Most showoffs are not willing to admit they have a problem. The best way is to step back and take a good long look at yourself. Besides that, there's not much you can do. If your friend suffers it, they're usually a pain. Try telling them when they're being rude. Some need a good stern talking to or others should be ignored. It all depends on the type of pet.

Hero Tips: Tips for heroes dealing with this is to talk to them. They need to know that you're in charge. They need a good roughing up. This may upset them and they may leave, but in the end, if they truly care, they'll return, hopefully with a better attitude.

Villain Tips: Villains who fight showoffs have a mixture of good and bad. Showoffs are usually easy to take care of and their fighting pattern is usually the same. This makes them easy targets. The downside to them is that they're unpredictable. They could be relaxed through the entire fight, or suddenly explode and start attacking. Keep a close eye on them. They're like a ticking time bomb; they could go off at any second.

In conclusion, this has been my review of the illnesses associated with sidekicks. The poor fellows have it rough enough without suffering this. For any heroes thinking their sidekick may have one of the aforementioned illnesses, hopefully this will help greatly. Same to any villains who could use a little assistance. So, good luck to the poor unmentioned helpers of Neopia. Here's a salute to our hero, the sidekick.