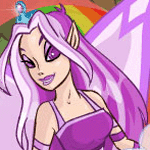 How Well Do You Know Fyora?

by hallie035

--------

It's Fyora Day. Fyora gets a lot of attention on this day. We celebrate that she gives us nice quests to do, that she made an awesome game that we can play while we play Neopets. We thank her for this and hope she will come up with more of these things in the future. But what is there known about Fyora, what we have never heard before? So, this is a quiz with things that you could learn about Fyora on her special day. I ask you what kind of person Fyora is and I ask you what her plans could be for the future. By the end of the quiz, you should know if you know who Fyora really is or not.

1. Where does Fyora like to be?

a. At home, thinking about us

b. In the Hidden Tower, trying to sell us stuff

c. Searching Neopia for people who should do her quests

d. In Faerieland, doing stuff with the other faeries

2. What does Fyora dream about?

a. That everyone is happy with the quests she gives us

b. That the faeries help her sell in the Hidden Tower

c. Adding a lot of new levels to her game

d. All of the above

3. What makes Fyora really mad?

a. People complaining about what she does

b. Not selling anything from her shop

c. Seeing people reject her quest

d. Nothing, Fyora likes everything

4. Where does Fyora spend her time alone?

a. In a hidden place we don't yet know of

b. In the caves she created for the Faerie Caves

c. At home

d. At Illusen's home

5. What is Fyora's favourite Neopet colour?

a. Faerie, because she is a faerie herself

b. Royal, because she sells those Paint Brushes in her shop

c. Pink, because she has a pink colour too

d. None of the above; I have no idea.

6. Do you always do Fyora's quests?

a. Of course I do; the prices are great.

b. No, because the items are expensive.

c. Of course not, I don't want to spend NP.

d. Fyora gives out quests? I didn't know that.

7. What does Fyora think of the other faeries?

a. They are awesome, because they are family.

b. She thinks they should all live their own lives.

c. She only pretends to like them, but actually she doesn't....

d. She doesn't like them and she shows that too.

8. Does Fyora already have plans for the future?

a. No, she wants to keep doing the same things.

b. She wants to come up with new things so we appreciate her more.

c. She wants to do activities for all the faeries together.

d. She wants us to do things together and help each other.

9. How can you calm Fyora when she is mad?

a. Go to the pharmacy and get her medicine

b. Stay away from her until she calms down

c. Get your Neopet and leave the two alone

d. Talk to her and tell her good things

10. What makes Fyora happy?

a. Seeing others happy

b. Doing things with each other

c. That everyone is nice to everyone

d. Selling stuff and earn NP

11. What does Fyora think of Faerieland?

a. It's awesome because it's her home.

b. It's a good place to sell things.

c. It's pink and that is her favourite colour so she gets all happy.

d. It's a good place to meet other faeries.

12. Do you think this quiz is helpful?

a. Yes, I do. I learned a lot.

b. No, not really.

c. I learned nothing and I stopped at question 2.

d. No, it's boring.

***

Write your answers down and look below. I will tell you how much you know about Fyora and what you could do to learn even more about her. If you already know a lot, there is always something you can learn more. So never stop learning. Anyway, here we go.

Most answers A

You really know a lot about Fyora. She likes to make others happy and hide for us. She does want to spend some time alone sometimes. That's why she has a hidden space where she can do what she wants without being watched. Maybe she will reveal this secret place once in her life. Nothing is predictable; maybe we find the place without her telling us. If she is mad, there is something wrong most of the time and medicine can help her calm down and talk about what happened.

Most answers B

You know much about Fyora, but you still miss important things. Fyora likes to sell her stuff, but that's not why she lives in Faerieland and what she thinks about that. She knows that other lands have great places for selling too. She lives in Faerieland and she likes it there because it is her home. Don't you like to be home? Home is the place you live, where you spend your night and your mornings and where you have family. Why would you want to be anywhere else?

Most answers C

You should learn some more about her. Fyora wants to do quests, but that's not all. You get your Neopet to help her when she is mad. Don't you wonder what is wrong? Why don't you ask her and get something to calm her down? Your Neopet can do a lot, but you can do more. Your Neopet can't buy anything; you do. And if Fyora needs medicine to calm down, you need to buy it. And just the fact that Faerieland is pink doesn't make Fyora like it. There is a lot you can learn.

Most answers D

I don't think you really know about Fyora. There is a lot you don't know, but should know. She does like to be with other faeries but they are so busy most of the time that she rather does other things. There is so much to do on Neopets and she likes it all. She likes to think about us and find ways to make us happy and our Neopets and her friends. Making people happy makes her happy too. She always said that who laughs in the morning, smiles all day.

I hope this quiz has been helpful. If you think that there should be things I should know or you think that I am wrong, you can always neomail me. I will always send you a reply. You can also leave me a command to this so I can work on other quizzes as well and become a better quiz writer. Thanks for participating.