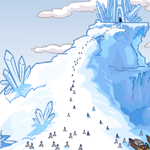 The Adventure Before Dinner: Part Two

by umbreon54399

--------

And it was at that exact moment, as if on cue for a script, that one of the cartons jumped off the mountain and landed right in front of him.

Our mouths dropped and we peered over it.

It jumped again, and we jumped, and it kept jumping and jumping and moving. We followed.

"What do you think it is?" Puppy asked in awe.

"Maybe it's radioactive," I suggested.

It kept leaping and bouncing.

"Where do you think it's going?" he asked.

I didn't know, so I didn't answer.

The ice cream made one huge leap, and it collided straight into the wall and fell on its side, and the top fell off.

"Oh! It's injured!" I shouted.

But then, as we watched, a little white and black (possibly very dark navy blue, which is so easily mistakable for black) aquatic, flightless bird Petpet climbed out.

"That's a Darblat!" Puppy said. I gasped.

"They're in that one game! And they're worth a ton of NP! WAAAAAAHHH! Let's sell him and make a fortune!!"

"Grab it quick!" Puppy shouted, and we both lunged for the Darblat.

There were a lot of things that happened next, that I do not wish to go into great detail about because I did not particularly enjoy them, which included me grabbing Puppy's tail, but not the Darblat, and Puppy grabbing my arm, but not the Darblat, and us clamoring through the ice cream cartons attempting to figure out which one the sneaky little aquatic flightless Petpet was hiding in, and then us discovering that there was a secret passageway hidden behind all those cartons of ice cream, and that Darblat leaping into one of the cartons and barreling down the passage like a log race, and me attempting to leap into a carton and being unable to fit, and Puppy grabbing me and us running after him, and running and running and rolling and rolling and getting my pants wet at the bottom because there was water on the floor because Puppy says we went under the ocean, and us running, and then jogging, and then walking, and then playing I Spy, and then playing Name That Tune, and then playing Deserted Island, and then playing I Spy again because I like that game, and then wondering if moss tastes good, and then Puppy grumbling that we were so stupid to walk so far down the secret tunnel, and then a whole bunch of really boring stuff and then we emerged from the tunnel via a trap door in an alleyway!

"This is Krawk Island," Puppy declared when we got out.

It was true! There was big blue sea right in front of us and giant ships and people with only one leg that kept saying "Arrrrg!" and Pirakets and Pirakeets on their shoulders.

"And look! There's the ice cream carton!" he shouted and pulled me over. Floating in the water off the dock was the ice cream carton the Darblat had rolled away on.

"I didn't know ice cream cartons were so sturdy."

"Come on," Puppy said. "This is about more than selling that Darblat for money, though he is worth a lot. This is downright suspicious, and it's our job to investigate."

"But we don't have a microphone," I told him.

"That's the wrong word, Umbreon."

"Microscope?"

"No!"

"Microwave?"

"There is not a 'micro' in it! A magnifying glass! You're thinking of a magnifying glass, and we'll just have to get by without one!"

"What about hats? Can we have hats? Oooh! And trench coats!"

He ignored me, making me frustrated. He was looking down at the dirt next to the plank.

"Umbreon, if you weren't so concerned with detective uniforms, you would have noticed these footprints. They look like they might be from the Darblat."

"Okay, Number One," I began, "that is the most cliché clue ever. Number Two, why were you even looking in the dirt? And Number Three, yes, those do look like the footprints of a Darblat. Either that or a duck."

"What is a duck?" he hollered. "Do you just go around making things up?"

I thought for a moment.

"Never mind. Let's just follow the footprints."

We didn't have to follow them for very long. Within a few seconds, we came across the Darblat sitting on some grass eating a strawberry strudel, the sort that they make look like a pinwheel or an evil robot claw.

"I want strudel!" I shouted.

The Darblat looked up and when he saw us, he squeaked in surprise and leapt and started running off.

"Quick!" Puppy shouted. "Follow him!"

It didn't take that Darblat very long to lose us. Neither of us owns a pass at the gym, or a treadmill, or a sweat band, or leggings.

We lost him at a crossroads, where a JubJub was selling bottled cucumbers, which are tastier than a cucumber and more rare and expensive than a pickle.

"Shucks," Puppy said when he realized the prints disappeared. "We'll have to guess which way he went."

There were three paths in front of us. One went towards the Smuggler's Cove, one went towards Little Nippers (that name makes me want to giggle) and one went towards the Dubloon O'Matic.

"I think he went towards Little Nippers," I declared.

I giggled.

"He probably went towards the Smuggler's Cove," Puppy said. "That's a suspicious Darblat and the Smuggler's Cove is definitely a suspicious place."

"He could hide better at Little Nippers. He'd be surrounded by all his fellow Petpets."

I giggled again.

"Yes, but this isn't a regular Darblat."

"How do you know?" I asked. "You've never met a Darblat before."

"I just know, Umbreon! And I know he went towards Smuggler's Cove because that makes way more sense! Little Nippers isn't a place where a suspicious, possibly world-dominating Darblat would go!"

I tried not to that time.

I giggled.

"WHAT IS SO FUNNY ABOUT THAT NAME? IT'S JUST PIRATE TALK!"

"EXACTLY!" I shouted at him. "IT'S LIKE THIS BIZARRE COMBINATION OF 'SWEATERS' AND 'GNOMES' WITH A PIRATE ACCENT! WHAT'S FUNNIER THAN THAT?"

"WHAT DO EITHER OF THOSE HAVE TO DO WITH THE WORD 'NIPPERS?'"

"IT'S A COMBINATION OF THOSE WORDS!"

"NO, UMBREON! I MIGHT UNDERSTAND 'ZIPPERS,' OR 'FLIPPERS' OR EVEN 'NYMPH!' BUT NOT 'SWEATERS' AND 'GNOMES!' SO YOU JUST NEED TO STOP LAUGHING AND LET'S GO TO THE SMUGGLER'S COVE!"

"NO! BECAUSE THAT WOULD BE A WASTE OF TIME! BECAUSE HE DIDN'T GO THERE!"

"YES, HE DID!"

"NO, HE DIDN'T!"

"YES, HE DID!"

"NO, HE DIDN'T!"

"YES, HE DID!"

"NO!"

"YES!"

"NO!"

"YES!"

"OH MY GOSH, WOULD YOU TWO JUST SHUT UP?!?!"

We both looked to our right. The JubJub was standing in front of us.

"HE WENT TOWARDS THE DUBLOON O'MATIC! NOW GO AWAY! YOU'RE GIVING ME A HEADACHE!"

We were quiet for a moment, then started to walk that way.

"Thank you!" I shouted back at him when I remembered my manners.

We walked that way, and pilfering a Dubloon straight out of the funny little wooden face was the Darblat.

"There he is!" I shouted, and the Darblat grabbed his Dubloon and started high-tailing it towards the water.

"Run!" I screamed, shoving Puppy down the hill. When he kept tripping, "RUN FASTER!"

We ran all the way down that hill. We kept closer to the Darblat this time, probably because he was full from his strudel still and that always makes it harder to run.

He got to the docks and leapt into a boat, and suddenly, three more Darblats poked their heads out and they all started rowing away.

We looked around and saw an old Kyrii pirate in a boat.

"Quick!" I shouted as I leapt into his boat. "Follow those Darblats!"

I had always wanted to say that!

Well, something close to that, but maybe not in that exact terminology or to an old guy with only one working biological eye.

He looked up from his glass eye, which he'd been polishing.

"Hello?" he said.

"Umbreon! Don't bother that old guy! I got us a boat right here!"

I leapt out of the old guy's boat and into the one Puppy was holding.

"Come on!" he shouted, and we both grabbed an oar and started paddling as hard as we could.

Here is where it gets boring again. We just don't realize how long following Darblats can actually take. I mean, I always figure ten minutes, max, but then it keeps getting into the twenty and thirty minute range and my ADD starts whacking out like, "What is this thing you're doing for soooooo long?" and then my stomach gets in on the action and starts saying, "Why don't you eat something?" and then the wooden oar and salt water starts looking really delicious when Puppy tells me I can't eat him if it comes to that and he tells me I need to start controlling myself and I tell him, "You're controlling myself," and he tells me that not how that joke works and I tell him, "You're not how that joke works," and then he gets grumpy and won't play I Spy with me later or Name That Tune, and not even the Let's See Who Can Stay Quiet The Longest because he kept making noises so he couldn't win.

But basically we paddled for a long time, keeping the Darblats within sight at all time, though they kept... quacking? chirping? peeping? at us angrily.

And eventually, we came to the thirteenth most crazy thing I've ever seen.

To be continued...