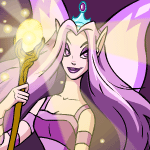 Faerie Make-Up Tips: Get the Look!

by meggierules2129

--------

Even when they're saving the galaxy from potential danger, creating possibly hazardous potions, serving soup to the needy citizens of Neopia, or handing out neopoints for teeth, the faeries of Neopia always manage to look good! So how do they do it? And how can I look as fabulous as they do? The secrets are all in their make-up routines.

That's right! Each faerie has her own secret weapons to battle against stubborn zits or chipped nails. They may not seem to care about their looks, but trust me, they do. So, what better way to start off spring than with some make-up tips inspired by your favorite faeries?

Below are some of Neopia's most beautiful faeries "style profiles". Want to know the secrets to their success? Then read on!

Style Profiles

Who? Fyora, the Faerie Queen

What? Sweet, girly shades that reflect her kingdom of Faerieland.

Why? Not only is her make-up pretty, but also super helpful during the Altador Cup... she's already wearing her team colors!

How? Fyora chooses cute magentas, lovely lavenders, and pale pinks to match her hair and outfits! These girly colors are very soothing, making her seem relaxed and not fretful or worried. I wonder what she would look like if she tried some light blue blush or eye shadow to match that gorgeous crown and staff of hers!

Your Turn! Do you go gaga for Fyora's darling make-up style? Try some Purple Eye Shadow, but dilute it a bit with water before applying so it appears light and lavender, not dark and plum. Pink Blush will make you fit right in with Faerieland and it will compliment your eye shadow nicely. For a finishing touch, add a bit of Pink Lipstick. Don't be surprised if others mistake you for the faerie queen!

Who? Illusen, the Earth Faerie

What? Natural shades that compliment her earthy lifestyle.

Why? Being earthy shouldn't be synonymous with boring. Illusen adds some fun to her look with earth-inspired tones.

How? Illusen's coppery brown hair definitely reminds everyone of the rich soil used for farming in this faerie's home of Meridell. By adding cute green streaks to her mane, she creates some excitement to being an earth faerie. Illusen chooses green-colored make-up to enhance her cute 'do and darling dress.

Your Turn! Are you a nature girl at heart? Try warming up this season with some Green Lipstick to set the mood for spring. Green Eye Shadow can also give your eyes a dramatic, spring-inspired feel. Finally, sprinkle some Tan Blush on your cheeks, encouraging a natural style.

Who? Jhudora, the Dark Faerie

What? A unique combination of purple and green to create a dark, mysterious look.

Why? If Jhudora were to try Fyora's make-up, no one would take her seriously! The first thing they teach you when you're studying to be a dark faerie is to choose deeper, more passionate tones for make-up and outfits.

How? With her green and purple hair, Jhudora always turns heads. Purple and green contrast and play against each other nicely. The last thing Jhudora wants is to blend in, so she chooses rich plums and deep greens for her make-up.

Your Turn! Is Jhudora your idol? Then start your new look with some Glow-in-the-dark Nail Polish. Swiping on some Black Eye Liner in the morning will enhance your dark aura. To really make your style pop, use Purple Eye Shadow on one eye and Green Eye Shadow on the other.

Who? Kari, the Negg Faerie

What? Youthful, spring tones to set the mood for spring.

Why? Being Neopia's most talked about faerie at the moment, Kari felt the need to add a little pizzazz to her look.

How? Kari's fancy green up-do reminds us all of spring. Her dress is decorated with colorful dots that look like neggs. By adding bright, fresh colors to her make-up, Kari looks awake and ready to face the day, even if she's feeling sleepy.

Your Turn! Do you want to look as eager and peppy as Kari? Then start your make-up routine with some Brown Eye Shadow and Black Eye Liner to make your eyes pop. Add some Green Lipstick and smother some Spearmint Lip Balm over it so you smell as fresh as you feel!

Who? The Fountain Faerie

What? Blue hues and aqua shades that make a real splash!

Why? Why would the Fountain Faerie wear red or pink when she's in the water all day? This faerie does a great job at making sure her make-up routine reflects her love of water.

How? The fountain faerie's tumbling golden locks resemble a flowing river or waterfall. She knows how to use jewelry effectively and decorates with turquoise face jewels.

Your Turn! How badly do you want a Fountain Faerie Quest? Maybe stylizing your make-up after the Fountain Faerie will aid your chances of getting one! Try sticking some Moon and Star Stickies on your face to look as radiant as the Fountain Faerie's jewels. Add some Blue Lipstick and Glittering Faerie Dusting Powder to make your face shimmer. However, I suggest you try to find the waterproof version of each of these products. Neopians aren't sympathetic when you step out of a pool with streaks all over your face. They just laugh.

Who? Taelia, the Snow Faerie

What? Icy cold tones and shimmery shades that make us wish it was still winter!

Why? At first, living in Terror Mountain is totally discouraging. Winter all year round seems so drab and boring, but Taelia is out to prove that myth incorrect!

How? Taelia chooses frosty tones that compliment her wintry surroundings, and emphasize her pale skin and dark hair, which contrast each other beautifully. Her blue eyes really highlight her look as well.

Your Turn! Do you want to look as cool as Taelia? Then sprinkle some White Face Powder on your cheeks to illuminate the snowy landscape. Splurge for a Frosty Eye Shadow Compact, which will really set the mood for your winter-inspired look. Top your look off by spraying on some Cooler Than You Perfume.

Who? Jhuidah, the Island Faerie

What? Tropical-inspired looks and paradise-driven styles.

Why? Stranded on a desert island? Why not take the time to look good while you're waiting for your rescuer? Jhuidah showcases her island flavor with her unique make-up tricks.

How? By adding a tropical flower to her funky hair, Jhuidah rocks the Mystery Island style. She selects make-up styles that blend with her island home.

Your Turn! Love the beach? Start off with some Usul Native Face Paint and create an island-style pattern on your forehead like Jhuidah. Try using one of the codestone patterns for inspiration. Next, smother on some Twirly Fruit Lip Gloss so you can smell as gorgeous as the island Jhuidah lives on. Don't forget some Sun Block Lotion... the sun's rays are pretty hot!

Who? The Space Faerie

What? Electrifying blue, red, silver, and black tones for a versatile, unique look.

Why? In space, you can't just blend in with the average asteroid... the Space Faerie is totally aware that in order to go infinity and beyond, you have to include the right shades in your make-up.

How? Space suits are usually considered blah, but the Space Faerie jazzes hers up with sparkles and glam. She chooses bright colors like blue and red that shine even brighter than the stars!

Your Turn! Want to look out of this world? Deck out your nails with Glittery Red Nail Polish. Dark Red Lipstick will give you a dramatic feel and so will Midnight Blue Eye Shadow.

Who? The Tooth Faerie

What? Poppy purples, pinks, and blues that create a squeaky-clean look.

How? The Tooth Faerie has a style different from the rest of the Neopian faeries. Using lavender and contrasting blues, her make-up style is always considered fresh and exciting.

Your Turn! Do you like looking as clean as possible? Then start by making sure your hygiene is in good condition with Peophin Fragrant Soap, Peppermint Toothpaste, and Mint Dental Floss. Swipe on some sky blue eye shadow and Strawberry Lip Gloss and you're ready to go!

Who? The Soup Faerie

What? A completely basic look relying on natural beauty anyone can pull off!

How? The Soup Faerie is way more concerned with being a good person than looking good, yet she's still beautiful! She uses her best features wisely, only applying make-up that's absolutely necessary.

Your Turn! Don't want to make a scene? Then smother on some Vanilla Lotion to keep your hands smooth and soft after a long day of feeding hungry pets. Add some Buzz Honey Lip Balm. Seriously, that's pretty much all there is to the Soup Faerie's look!

Which faerie inspires you and your style the most? Try the suggested products to look as dazzling as they do. I hope you have found these tips helpful in creating a unique look. Don't forget the number one faerie make-up rule: Wear your make-up with confidence!