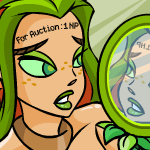 A Classic Joker's Kit for Devious Neopets

by eggo__mini92

--------

Thank you to my Orange Chia, Kreejak, for giving me the idea for this article!

For more than a decade, April Fool's Day has been marked on the Neopian Calendar as a day of silliness, joy, and mischief all across Neopia. Every year, The Neopets Team finds some way to pull a genius prank that always has us gasping with horror. From closing the prestigious Battledome to releasing the infamous Pant Devil to implementing an outrageous Neopoint tax, TNT has never failed to become classic Neopian jokers. Now it's your turn! Here, I have compiled a perfectly well-rounded kit with all sorts of gadgets and tools that you can use to trick Neoschool classmates, the neighbor's gnome, and even your siblings!

#1 Lawyer Briefcase:
This is what you will be keeping all of your smaller joker's gadgets in. It is extremely roomy so you can fit all of your gadgets and even more inside. The lawyer briefcase is modern and fashionable with its gold edges and curve handle, yet simple enough with its plain brown leather to prevent even the most curious Myncies from wanting to peek inside.

#2: Whoopee Cushion:
You can't get more classic than the whoopee cushion! Over the past couple of years, the number of these party-poopers being used on April Fool's Day has decreased, but who says we can't bring them back? Slip one on top of your Neoschool teacher's (yes, the one who gave you a D+ because your math work was too messy even though you got all the answers right) chair and, along with everyone else, listen with glee as a painfully annoying errrrRRrrrrpbbbtttttttTTffffff sound comes screeching from under Dr. Ballard! Nothing could be more laughable, and by recess you will certainly be ambushed from many other Neopets who are pining to know "how you did it."

#3 Lenny Paper Mask:
I have heard before that these masks are actually not very useful in the Battledome. They are quite expensive in the market nowadays (approximately 1,000 neopoints!) and easily wear and tear down during intense battles. Although it may not very efficient during a fight, the Lenny Paper Mask is definitely a winner when it comes to scaring people off! This handy mask comes with a black screen that shields your face from visibility but allows you to watch where you are going. Sneak up behind your Xweetok sister, grab her by the shoulders and banter, "SQUAWK!" when she turns around. Nothing could be sneakier and more clever!

#4 Fake Hand:
These are all the rage this year! Many Neopets are longing for one of these, as they are both easy to carry around, easy to use, and easy to pull a trick with! The pole has grooves on it so that it won't slide back and forth in your arm, and the hand part is soft enough to seem like a real hand innocently covered by a white glove. On April Fool's, simply wear a long-sleeve shirt and tuck the pole inside your arm and approach a neighbor. Watch your neighbor's face light with surprise as he or she shakes it!

#5 Magic Smelly Socks:
These busters aren't just for curing Bloaty Feet! If you've never used Magic Smelly Socks before, I must caution that you should NOT get a pair of these if your nose is super-sensitive; it is not an exaggeration when I say that they are probably the worst-smelling things I've ever had the misfortune to smell in Neopia. So why did I add these onto my lovely little list? Well, the fact that they are SMELLY allows you to play all sorts of stinky tricks with them. Have your petpet lightly drop them on the Turmaculus's belly right before sunrise. The smell itself is guaranteed to wake him up—for once. Who knows, your petpet might even get eaten! Hallelujah!

#6 Jubusul Plushie:
Frankly, I don't think there is anything more horrifying than an usul plushie with a jubjub's head on top. This single toy is enough to make any baby Neopet howl. You can get one of these from Haunted Woods by playing the Wheel of Misfortune. Or, if you're too lazy or excited to wait, you can buy one from a fellow Neopian's shop for about 1,000 neopoints. For the best effects, use this plushie on a Mystery Island native, as they live the farthest away from Haunted Woods and are least likely to have run across one of these before.

#7 Super Amazing Strong Glue:
Oh-ho! There is no knowing what mischief you can conjure up with THIS handy tool! The glue is just as strong as Strong Forever Glue but the bottle is much smaller so that you can hide it easily in your pocket or under your sleeve so you can perform devious tricks quickly. However, please be aware that the stuff is extremely sticky and thus should be handled with caution. Do not use it on your classmates (except only the meanest bullies and worst enemies, of course!) or your family; do not use it on your Neoschool teachers (I don't think Mr. Lupid would appreciate that very much), and, for goodness sake, do not glue your own hands together!

#8 Greedy Kadoatie Piggy Bank:
This little demon of a "toy" is exactly what it sounds like... it eats up your neopoints! These cost only about one neopoint if you use the dandy Shop Wizard, which is quite logical if you think about it. TNT probably wouldn't want riots outside Neopia's Toy Shop boycotting the Greedy Kadoatie Piggy Banks because they cost less than they actually took! Give this to a friend as "gift" and do your best to keep your chortling at a minimum as they watch their beloved neopoints disappear before their eyes! (Don't worry; the package has instructions teaching you exactly how to find the neopoints again, so your friend won't hold it against you forever.)

#9 Red Grarrl Spinning Top:
There are not many spinning tops that make roaring sounds, but this one does! It is a great gadget to bring along to a fancy cocktail party with all the most famous Neopians; while everybody is having a good time eating nimmo cream cakes and other delectable eats, twirl this spinning top when they aren't watching. Two seconds later? Chef Bonju has toppled his silver tray of cakes onto Princess Amira, and Princess Amira has cake smeared all over and is running out of the door yowling at the top of her lungs. Classic.

#10 Fake Barf:
This is definitely the biggest must-have in this whole entire kit! What classic joker wouldn't want this good of a trick tool? There are endless ways you can use this to fool somebody; drop this beside your Tonu sibling's bed right after he goes off to snooze. Just imagine him waking up on April Fool's Day and swinging off the bed, only to have his feet stuck in a gooey, green mess!
Well, there you have it: ten ridiculously awesome tools that will help you be the best classic joker in Neopia for 2010 and every other year to follow! Be sure to mix up your tricks a little bit so that nobody can pinpoint you as the trickster every time. Soon, Neopets everywhere will be anticipating and fearing your latest tricks, and youngsters will be begging you to take them as your foolish apprentices. Just don't drop the Fake Barf by accident, or the joke will be on YOU!