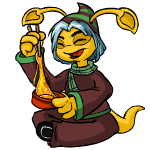 An Alternative to the Giant Omelette and Jelly

by yuri445

--------

Food prices are climbing in Neopia, and as a result some might be looking to readily available foods like the giant omelette and jelly to save some neopoints. Refusing to feed my pets the readily available foods, I have found many choices in the food category for them and at the same time opened and improved their palate. You do not have to be a food expert to know that feeding your pets the same things over and over again is unhealthy and frankly, tiring, not to mention boring. If you are tired of feeding your Neopets the same old meals every day, then you have found the best guide to train your pets' food palate. You do not have to be rich to find decent meals for your Neopets from time to time. I have listed some affordable foods for the rich Neopian with millions in the bank and the poor Neopian who is saving up for that special paintbrush that will not leave your bank account empty.

For the Poor: Three-course dinner for 1,000 neopoints and under.

Who said the best things in life have to cost an arm and a leg? Cheap price foods do not have to mean low quality. If you do not have enough neopoints to indulge your pets in expensive meals, take a look at this alternative three-course dinner.

Appetizer

For less than 300 neopoints (at the time this article was written), you can zap your pets to Shenkuu, sit down, and enjoy their delicious Bowl of Alphabet Soup. With a rarity of 101 you will find your soup made from organic veggies and grains, a healthy great appetizer to start your meal off in style. Just because a food item is cheap does not make it any less tasty. Put on a heavy coat and head to Terror Mountain to try their Snowflake Bread. Although shaped like a snowflake, this bread can be eaten in any day of the year, and not just the winter holidays. For 200 neopoints your pets will enjoy this freshly baked bread with their soup. If you find yourself a little short on neopoints, you can try Altadorian Bread for as little as 10 neopoints.

Entrée

Whisk your pets to Tyrannia for the main course and try their Tyrannian Salad. This is the ideal food for those Neopets watching their figure. With a rarity of 88 and a price tag of 100 neopoints, with some shops selling it for 30-70 neopoints, your pets get the local cuisine of this prehistoric Neopian land made with a blend of plants in the area. An alternative choice to the salad will be to go to the Lost Desert and try their mouthwatering Puntec Fruit Pasta. Although the pasta can sometimes be eaten for dessert, this 82 rarity food will set you back by 200-300 neopoints without breaking the bank.

Dessert

Berry Topped Frozen Yogurt is a tasty yogurt topped with yummy berries and a healthy choice to end your meal. A rarity of 84, this scrumptious dessert will only cost you around 300 neopoints.

For the Rich: Three-course dinner for 98,800 neopoints and under.

So you are a well to do member of the Neopian society and can afford to splurge on the finer things in life. Times might be tough, but there are certain things you can not live without, and one of those things is finding the best meal money can buy for your Neopets. With a large bank account to support your lifestyle, you have endless possibilities when it comes to what foods you can purchase for your pampered Neopets.

Appetizer

Fly over to Faerieland and enjoy a flavorful hot Soup Faerie Soup. With a rarity of 90 and a little over 6,000 neopoints, your pet can indulge in a fabulous new recipe created by the Soup Faerie herself! Parmesan Herb Bread is the perfect combination to the Soup Faerie Soup. Around 40,000 neopoints and a rarity of 91, this baked bread is made fresh and warm right out of the oven. If you find yourself shying away from the price, maybe a better alternative to the Parmesan Herb Bread will be Raisin Kacheek Bread. A little under 2,000 neopoints and a rarity of 71, this bread is filled full of raisins, which contain a lot of fiber to keep your pets going throughout the day.

Entrée

Strap on a scuba suit, dive underwater, and visit Maraqua for their famous Filet of Beef steak. The look of the steak itself will make your pets happy before they even taste this mouthwatering main course. A rarity of 101 and a price tag starting from 50,000-99,999 neopoints, this succulent steak comes with a whirl of asparagus. Being one of Maraqua's finest, this steak has tender, melt in the mouth texture that will keep your Neopets happy for the day. If you are strapped for cash, an alternative to the Filet of Beef will be Prickly Merato and Screlon Salad. Rent a wagon and head to Brightvale for this expensive but delicious meal. The salad will set you back about 8,000-9,000 neopoints, but at this price it is a bargain for this food item with a rarity of 94.

Dessert

The perfect dessert to end the day will be to catch a cruise to Mystery Island for their Slice of Lemoran Pie. A rarity of 73, you get a tart and yummy pie around 1,000-2,000 neopoints. To complete the day, a Warm Caramel Latte with smooth creamy caramel is sure to refresh any Neopets who has 1,800 neopoints and up on this 81 rarity food item. The pie and latte are relatively a cheap way to unwind after a whole day of trekking around Neopia.

List of foods for the poor Neopian: Sprout Borovan, Coco NeoCrunch, Honey Glazed Ham, Meaty Pot Pie, Molten Melt, Ice Cream Machine Sundae, Cabbage Taco, Sushi Rolls, Scorchipepper Jacket Potato, Grilled Asparagus, Mushroom and Herb Salad, Wicked Wocky Wobble Sandwich, Cup of Hot Borovan, Tropical Fruit Smoothie, and many others.

List of foods for the rich Neopian: Spam Shenkuu Sushi, Fancy Rack of Lamb, Blue Elephante Sundae, Meerca Bolognese, Sweet Ham and Fruit, Exploding Slushie, Pumpkin Spice Soup, Snowflake Winter Coffee, Fall Sprinkle Cupcake, Spring Picnic Basket, Pizza Sandwich, Christmas Negg, Headless Horsefish, Red Bruce Ice Cream Cherry Sundae, and many others.