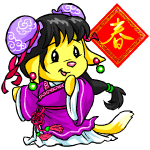 Celebrating Shenkuu Style: Lunar Festival Fun

by giggilogalmewmew

--------

Shenkuu is a beautiful land of exotic food, games, and Neopians. One of the things that Shenkuu prides itself is on is its dedication to tradition, and festivals are no exception. Since its beginning, the Shenkuu Lunar Festival has been one of my favourite celebrations, simply for its impeccable beauty! Those living in Shenkuu take considerable care to decorate, cook for, and truly celebrate this auspicious occasion! So why not join in the activities? If you're not able to take the trip out to see the event first hand, here are some ways that you can have a beautiful Lunar Festival, right in your own neohome.

Decorations

In preparation for any celebration, you should always decorate your neohome as best as possible. Because Shenkuu is full of beautiful colours and foliage, there are many stunning ways you can create a festival themed look!

Flowers: Shenkuu is known for its beautiful foliage, and your decorations should be no exception! I love filling my home with exotic flowers for the Lunar Festival, and planters full of orchids are wonderful decorations to add. Just make sure you're careful; orchids are very fragile!

Lunar Images: Since it is the lunar festival, adding a few symbols of the moon around your neohome is a great addition. You can make a beautiful gold garland by stringing together many Lupe Moon Charms! Alternatively, add a few Moon Paving Stones. A great treat as well is to use flattened Lunar Charts as place mats for your kitchen table!

Furniture: If you feel like investing extra into this event, some wonderful Shenkuu style pieces can be found in the Exotic furniture collection. My favourites are the Exotic Rug, and Exotic Wall Art. Just remember, you don't need to spend a lot for it to look beautiful!

Accessories: Decorations are usually all about the accessories! Here are some of my tips for making your home festival ready!

Tack fans to walls, and hang them like garlands in different spots that need sprucing up. The Black Fan of Shenkuu, Air Faerie Fan, Ornate Fighting Fan, Flower Fan, and Psellias Fighting Fan all have appropriate patterns for Shenkuu inspired decorating.

Frame postcards, patterns, and cut outs to create beautiful art for your walls. Beautiful pieces for framing include the Shenkuu Postcard, Shenkuu Team Poster, and Shenkuu Scenic Puzzle (when put together). Also, hanging scrolls like the Elusive Shenkuu Guide, and Shenkuu Bulletin are fantastic as well!

Setting up beautiful props always goes a long way when decorating your home! A few Flickering Shenkuu Lantern Sconce can create a beautiful serene feeling, and a few Shenkuu Flags add an air of festive tradition. A carefully placed Shenkuu Performer Prop Sword and Wooden Practice Fan can look like wonderful pieces of art! And never be afraid to decorate with red and gold trinkets. Shenkuu is also very adorned, so you should adorn your neohome too!

Events

What can you do to celebrate? Well, there are many things! One of the traditional things for any Shenkuu celebration is beautiful fireworks! I suggest planning your events around watching the traditional fireworks, while engaging in some fun activities beforehand. My favourite things to do for celebrations are fun games like charades, playing beautiful music and singing with your friends, and playing out silly theatre productions! Why not try some Shenkuu trivia? Write down questions, then ask your guests and see if they get it right. Every right answer gets a sweet treat in return! Firecrackers are also very traditional, so once it's dark, go outside to a safe area and very carefully light some firecrackers. Make sure that it's only an adult Neopian doing this!

Food

Of course, food is truly one of the main parts of any celebration. The most talked about events are the ones where food is fabulous, and Shenkuu has some of the most delicious dishes in Neopia! Here is a menu that will leave a super impression on your guests!

Start With Sushi

Sushi is a brilliant finger food that can be jazzed up to look posh and expensive, or toned down for a simple midnight snack. It is the perfect party food, and is a wonderful way to greet your guests. If you're having a sit down dinner (which I suggest) start the party by setting out plates piled full of sushi in your event area. As guests arrive and begin to chat and mingle, this gives a wonderful snack as your doing last minute prep on your food. No guest will go hungry, and you get a few minutes extra while munching occurs! My favourite picks for sushi are Poogle Sushi, Sushi Rolls, and Rainbow Roll.

When choosing sushi, make sure that it is made fresh with quality fish, and isn't too large. One or two bites is a finger food; three or four bites should be plated and served with the meal. Be considerate as well; not everyone loves sushi! Leave out some Lotus Rice rolls and you will never have a complaint!

Cleanse the Palate

Once all your guests are there, sit everyone down and cleanse their palates from the rolls they were snacking on. Do this with a nice strong tea! Shenkuuvians absolutely love tea, and often finish or start meals with it. Choose a cold tea, or a hot tea, and pour it over ice into a large pitcher before serving. Cold tea will add just that extra bit of refreshment! My picks for tea are Bamboo Tea, Ginger Green Tea, and Jasmine Tea.

Appetisers

After your guests have enjoyed their tea, begin with a small appetiser. Dumplings to me are the perfect appetiser! They come in a variety of flavours, shapes, and sizes, and are easy to make and heat up. Last Lunar Festival I served my guests a platter of dumplings for their appetiser! I chose three different flavours and plated one of each. I served them with both sweet and spicy sauces, and they were a wonderful hit! Here are my favourite picks for dumplings: Pan Fried Dumplings, Chokato Dumplings, and Koi Dumplings. Serve each guest some Flotsam Rice Crackers after to clear their palate, and then begin with the main course!

Dinner: Soup, Salad, and Main Dish

To me, the perfect dinner involves a soup, a salad, and a main dish. Your categories can vary, but there should always be two sides, and one main meal. Incidentally, there should always be one cold part of the meal that isn't the drink. (Speaking of drinks, offer your guests water or a sweet iced tea. It will add to the event!) Start by providing a nice warm soup while you make sure your main course is just right. By giving out this dish before the other two, you also provide a nice sense of formal dining, even when it isn't. Never serve a large amount of soup! Many soups are very filling and you want your guests to be able to eat everything. The main course is where extras should be available, not the others. You really only have a few options for soup, and they are Mochi Soup, Misty Shenkuu Mountain Soup, and Shenkuu Mountain Miso Soup. I would highly suggest sticking to the miso, because unlike the mochi soup, it is mainly broth, and not as filling.

Salad is a bit trickier. To me, any source of vegetables can be classified as salad, so you have an opportunity to be very creative! Try some Edamame, Lotus Artichoke, or the Veggie Bowl for a delicious vegetable side dish.

Out of the three parts to your main meal, the main course is the most difficult. Due to Shenkuu's vast amount of exotic dishes, stick to one main dish, and just that. Do not mix flavours too greatly, or you might up with some very confused guests! Also, make sure this dish is nice and hot! Here are my suggestions for a delightful main course: Shenkuu Eel Rice Bowl, Shenkuu Shrimp-Fried Rice, and any noodle dish.

Dessert

Oh yes, my favourite course of any meal, dessert! Shenkuu has a variety of wonderful dessert dishes to choose from. You can choose sweet and classic, to unique and exotic! Let's discuss our options! The Traditional Mochi is actually a Lunar Festival favourite, traditionally had to celebrate the Shenkuuvian new year! Made from rice paste, mochi is usually eaten with some sort of sweet sauce. Purplum Buns and Oozing Negg Buns are both rare Shenkuu exclusive treats that tickle the taste buds! Served steaming hot, their insides often gush out and fill the mouth with warm goodness upon the first bite. Ice Cream Dumplings are also a wonderful treat to serve to guests for dessert! I usually set out a plate filled with dumplings, with a small serving plate in front of each guest. This buffet style dessert ensures that everyone gets what they want, and enjoys the nice treat! (Oh, and always have extra on hand; they go like a flash!)

Tea and Moon Cakes

What? The food isn't done?! Of course not! The Lunar Festival has several wonderful traditions, and one of them is indulging in many good eats. A traditional Lunar Festival snack is the mooncake, and I always like to celebrate this auspicious occasion by serving mooncakes and tea while the fireworks are going off! Mooncakes come in four wonderful flavours: black cherry, blueberry, kiwi surprise, and tomato and cheese. They are delightfully bite sized and are the perfect way to finish off your evening!

After everyone has eaten, the games have been played, and people are settling down to go home, I like to give each guest a goodie bag of sorts. Yes, it seems juvenile, but even adults love going home and opening a fun bag full of useful treats! Wonderful treats for the goodie bags include Shenkuu Firecrackers, Shenkuu City Stamp, Natural Wonders of Neopia: Shenkuu, Pink Silk Fan, and a Veggie Nimmo Bento!

The Shenkuu Lunar Festival is a beautiful event to behold and take part in. I hope that this year, with some of these suggestions, your festival will be just as amazing as if you're experiencing it first hand! It is indeed, the perfect time for friends and family to get together. Happy Lunar Festival!