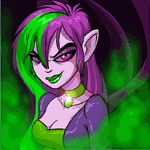 Awakening: Part Three

by linda_reincarnated

--------

"What d'you mean, she won't see us?" Dethrin stared at the guard.

"Exactly what I said. Her Majesty will not see you."

"But it's important, our sister's gone and we've gotta tell Fyor—" The Zafara stopped short and skipped a few paces to his left, as the faerie jabbed at him with her spear.

"That's Queen Fyora to you! Show some respect, street rat!"

"I'm not a rat! I'm a Zafara from the Haunted Woods! And what makes you so great?"

"I," the guard brandished her spear warningly, "am a member of the Elite Royal Guard, and therefore have the authority to throw you in a cell and leave you to molder, so watch your tongue, rat."

"But it's important!"

"More important than the recent disappearances?" The guard raised one elegant eyebrow, threatening, "If you don't leave here now, brat, you'll have a taste of my spear.

"That's what it's about!"

Evidently the Zafara was unskilled in eyebrow language. "It's really, really important!"

"Oh, really? I'll go get the Queen immediately!"

Dethrin beamed and blinked expectantly at the guard. "Great! Thanks!"

The grin changed into a scowl as the guard didn't move and continued smirking at him. "You—"

Annette's tail wrapped around his waist. "Drop it. We'll find another way in," she whispered, and he followed her away from the front gates.

*

They stopped before a drooping palm tree. "Up."

Dethrin looked nervously at the tree; it didn't look very sturdy.

But... it probably has spells on it to make it stronger than it looks, right?

Yes, another voice whispered in his head. But it probably also has spells on it to warn the gardeners of intruders.

Shut up. I didn't save all that toast and risk getting magicked just to Kacheek out in front of a tree.

After a moment's inspection, the Zafara leapt to its rough trunk and crawled up it like a Mynci, swaying precariously on a thick frond and dropped to the top of the wall.

"Pull me up." Dethrin reached down, seized Annette's forelegs and hauled her onto the wall with him.

Beneath them, the gardens were like fans of lavender. Dethrin winced; he and Annette stood out a mile in this field of mauve.

"Can't you cast an invisibility spell?" he whispered.

"Of course not." The Peophin seemed surprised he would even ask. "They'll all smell the magic."

"Smell?"

"Yes, I'll explain later," she whispered. "But right now, let's concentrate on getting into the Palace."

"Uh... then how will we get through this place?"

"...Er... let's just move quickly and hope no one notices us. And if they do, we'll be brought to Fyora for trespassing, and that's what we want, right?"

Dethrin gulped. "Um... yeah. Let's do it!"

And Annette disappeared from sight, into the thick purple bushes beneath the wall.

Crouching, Dethrin crept along the top of the wall to the next section of the garden—this one was filled with what appeared to be glass roses, but no one was in sight. He pricked his ears, listening intently, and upon hearing no movement from that part of the spacious gardens, dropped to the thatched roof of one of the sheds, and from there to the ground.

His heart was pounding so loudly he felt sure someone would hear it. With a quick glance around he started across the open space towards a gate in the opposite wall, which seemed likely to lead to the palace itself.

Around him, all was silent but not still, the roses waving, the bushes Annette was crawling through bowing. Everything rustled without sound.

Like somebody pressed the mute button, Dethrin mused, or they cast a spell so we wouldn't hear somebody sneaking up on us...

This clever theory was quickly proved correct as a voice growled only a pace behind him.

"Who are you, and what're you doing in Queen Fyora's private gardens?"

Annette burst from the bushes, exclaiming what might have been "How did he know?" in a wild, garbled tone. Then she turned back, registered the surprise in the guard's eyes and a long string of unintelligible profanities spewed out.

Taking advantage of the guard's shock, Dethrin sprinted for the gate and tugged it open, Annette close behind him. Next instant they were in an open-air kitchen, full of ovens, turkeys, the fragrance of new bread and unfortunately, swarming with cooks.

Dethrin heard a gasp of dismay and realized it came from him; "Charge!" also from him—he plunged straight through them, ignoring their startled cries and outstretched paws, while the Tonu guard thundered in hot pursuit, bellowing, "Catch them! Catch them!"

He tipped a bag of peas on the floor and heard their cries of frustration. If this were a game, he thought, I'd get bonus points. Or at least a free life.

The idea of this just being a bizarre game struck him as funny, and he started giggling as he ran through rows of onions.

"Yah!" He flung himself onto the ground as two guards dove at him, taking great pleasure in hearing the thud that meant they had collided in midair.

"I'll bet I could teach Valrigard a thing or two," Dethrin said happily as he scrambled to his feet, and continued running.

"Oh, yes? Can you fly over that?" They had reached a dead-end courtyard, bordered by a marble lattice wall in which scenes from faerie history were etched. Through the holes, they could see another garden, hexagonal paving stones gleaming moonstruck purple.

"Your Majesty, now is the time," a low voice was pleading. "Perhaps it is already too late. I must entreat you, let me..."

Peering through an aperture, Dethrin glimpsed the back of a faerie, gesturing somewhat wildly.

"Ninety-nine disappearances, all near Jhudora's Cloud, could any one doubt that it is she?"

Tilting his head slightly, Dethrin could see Fyora, her face tilted to the skies, her expression thoughtful.

"...a great deal! Neopians are getting suspicious, Your Majesty! If we delay any longer, they might even suspect that we have a hand in it! There are families to answer to! Your Majesty, we must act before it is too late—"

"I cannot be sure," Fyora murmured. "I do not know whether or not..."

Two strong arms seized Dethrin around the middle. The Zafara hooked his fingers into the marble lattice and hung on, desperately. "Fyora!" He choked out. To his left, he could hear the chuckle of flames in Annette's hooves... she can free me but she'll probably also burn me so please Fyora tell the guard to let go before she does... please please please Fyora...

"Queen Fyora!"

The two faeries turned to look at him, startled.

"Release them..." the other faerie ordered. "Come over here, you two."

"Your Majesty!" Dethrin rasped, clambering over the wall. "Our sister's gone! You have to find her!"

Fyora's delicate eyebrows raised slightly and touch of exasperation colored her voice. "Haven't you already reported this?"

"No, the other one! Raven! Y'know, the Uni!"

"Jaina?"

"No, Your Majesty. Nobody reported it."

"Well, I've reported it now! And why haven't you found Massie yet?"

"A hundred." Fyora wasn't listening to him anymore. "Wings for the breaking, wings for the making... "

"Well, technically, it would be two hundred—" Dethrin said, without thinking of what Fyora's words actually meant.

"Very well, Jaina. Alert the troops. Tell them... to prepare for war."

*

Shapes moving about. A dim light shining. A cloaked figure appears, hovers over her.

Raven fades back to the dark.

...

Another figure, face hidden in the depths of a cowl. The figure is gesturing, speaking. Asking questions? All she can hear is ringing.

The figure leans closer. Now she can make out the lower half of a face, lips, moving.

It hurts. It hurts to focus. It hurts everywhere.

Where is she?

I was in a dark alley.

Darkness.

...

The faerie from the alley this time, saying something, offering a piece of toast. Raven can't hear but she can see the words spilling from her lips, purple... fog...

All around, blurs...

Blurs blurring into blurry blurs of color...

Her nose burns from the scent... of the color? No... of the thing that is that color. And what is that color? She can't remember.

Mercifully, darkness closes in on her again.

*

"Wings for the breaking, wings for the making..." Annette whispered yet again, feeling the words twine around her tongue like some exotic spice, redolent with power.

Dethrin shuddered while wrapping a stack of toast in a napkin.

"Breaking... making..."

"Stop it... it's kinda disturbing."

Annette stared at him.

"It sort of... sucks at me."

A spell, then. One that would take power from another. One that would leach at others. Dark magic.

"Let's go back to the hotel... I'm putting this with the rest... i—when Massie is found, she'll be hungry."

"No... you go... I'm going to the library to look something up... we're probably safe from being kidnapped, but don't go picking fights... and keep your dagger with you."

"What use is a dagger against magic? What if Jhudora blasts my dagger into a squillion pieces? And what use would a dagger be if I were a deaf and dumb Snorkle?"

Annette sighed exasperatedly. "You probably won't even need it... it's just a precaution, okay?"

"O-kay..."

Annette is right most of the time... but why'd she have to add that 'probably'?

He was almost at the door of the tavern when he smelled it. Bitter, corrosive, yet strangely appealing... like rich, creamy chocolate, coated with acid. The smell Annette had just warned him to stay away from. The scent of Dark stuff.

"It bewitches the mind, ensnares the senses—and eats at your spirit," she had intoned solemnly. "Stay away from it."

He meant to take her advice. He really did.

But then he caught fragments of speech, spoken in Jhudora's voice, on the other side of the door.

"...for the breaking... ancient... crushed like petpetpets..."

He had heard enough. A hot rage rose in him, banishing his fear of magic. He was going to save Neopia from being trampled like so many Mootixes.

Dethrin drew his dagger and threw himself against the door, ready to kill whatever waited on the other side.

To be continued...