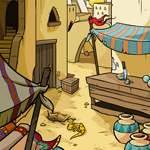 Sands of Time: The Beginning - Part Two

by lovesdogsago

--------

When she woke up the next morning, she felt invigorated. After eating a small breakfast and packing up camp, the four set off again. With each step, Jehea remembered her brother.

"How were you so sure the Sakhmetahn guards wouldn't think you stole the crown?" Aspire asked as they trekked down the mountain.

"Hmm? Oh, I took a letter from the crooks' pack. It was from their leader, telling them what to do with the crown once they stole it. Here, I'll read it to you:

Sahrden and Cortrenton:

It is vital that you complete this task as soon as possible. Once you have stolen the crown, smuggle it into Shenkuu. If we can get Princess Amira to believe that Shenkuu has stolen the crown, a war will inevitably break out. With Sakhmet in a weakened state, we shall conquer it! Then, we shall go after Qasala, Shenkuu itself, and eventually all of Neopia. The plan is flawless. Once you smuggle the crown to Shenkuu, I will have agents waiting at Sarkhet Mountain's base. Give them the crown, your mission shall be completed, and both of you will earn rewards. Remember, completion of the task is vital. Once you are done, come to our hideout in Qasala. We have just recently changed the passage of entry. If you want to enter, go into the small cafe on the outskirts of town. Speak to the green Mynci, and tell her: The gate is open, floods will rise, in Shenkkuan, which I understand Sahrden speaks fluently. Once you say that, she will lead you to the entry. To get past the guards, tell them the same thing, only, in Sakhmetahn, with the last word in Shenkkuan.

Tread wisely.

Ruler of Sakhmet,

Metthallion."

Jehea froze. She knew she had heard the name Metthallion before. And now it was too late. Aspire and Jehea looked at each other in alarm.

"We've got to go after them," Jehea said in determination.

"It's too late. They're probably back at their base by now! They were traveling quickly."

For a brief second, Jehea gave up. But then, a new thought came to her head. 'If I give up on my country, doesn't that mean I'm giving up on my friends, family, home, and even my brother?' Then, she had no doubt.

"We have no choice. Both of our countries are depending on us right now. Let's follow the directions on the letter. If we can make it to Qasala before sundown, then I'm sure we can think of a way to get the crown back."

"You're right. Let's go." With encouragement anew, the group headed off swiftly. They made it off the mountain quickly, and it seemed to Jehea that they would make it to Qasala in no time.

"Look, it's so close!" she said happily as she took out her canteen and gave Cyrahn some water.

Aspire shook his head with a sad smile. "No, actually, it's much farther then it appears. We've still got a long way to go, yet."

Jehea, still lighthearted, took a drink and put her canteen away. "If you say so." And they did walk, for a long time. "How is it," Jehea asked, now worn out of cheerfulness and energy, "that we've been walking four hours straight, and yet we never seem to get any closer?"

Aspire laughed. "It's something you get used to living in the desert. Really, we're quite close." The four reached the city just as the sun was about to sink down into the sea of dunes.

"Okay, so we're supposed to go to a cafe on the outskirts of town, but I don't see any cafe..." Jehea said.

"Hey, look! It's a pharmacy! I'll bet that they have some fire clover." Aspire cut her off.

The Lupe and Bori, with their petpets at their sides, entered the small, seemingly forgotten building. A single candle was its lighting. It had a nice earthy smell that drew you in. A single figure was in the building: a small, withered old orange Cybunny.

"Welcome to my pharmacy," she said, with a mysterious twinkle to her eyes, in Shenkkuan. Aspire looked confused, but Jehea was amazed.

"How did you know I spoke Shenkkuan?" the Lupe asked in her native tongue.

The Cybunny smiled. "You, in this culture, stick out like a flower in thorns," she said, likewise. Then she added in Sakhmetahn, "How may I help you two?"

"We are looking for some fire clover. My brother is terribly sick, but there's no fire clover in Shenkuu. It doesn't grow there."

The Cybunny nodded, and then looked up into Jehea's eyes. "Child, I've been around longer than your great grandparents have, and I can read you like a book. Why else are you in Qasala?" Aspire was slightly suspicious of the old woman, but trusted Jehea's intuition.

"We are here to find Coltzan's crown. It was stolen by the leader of some thieving ring. I don't know the name of the group, but I know the leader is called Metthallion."

The Cybunny nodded wisely. "Yes, few know or believe that Metthallion is indeed head of the ring, but it is true. He is in charge of a band called L'ahn tah Neerokenah, which is ancient Qasalan for Fang of Cobrall. They call themselves L'ahn, or 'Fang'.

"They are always changing their entry of their headquarters, but, if you know how to get in, I think I have something that can help you retrieve the crown." She left for a moment, into a back room, and returned with two beautifully woven cloaks, and a small package.

"Here," she said, handing the package to Jehea, "is the fire clover for your brother. Just feed him a bit of one leaf, and he shall be as good as new. As for the rest, if you dry it and put it into a pot in the main room of your house, the smell shall repel many disease carrying petpetpets. It also smells quite lovely." Jehea murmured her thanks as she devoted the instructions to memory.

"And these should help you get Coltzan's crown." She handed a cloak to each of the neopets. "They don't make cloaks like that these days. Take care of them. When you wear them, you shall look like two, normal neopets. However, in case of any danger, simply hide behind the cloak, and you shall be undetectable."

"So they're just fancier versions of the invisibility cloaks you can get at the weaponry shop in Sakhmet?" Aspire asked, confused.

The Cybunny laughed. "Did I say that? No. These cloaks make you undetectable. No one will be able to see, hear, smell, or even feel you. Very handy if they have searching petpets in their vicinity." The two tested them out, and found that they worked quite well.

After thanking the Cybunny once more, they left. "It's sorta late. Do you want to rest somewhere?" Aspire asked, yawning.

"We can't rest now. We're too close. What if they decide to strike right now? What if tomorrow, after we're ready to catch them, Sakhmet already declared war on Shenkuu? We can't rest." The Bori, though still tired, acknowledged that such was true. "Look, there's the cafe." The group walked in. It was still quite busy, more or less, with about twenty neopets sitting at various tables in the small building.

There was no line, so Jehea and Aspire walked up to the counter. A skunk Zafara stood there, looking bored to death. "Excuse me, but may we please speak with a green Mynci who works here?" The Zafara didn't even look up. He just walked to the kitchen, muttering under his breath. A few seconds later, a green Mynci walked out.

"What do you want?" she said with attitude.

A bit taken aback, Jehea took a deep breath, and quietly spoke.

"The gate is open, floods will rise," she stated calmly in Shenkkuan. The Mynci's eyes narrowed.

"Follow me, you two." They walked into a door that said employees only, and found themselves in a tunnel, lighted by torches. "Good luck," she added before walking back out of the tunnel.

Aspire looked at Jehea. "Well," he said, somewhat shakily, "This is it." Cyrahn whined and Gebji tucked himself closer in on his owner's shoulder. The neopets assured their petpets that it would be alright, even if they didn't fully believe it themselves, and began walking down the path. With each step, Jehea remembered the importance of both of her missions. She knew what she had to do. There were no options. She could do nothing but complete the tasks before her.

Finally, they came to two large doors, guarded by two equally large Grarrls. The two studied Jehea and her companions for a short while before one of them said, "What is the password?"

She began in Sakhmetahn. "The gate is open, floods will," Jehea took a deep breath, and uttered the last word in Shenkkuan, "Rise."

The guards gave them entry as they opened the doors. Jehea, and Aspire, with their petpets seated firmly on their shoulders, entered the doors quickly. What they saw astounded them.

To be continued...