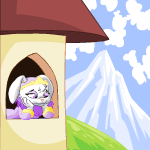 Magical Evil: Part Two

by sapphirekira

--------

"Welcome, all!" King Hagan stood up, smiling in greeting to his guests, who clapped as he stood. Formally, he said, "I was ecstatic about inviting twenty of my childhood friends to a banquet. Do you all remember those days, when we were young, and were taught in the Brightvale School of the Higher Classed?"

Everyone around the table nodded – except for the Yellow Acara, who simply looked confused. Hagan noticed this, and quickly said, "Of course, there is one among our number whom we are not familiar with. Are you the servant to Memphis, the Duke of Central Meridell?"

The Acara nodded. "Indeed I am." She looked around the room, and her eyes passed over the bookshelf. Rosalene only just stopped herself from gasping out loud. Their eyes had met. She quickly leaned back into the room – hopefully the Acara would think it was a trick of the light. She waited, and listened to her voice as she stood up and spoke to the other guests. There was... something about her that frightened Rosalene a great deal.

"Good evening, to all. My name is Alarisca Seldamira, and I am currently an assistant to the Duke, Memphis. I am his Royal Sorceress, and with me he seems well pleased. I hope you will realise that I am not some mere, low servant. I am one of Memphis' most trusted, loyal friends. In fact, I am at the level of his personal advisor."

There were some impressed murmurs around the table. They were all amazed about Alarisca being a sorceress – magic was rare, both helpful and harmful, and anyone with gifts of magic was well respected by many. There were many potioneers such as Kauvara, but true magic was wielded by few. In fact, there were no sorcerers or sorceresses in Brightvale, and hadn't been for over two centuries.

Rosalene let herself peek at the Acara again, and felt very disturbed at the sight of the smirk on her face. There was also a strange beauty about her – an unnatural beauty, considering her plain colour. There wasn't a strand of fur out of line, her crimson hair twisted in an awe-inspiring way, and... her eyes. They were light brown in colour, but Rosalene thought she could see red around the edges.

One thing was for sure – Alarisca was not a normal neopet.

"We should start eating! Isn't that what a banquet is for?" one Royal boy Blumaroo said cheekily. There was a ripple of laughter, and everyone started to dig into their food – well prepared, luxurious dinners, and delicious drinks that would be loved by all. Gourmet foods, specially ordered – rich potatoes and gravy, fresh tropical fruit, and chocolate to share. For a few moments, there was only the sound of the beautiful golden cutlery as everyone began eating hungrily. Later, however, Rosalene heard and saw something that made her freeze all over.

Alarisca turned to Hagan, a sickening smile on her face – couldn't he tell she wasn't innocent? – and asked, "Your Royal Majesty, do you not have a daughter named Rosalene?"

Hagan's eyes suddenly became the size of Draik Eggs. "I do," he hissed.

"Forgive me for asking, but may I see her? She sounds like a very intelligent young lady, and I would be happy to teach her some magic. It would be useful for you, as well, having a talented sorceress as a daughter!" She suddenly seemed to notice how Hagan's face had gone all puffy and red. "Your Highness, did I say something wrong?"

"Rosalene. Is. Not. Seeing. Anyone. I don't want her to be kidnapped or... well, have anything terrible happen to her, like her mother." King Hagan reached for the bottle of Hot Munuberry Juice, but Alarisca smiled and poured it out for him.

"I apologise, gracious King, for asking that question. I was merely curious. I am only fourteen myself, and it would be nice to meet someone similar to my own age. I don't see any youths at the palace of the Duke."

"There need be no worries. But I ask you to not mention it again." Hagan looked serious.

"Indeed, Wise King, I shall refrain from doing so."

***

The rest of the night went well. Rosalene was awed as she watched the royals talk, eat, drink, take part in various ceremonies and more. When the jugglers, dancers, musicians and other entertainers came, Rosalene was amazed and – for once – happy. How could her father keep her away from all this?

She didn't forget the strange look in the Acara's eyes and her malicious nature, even though she acted so kind and formal towards everyone else. This was all new to Rosalene. She had never been suspicious of anyone before. There was no-one, and nothing, that she had ever had to be suspicious or curious of.

The party finished late in the night, and by that time Rosalene was also quite tired from standing and watching. The guests started to leave, but Alarisca remained. The Acara turned to the King and asked in a falsely sweet voice, "King, I have a small request to make. The books on this bookshelf next to us have caught my eye – there are many I would like to read. The Duke Memphis keeps his own private library, and I have not sat down and read books since I became the Duke's sorceress three years ago. I was wondering if you would let me read them."

Surely not, Rosalene thought. Her father was very careful about his possessions, and the servants were punished severely if they dared touch them. But to her shock, Hagan said in a mellow voice, "Absolutely – it would delight me in helping you."

"Thank you very graciously. I grateful for your kindness, but I do have another request. I prefer privacy and silence around me as I read. Please ask everyone else to relocate from this area."

"I shall – enjoy reading the books."

"And I will. Again, thank you."

Rosalene pressed against the wall as she heard the footsteps of her father fade. Then softer footsteps echoed slightly, reaching Rosalene. Alarisca sat down, and took a book from the shelf, very near Rosalene.

For a few minutes, the only sound was that of Alarisca turning pages. Then, all of a sudden, as Rosalene was about to leave, Alarisca said in a tone of evil, "I know you're in there."

Rosalene squeaked in fright, too scared to move. She heard the sound of fingers snapping, and suddenly she had, painfully, materialised on the floor next to Alarisca. The Acara smirked. "Nice of you to join me."

"What do you want?" Rosalene asked in fear.

"There's a lot I want – and from you specifically, there's a lot I want as well." She cocked her head. "Dear, how does it feel like living the life you are now? Not knowing anyone? Seeing and hearing other Neopets only because a servant helped you? Not even having a true identity? No friends? Do you feel imprisoned, trapped?"

Rosalene gaped at her. "How do you know Narum helped me w – " But Alarisca waved the question away. "I'm a sorceress, dear; there are many things I know and can do."

Rosalene sat up, and started to run, but a snap of Alarisca's fingers and she was back right where she was sitting.

"Be a good girl, child."

"Why do you say that? You said you were fourteen, you are a child too! Well, mostly."

"Do you honestly think I'm fourteen? I'm over a hundred years old." Alarisca glared at her. "Now, Rosalene, listen. Your father is not a very good King. A good King would not shut his daughter away trapped, and tell no-one of her. He is trying to trap you, imprison you, while he invites guests over for banquets. How can you know he doesn't do that to other citizens too?"

Rosalene couldn't help nodding.

"There are many things he doesn't care about. There are Neopets who are poor all over Brightvale, despite their intelligence. And your father doesn't care. He just sits on his throne, making Neopets come to try and gain more knowledge. Is that fair? No." She seemed a little less frightening now.

"Rosalene, magic is a rare yet important part of this world, mostly forgotten. Magic can make order. It can give much power to the person wielding it – if they have the ability to spread that power. I know I may not seem the nicest neopet ever to you, but I have power, intelligence and magic. Three good qualities for a leader.

"But to gain power, I need to have you out of the way. With my magic, I can convince your father to leave the throne to me. But then... you are the heir, and whatever he would say in his will would be ignored if you are still there. I mean no offence, but, Rosalene, you are not bright at all. You would make a terrible queen. You are not one who knows Neopets well. I am the first neopet apart from your father and the servants that you've talked to. A queen knows her people."

Rosalene felt she knew what was coming on. "You can't do that!"

Alarisca ignored her. "Rosalene, what do you want – to forever be trapped in here by your father, or let me be queen of Brightvale, and eventually of Neopia, and spread all the goodness of magic everywhere? You will have a better life than living here with your mediocre father."

Silence.

"So leave. Run. I will make magic to look as if there's been an accident you were victimised in. Just run." Her eyes glinted with evil. "Rosalene, if you disobey me..."

Years of being tied down by her father had taught Rosalene that disobedience led to consequences. She stood up.

"Good girl."

So she ran – out of the castle, somehow without being seen, and out into the countryside of Outer Brightvale.

And she didn't look back.

To be continued...