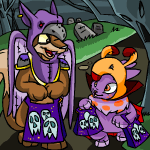 Top 16 Spooky Halloween Treats

by giggilogalmewmew

--------

Ah, here it is, that hollowed time when ghosts need bopping, witches start cackling, and monsters of all kinds can be seen creeping from corners. Halloween is, and has always been, my second favourite holiday of the year! Stamped right in the middle of my favourite, and the most colourful season of the year, Halloween has been known not only for its harvest festivals, but for the hauntingly spooky activities that go on during this time. For many people, myself included, Halloween is more of a 'stay at home' celebration. We home bodies cuddle up with a good book, wrap ourselves in a blanket against the newfound cold, and generously gorge ourselves on handful after handful of candy. Yes, like most holidays, Halloween is probably best known for its food aspect, and for my one or two faithful fans *frantic waving* you'll probably know by now that food, well, it's my favourite thing to write about!

The thing about Halloween, though, is that as far as food goes, candy seems to be the only thing Neopians think of when they look at the holiday overall. I, however, am here to dispel the notion that Halloween is a candy only festival! After years of sitting on the couch and tentatively trying every spooky food available, it is time for me to provide my findings to you, the hungry reader who wishes to indulge in all the holiday has to offer! It's time to kick that candy bowl to the curb, and whip out your fork and plate. Onward, hungry fellow, onward! For here we are, right in the middle of my Top Sixteen Spooky Foods list! Could it be any more mouth watering?

16. Pink Spooky Floss
Although a truly delicious treat, we can't ignore the fact that this specific brand of candy floss is, well, screaming. Thus the reason this sweet treat has been placed on the bottom of the Top 16 list! Pink Spooky Floss to me is a mystery wrapped in an enigma, a wonder of a food surrounded with a thick layer of curiosity. For the brave candy floss fan, this spooktacular treat is possibly one of the greatest floss delicacies known to Neopians. If you can overlook its screaming to get to the delicious part, you'll note that there is a generous hint of strawberry flavour backing it. While others have tasted it and claimed that cherry is the backbone to its fruity notes, I have found that the easiest way to describe its taste is simply say 'Pink', and be done with it. Thankfully, there is nothing living about this carnival treat that causes the shrieks and wails as you take each bite! We can simply thank the lovely shopkeeper at Spooky Food for their ingenious enchantment.

15. Tomb Chips
Like I said, Halloween isn't all about candy! The Spooky Food shop offers a variety of unique main course style dishes, and one of my favourites is a fresh salty order of Tomb Chips. Despite the fact that they are covered in cobwebs, once you pick off the dust, Tomb Chips are surprisingly fresh and full of life. They're quite simply just regular french fries! Packed in a very cute tombstone container, these deliciously crisp chips are a lovely side dish, or snack if you've got the munchies. Best of all, the potato adds a little more nutrients than just a handful of candy.

14. Raspberry Ghostkerchief Jelly
Yes, I know, my first inkling was SAVE THAT POOR PETPET!! as well. However, this sweet jelly treat has no ghostkerchief in it, and I suspect that the only use for a petpet was to make the mould for the jelly! Shockingly adorable, this cute little jelly has the same sugar in a regular lolly, and about five times the content. Stuffed into a rather pretty bowl, the ghostkerchief jelly looks like it's trying to climb right out, and is best served when chilled. Best of all, when I asked the Spooky Food shop owner, he told me that it was made from real raspberries! A sweet treat that will satisfy your sugar craving, this bowl of jelly is a healthy alternative to a handful of suckers.

13. Frothy Fruit Juice
Spooky number thirteen has arrived! The Frothy Fruit Juice is another spooky food that looks far more horrific than it actually is. In truth, it's really just one of Neopia's foamiest fruit drinks! Sweet strawberry and black cherry flavours have been mixed together and blended with enough carbonization to send even the biggest soda fan fleeing in terror! When poured, this carbonized fruit juice builds a huge cap of foam, often spilling over the edges of its truly ghastly serving cup. While this drink is delicious, try not to guzzle TOO much on Halloween. The sugar inside of the fruit juice will send you bouncing off the moon!

12. Coco Pumpkin
Alright, so maybe there are more candy and chocolate coated spooky treats than I realized, but at least this isn't ALL chocolate! The Coco Pumpkin mixes the best of both the pumpkin and chocolate world together, using the Chocolate Factory's finest rich milk chocolate, and one of the best pumpkins grown in the hollowed woods behind the Spooky Fairgrounds. While one might shy away from the idea of eating a whole pumpkin, have no fear! This miniature pumpkin has been boiled in hot water, cooking it inside and out, allowing the true flavour of the pumpkin to shine through. Once dipped in chocolate, this little pumpkin becomes reminiscent of the caramel apple. To eat, simply take your pumpkin, and give it a nice big bite! Your mouth will soon be filled with the delicious taste of rich milk chocolate, and gooey warm pumpkin. As for the stem, just toss it out when you've finished!

11. Candy Skull
The Candy Skull is one spooky looking treat, and should only be eaten every now and then, for its truly high sugar content. While one might think that this skull is something dug straight from the depths of a Haunted Woods tomb, the truth is, it's all toffee! Hardened toffee has been formed into a skull shape, then planted firmly on a stick for easy eating. The skull is dried and then dipped in a mixture of rich caramel, peanut butter, and nut crumbles! I like to eat mine starting from the side, and making sure I include a little caramel mix with every crunchy bite of toffee. It's the perfect treat to send with your little ones when they go out trick-or-treating, since it's easy to eat on the go, and sugary enough that if you're lucky, they'll be too sugared out to dig into their candy on the way home!

10. Pumpkin Ghost Toast
Ignore the description! Pumpkin Ghost Toast is actually a truly tasty treat that is a wonderful way to start your Halloween off! Once autumn hits, my favourite thing to do is start making my meals more spooky, and breakfast is no exception. While many of the ghost toasts are questionable, the pumpkin version is actually very palatable, and is a healthy way to include pumpkin in your breakfast. Pumpkin Ghost Toast is a very simple treat, involving just a ghost shaped piece of toast, and three dollops of pumpkin jelly. Enjoy this toast on Halloween morning as a frighteningly delicious way to start the day!

9. Ghost Puff
Eek! A ghost! *collapse*
Whew! What was that? While the Ghost Puff may look quite shocking, the beauty of this frightening treat is that it is simply just marshmallow. Marshmallow fluff has been spooned out, mixed with food colouring, and shaped into a ghost. Once plated, this treat is set to harden just slightly in a refrigerator. When cold, this puff is a sweet and fresh treat that is easy to eat by hand, or spoon. Just make sure that you're ready for its frightening face!
Hey! Want to make your own Ghost Puff? While this recipe isn't quite the same as a regular Ghost Puff, it's a fun way for little Neopians to spend some quality Halloween time with their parents! :) So parents, this one is for you!
Materials: 1 large marshmallow, 1 toothpick, chocolate sauce, microwave, plate
Step One: Taking your plate, set the large marshmallow in the center and consider a spooky face you'd like the marshmallow to have.
Step Two: Open your chocolate sauce, and dip the toothpick inside the sauce. Coat it well!
Step Three: Using the toothpick, lightly draw a spooky face on your marshmallow. I like to use a haunting jack-o-lantern expression on mine!
Step Four: Open your microwave and put the plated marshmallow in. Close it, and turn it on for approximately 10-20 seconds. Watch the marshmallow carefully! As it heats it will expand and its spooky face will grow! Remove said marshmallow before it cooks too much. You just want it to puff up!
Step Five: Eat! Don't wait to eat the marshmallow, but DO blow carefully on it so that you don't burn your tongue. If you wait too long, the marshmallow will harden, and will no longer be a gooey ghost puff for you to munch.
Enjoy! (And if you're a young Neopian, PLEASE ask a parent for help!)

8. Vanilla Ghost Cake
Strangely enough, the only thing vanilla about this cute little ghost cake is the fondant icing! Underneath that spooky sheet of white lays a delicious and moist chocolate cake, mounded high and shaped into a ghost. A haunting mouth has been cut out of the fondant, and two ripe cherries make the perfect eyes on this spooky cake! Despite its height, the Vanilla Ghost Cake's small width makes it the perfect size to share between two. Add a big glass of milk and a fun game, and it's the perfect opportunity for some friendly chatter between friends!

7. Ghostmallow Smore
If you're looking for a fun activity on Halloween, take a quick camping trip to the Haunted Woods! The spooky backdrop is the perfect thing for a blazing fire, terrifying tales, and some Ghostmallow Smores! These delicious little smores are the easiest treat to make, and are perfect in advance, or fresh off the open flame! All it takes is graham crackers, your favourite chocolate, and a few ghostmallows. Ooey, gooey, and certainly rich, these smores are the perfect Haunted Woods treat! Plus, that adorable happy ghostmallow face is there to greet you with every smore you take!

6. Haunted Milk
After all those cake slices, and rich warm smores, there is nothing better than a glass of cold milk to wash it all down. Haunted Milk, that is! Haunted Milk is probably the silliest beverage known to the Spooky Food shop. Creamy Kau-Kau Farms milk has been chilled to perfection and filled in an enchanted ghost glass that howls and wails until every last drop has been drunk! While the howls and wails emitted from the glass might spook a Neopian not in the know, many a drinker has been caught giggling away in between each sip. My favourite part? Trying to catch the glass before it floats away!

5. Vanilla Ice Cream Apple Lantern
Starting the top five spooky foods is a true classic - the Vanilla Ice Cream Apple Lantern! Apples have always just screamed autumn, and the apple lantern is an amusing way to mix the crispness of apples, with the dying warmth of the summer season, and the sweetness of rich spices. When you add a scoop of vanilla ice cream, it's just perfection! These little apples can be prepared easily for guests beforehand, and are a healthy alternative to the other sugary creations out there. Best of all, the nutrients of the apple are baked right in! Serve these after a rich dinner for a simple and classy way to have dessert.

4. Halloween Candy Cane
The Halloween Candy Cane is a very safe bet for a delicious treat despite its hauntingly high price! Taking the flavours of the season, the makers of this candy cane have wound pumpkin and chocolate together, making not only a beautiful colour palette, but a lovely taste too. Strangely enough, a little Cobrall venom has been added to the mix, giving it a surprising zing that adds a little spice to the flavour. This candy cane is a lovely festive way to celebrate the season, and if you add a ribbon, makes the perfect gift for a friend!

3. Pumpkin Pot Pie
Now this is a healthy meal! The Pumpkin Pot Pie is one hefty pie made entirely from pumpkin (well, and a little flour!). The crust is even infused with pumpkin flavour! Filled with rich, meaty, stewed pumpkin, this pie has been slow baked for hours to bring out the pumpkin and various spices in the middle. When finished, it's like cutting into a piece of heaven! While pumpkin is usually included in mostly sweet dishes, this pie manages to bring out the true savoury flavour that isn't usually seen in pumpkin. Delicious right down to the last crumb, this pie will be a big hit as the main course in any dinner party!

2. Halloween JubJub Candies
Alright, so it was unavoidable to place candy on this list. But just look at the candy we have! The Halloween JubJub Candies is the most adorable candy mix on the market. It shouts festivity, and is perfect to serve in a big dish to be munched on by the handful. Sweet candy corns and adorable little Halloween JubJub shaped candies make this sugary mixture a favourite for old and young Neopians alike. Best of all, the candies are the perfect size for a quick sugary snack, and can be used to decorate other foods like cupcakes and rice crispies! Set these out for your guests and the event will go all night long!

1. Spooky Shake
Here we are food fans, at the number 1 spooky treat! Numero uno, the big one, the fantastic #1! And what could be donning the top of our spooky foods list? Well, none other than my favourite, the Spooky Shake! To me, the Spooky Shake is the most delicious drink available in any Neopian market. Rich pumpkin puree has been mixed with milk and ice cream to form a creamy milkshake, and spooned in between lashings of sweet liquorice syrup, creating the beautiful pattern you see in that cute little bat wing glass! On top, a heavy dollop of sweet pumpkin spice whipping cream has been piled on, and accented with a tiny icing candy pumpkin. Serve this drink chilled, and sip slowly to truly appreciate all the flavours together!
So there you have it, sixteen spooky foods that are truly delicious, and not scary at all! And hey, none of them were nougat filled candy bars! Now that you have some more options, I hope that you can have the most well rounded Halloween yet. Eat some Pumpkin Pot Pie, sip a Spooky Shake, and indulge in one of the non-chocolate bar treats on the menu! Always remember that Halloween isn't just about the candy, but about the time with friends and family, and the good times you have with them. Have a wonderfully tasty Halloween!
Search the Neopian Times


---
Great stories!
---------
---------
---------
---------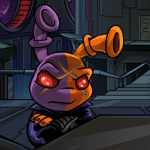 Scars: Brotherhood
"Indeed, Commander Valka did send Parlax on the mission that gave him his scar, and yes, he did go off on his own..."

by micrody
---